Home / Sports / Iowa Prep Sports / High School Basketball
Girls' basketball coach Mike Sconsa will take a step back at Cascade as a kidney transplant awaits
Morgan Pitz will serve as interim coach; Sconsa, and his wife Angie, will undergo surgery Feb. 14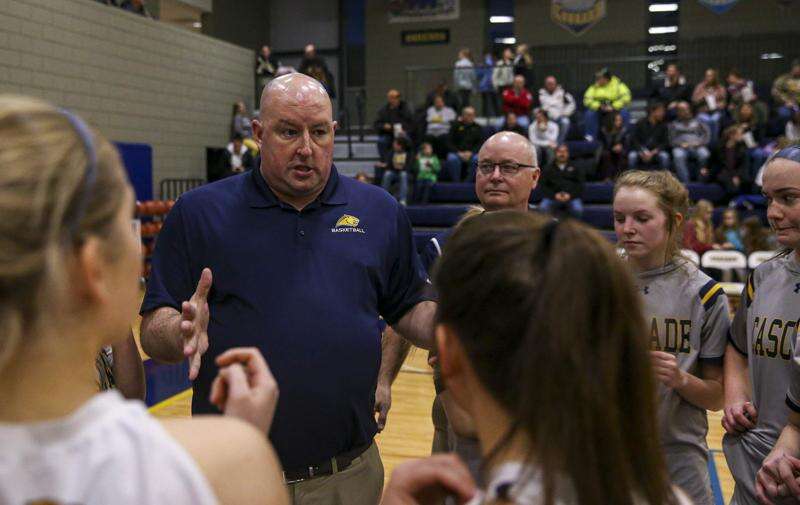 CASCADE — In the immediate aftermath of an unlikely comeback Friday night, Mike Sconsa made a quick path to the locker room and broke down.
The comeback played a role, but only a minor one.
"The girls came in, and they thought it was just the emotion of the game," said Sconsa, girls' basketball coach at Cascade High School.
"No, that wasn't it."
This was something much more heavy than the mere outcome of a basketball game.
Sconsa, 45, was diagnosed with kidney disease about 10 years ago, and both of his kidneys are about 10-percent functional now.
Last week, a match was found from a prospective donor: "I think somewhere along the East Coast," Sconsa said.
When an organ donation is available, you don't get to pick the timing, or whether it's convenient for you.
You accept, gratefully.
Surgery is scheduled for Feb. 14 at the University of Iowa Hospitals and Clinics. As a result, Sconsa is gradually phasing himself out at coach for the remainder of the season.
Assistant coach Morgan Pitz will be acting head coach going forward.
"I want the girls to hear Morgan's voice more and more, and mine less and less," Sconsa said.
There's more to this story than Sconsa merely receiving a vital internal organ. Because his wife, Angie, agreed to donate one of her kidneys (she was a match with a recipient in Georgia), it enabled Mike to move up the donor list.
"She's a lifesaver for me," Sconsa said. "She always has been."
Like Mike, Angie will undergo surgery Feb. 14.
Valentine's Day.
Sconsa has battled health issues "even when I was a kid," he said, including a stroke suffered just before the 2020-21 season, which kept him off the sideline.
And yet, his program has been one of the area's most consistent winners.
In his 18th season as Cascade's head coach, Sconsa owns a record of 365-74. Last year's state-tournament appearance was the Cougars' eighth in the last 10 years, including a Class 2A championship in 2018.
This year's team is 16-1 and ranked No. 5 in Class 2A. The Cougars trailed Monticello by 10 points with 2:11 remaining Friday before storming back to win, 42-41, putting them in charge of the River Valley Conference North Division race.
That, in itself, will bring out the emotion.
"The kids just made some big plays when we really needed it," Sconsa said.
As the Cougars transition to Pitz, Sconsa plans to attend practice and to scout, once regional pairings are revealed later this week by the Iowa Girls High School Athletic Union.
And, he admits, he'll worry.
"I'm scared," he said. "To be honest, I'm really scared."
Cascade has four regular-season games remaining, starting with a home date Tuesday against Anamosa.
Class 2A regionals begin Feb. 11.
Comments: jeff.linder@thegazette.com