Home / Sports / Iowa Prep Sports / High School Basketball
Emma Koch commits to Dartmouth 7 days after ACL injury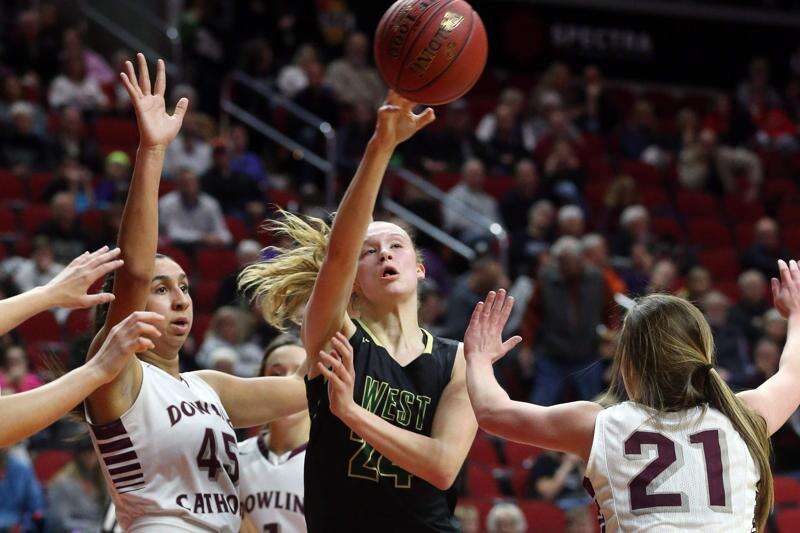 IOWA CITY — The past week has brought a wide range of fortunes for Emma Koch.
A wide range of emotions.
Seven days after suffering an ACL tear to her left knee that will rob her of her senior season, Koch orally committed to play women's basketball next year at Dartmouth College.
'This Monday was a lot better than last Monday,' said Koch, a senior who helped lead Iowa City West to the Class 5A state championship in March. '(Dartmouth) stuck with me after my injury.'
Actually, all of Koch's final three suitors — Dartmouth, Cornell University and Washington University in St. Louis — kept their offers after she was injured in a fall-league game Sept. 10.
'I was going up for a layup, and I was going pump-fake and jump-stop,' said Koch, who will undergo surgery Thursday.
A member of the Ivy League located in Hanover, N.H., Dartmouth was 15-12 last season.
'It's a great school, a beautiful campus, amazing academics and a competitive basketball program,' Koch said.
Last season, Koch averaged 9.7 points and 6.4 rebounds per game, and West culminated a 19-7 season with a championship run. A three-year regular, she posted 568 and 434 rebounds.
Koch also reaped a state title in tennis, teaming with younger sister Audrey Koch to win the Class 2A doubles crown.
l Comments: (319) 368-8857; jeff.linder@thegazette.com