Home / Sports / Iowa Prep Sports / High School Basketball
Boys' basketball notes: Parity rules the Mississippi Valley conference
No great teams in the league but no truly bad ones, either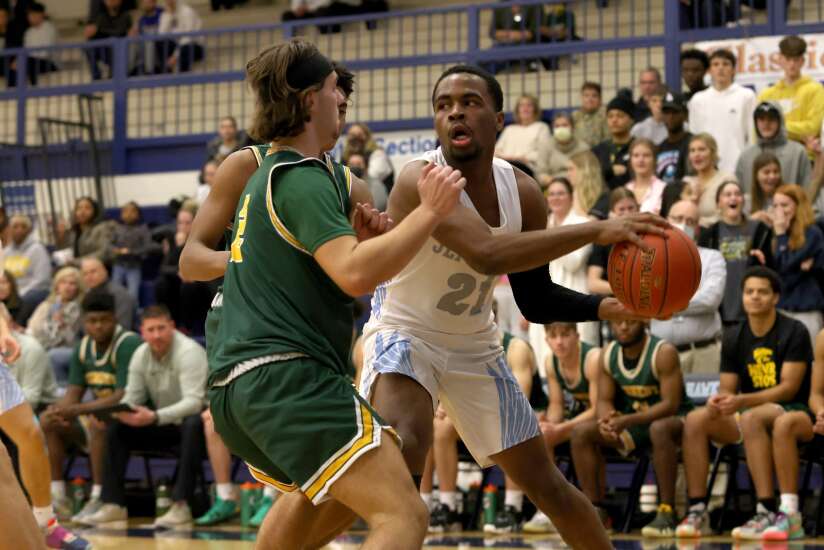 CEDAR RAPIDS — Cedar Rapids Prairie beat Linn-Mar, which beat Cedar Rapids Kennedy, which beat Prairie and Cedar Rapids Jefferson, which beat Cedar Falls, which beat Iowa City High, which beat Dubuque Hempstead, which beat Iowa City West, which beat Dubuque Wahlert, which beat Cedar Rapids Washington, which beat Cedar Rapids Xavier, which beat Iowa City Liberty, which beat Western Dubuque, which beat Waterloo West, which beat Waterloo East.
Let's see, the only team in the Mississippi Valley Conference missing from this puzzle is Dubuque Senior. OK, Senior beat Liberty, which beat Linn-Mar, which beat Kennedy, which beat Prairie, and we're right back where we started.
All of this is a complicated way of saying there hasn't been this much parity in MVC boys' basketball since ... forever? The cliche that anyone can beat anyone on any given night has never been more true.
"I really do believe that," Prairie Coach Jeremy Rickertsen. "There may not be that top-level team or couple of teams, two or three teams. Don't get me wrong when I say that because there are some really good teams. But top to bottom ..."
Prairie has the best overall record in the MVC at 9-1, just ahead of Iowa City West's 7-1. Cedar Rapids Kennedy is 7-2, and those teams all are ranked this week in Class 4A (West third, Prairie seventh and Kennedy ninth).
That'll change next week, since West lost for the first time Tuesday night, at home to Hempstead. Cedar Rapids Xavier (6-4) has been in the Class 3A poll this season but isn't right now.
Kennedy, West, Hempstead and Xavier all are in the Valley Division, along with Jefferson, which at 6-3 has won three times as many games as it did all last season. Waterloo West (4-3), Waterloo East (1-8) and Senior (3-5) are the other teams in the division.
Over in the Mississippi Division, Prairie is joined by Cedar Falls and Wahlert (both 6-2), Linn-Mar (5-4), Washington (4-6), City High (4-5), Liberty (3-6) and Western Dubuque (3-7). As Rickertsen pointed out, the top of the league may not have that marquee team or teams right now, but when the so-called bottom consists of schools like Senior, Washington, City High and Western Dubuque, you've got a really, really good conference.
It'll be quite interesting how the Iowa High School Athletic Association puts together its postseason pairings, considering this parity. And it'll be quite interesting how the postseason evolves around here.
Each team might have a flaw, but each team has plenty of qualities, too.
"Up and down the line, you see it," Rickertsen said. "The Metro follows suit with that. You've got to come ready to play."
Around the hoop
The Gazette area is down to just two undefeated teams, and they just happen to play each other Saturday night, weather permitting. Monticello and Mid-Prairie (both 12-0) square off in a River Valley Conference game at Wellman. Monticello is ranked fourth in Class 2A, Mid-Prairie ninth. Monti handed Camanche its first loss of the season Tuesday night, 67-64.
Stop if you've heard this before. North Linn leads the state in scoring average at 87.2 points per game. The Lynx have beaten opponents by an average of 51 points per game, which also ranks first in the state. Cedar Rapids Kennedy leads the state with an average of 10 made 3-pointers per game and is second in 3-point percentage (41.7), just behind Grand View Christian (42.3).
Comments: (319)-398-8258, jeff.johnson@thegazette.com