Home / Sports / Iowa Prep Sports / High School Basketball
Boys' basketball notes: Get rid of postgame handshake line?
Coaches debate merits of it after incidents last week, including one that has led to felony assault charges on a player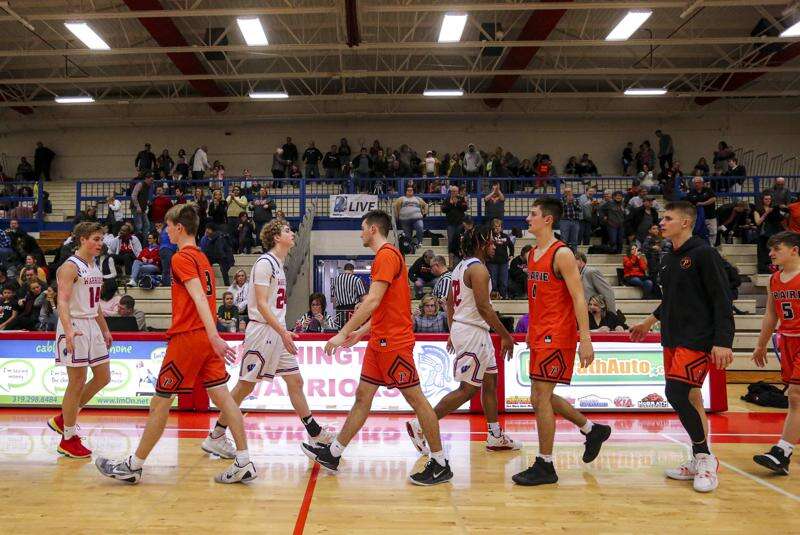 CEDAR RAPIDS — Keep it? Keep it but change the timing of it? Ditch it?
A lot of debate went on last week about the necessity of a postgame handshake line in boys' basketball after a pair of disturbing altercations between players were caught on video.
The worst of the two, by far, was when Carlisle High School's Carter Prenosil punched Nevada's Ty Dittmer multiple times as they approached each other in a handshake line, knocking him unconscious. Prenosil has been charged with felony assault and faces an early January court date.
On that very same evening, players were videoed pushing and shoving after handshakes were exchanged between Diagonal and East Union.
"I'm hoping those are just outliers and things like that don't happen too often," said Cedar Rapids Washington Coach Justin Decker. "With cameras and social media and everything, everyone is going to see it. But I've never seen anything like (the Prenosil incident) in my years. Hoping I never see it again."
Decker said he and his coaching staff preach the importance of sportsmanship to their players, and that includes in practice, when players win and lose drills. He likes the postgame handshake line for that very reason, though acknowledged perhaps it would be best if teams simply went their separate ways after a game in order to avoid potential conflict.
He noted how last season, because of the COVID-19 pandemic, teams and coaches waved at each other and moved on to their respective locker rooms. Others have speculated perhaps it'd be best to have players and coaches shake hands prior to a game.
Still others think postgame handshake lines need to continue, that it's an important life lesson to accept defeat graciously. To accept victory with humility.
"I think it's a good show of sportsmanship, but I don't know if it's necessary," said Cedar Rapids Prairie's Jeremy Rickertsen. "If I'm being honest with you, we talked to the team afterwards how that (throwing punches) can never be an option. If you're upset, you talk to somebody. But that can never happen. I know it's a one-off thing, but … Like I said, if they did away with the handshake line, it wouldn't bother me. Yet I guess being a little old school, and I do enjoy the show of sportsmanship."
Belle Plaine Coach Justin Northrop has seen enough in his years of coaching to strongly believe the handshake line needs to be fully eliminated. He said it's not just the Prenosil incident that makes him feel that way.
"For sure it needs to go away," he said. "That wasn't the first time something like that has happened after a game. It just got caught on the robot camera. Issues are definitely rare, but they do happen."
He speaks from personal experience.
"I've had multiple kids over the years tell me to (expletive) off," he said. "We had a game last night that was edgy. I called a timeout with two minutes left, up by 20, to tell my kids what I expect. It is an adult decision that it needs to happen … If you asked every kid, the large percentage would love not to do it."
Around the arc
Springville senior Luke Menster surpassed the 1,000-point mark in his career Tuesday night in his team's win over Cedar Valley Christian. The 5-foot-11 guard is averaging 21.7 points per game this season for the Orioles (4-0), 7.3 rebounds, 5.3 assists and 4.7 assists. He was a key member of a Springville team that played in the 2020 state tournament.
Organizer Tyler Cleveland announced Wednesday that the Wells Fargo Advisors Shootout will return after a year hiatus due to the pandemic. The event is Saturday, Jan. 8 at Coe College. Seven games will be played, beginning at 10:30 a.m. (Central City and Columbus Community). Durant at Cascade will follow at noon, Alburnett and Dunkerton at 1:30 p.m, Solon and Fairfield at 3, Ballard and Washington (Iowa) at 4:30, Monticello and Iowa City Regina at 6 and Iowa City Liberty and Linn-Mar at 7:30.
Jack McCaffery has made an immediate impact at Iowa City West. The 6-foot-8 freshman, the youngest son of Iowa head coach Fran McCaffery, had 19 points in his first varsity game last week against Davenport West, making all six of his shots from the field, including going 5 for 5 from 3-point range. He had 11 points Tuesday night in another West win, this one at Burlington.
Comments: (319)-398-8258, jeff.johnson@thegazette.com