Home / Sports / Iowa Prep Sports / High School Basketball
Boys' basketball notebook: Davis Kern is the next one at Linn-Mar
The 6-foot-8 sophomore already has Division I offers from Northern Iowa and South Dakota State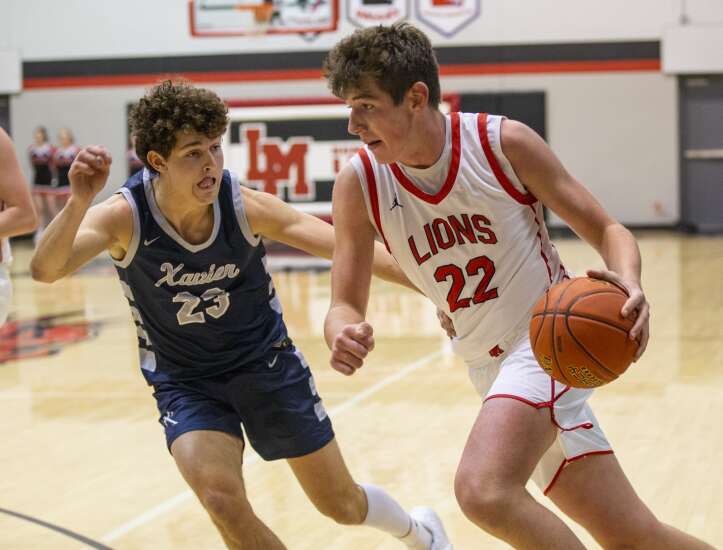 MARION — Chris Robertson has dealt with his fair share of college coaches over the years, something that comes with the territory when you've led a successful high school basketball program for a while and you've got players those colleges want to recruit.
Go up and down the list of Division I guys Robertson has had in his career: the Bohannon brothers, Marcus Paige, Matt Lassen, Grant Gibbs, Jordan Printy, Nate Hutcheson, Trey Hutcheson ... etc., etc.
His next one is Davis Kern. The 6-foot-8 sophomore already has offers from Northern Iowa and South Dakota State, and you can be sure any and all improvements in his game are being noticed by a ton more schools.
"He'll get better and better," Robertson said. "He can shoot the daylights out of it, he's a tremendous shooter. He's got to get better around the basket, and he will as he gets stronger and he catches up athletically. But he's been a lot better this year bouncing. He can get to the rim, which surprises people sometimes, I think. The nice thing for us is he can protect the basket. He's long, and he does a pretty good job of not fouling.
"I love him. He's a great kid."
Kern has virtually doubled his scoring average from last season, ranking third in the Mississippi Valley Conference at 19.1 points per game. His game has expanded, as he's able to use the dribble-drive at times, to go along with posting inside and shooting the 3-pointer.
He's maturing.
"Just tons more confidence," Kern said. "Last year I'd like to say I was a little more of a role player at times. I just played my role: catch and shoot, posting up. This year I've had a lot more confidence just taking shots and attacking the rim. Just in my shooting overall."
Another thing that should help Kern grow, which he might actually still be doing physically, is the added attention he is receiving from opposing teams. They know he's Linn-Mar's "dude" and try to curtail him as much as possible.
That's not easy, especially when you're a sophomore.
"You look at him, and he's strong," Robertson said. "He's not a real skinny 6-8. I think the biggest credit to him is he's learning that all of our opponents' scouting reports are geared toward him, where last year you had to guard other guys, and he was a shooter. Now we're going inside to him, and he's a focal point. He's learning how to deal with it, and it's not easy."
It's been a good winter in the Kern family. Not only is Davis doing his thing for the Linn-Mar boys, but his sister, Dreya, who's just a freshman, is an important part of the Lions' girls' team.
Davis just smiled when asked who was the better player.
"I don't know," he said, diplomatically. "She's a good soccer player, too, and I don't think I'm anywhere near her in soccer. But she's been playing good (in basketball). Every game she's getting more confidence."
Around The Hoop
— Mount Vernon pulled off a pair of significant upsets in Class 3A just six days apart.
The Mustangs went to Cedar Rapids Xavier a week ago Tuesday (Jan. 24) and knocked off the then-second-ranked Saints, 66-65, on a last-second shot. Monday night, Mount Vernon beat third-ranked Marion at home, 65-52, behind 19 points from Jensen Meeker and 17 from Brady Erickson.
— The Iowa High School Athletic Association is expected to release postseason brackets for Class 1A and 2A next week. Teams in Class 2A and 3A still have one more week to impress, as their postseason brackets won't be released until the week of Feb. 13.
The IHSAA's weekly rankings, done for the first time this season, are used as a guide of sorts for putting together brackets, but geography still plays a large part.
— MFL MarMac has wrapped up the Upper Iowa Conference championship. Keota has clinched the division title in the South Iowa Cedar League East.
Comments: (319)-398-8258, jeff.johnson@thegazette.com