Home / Sports / Iowa Prep Sports / Prep Baseball and Prep Softball
Western Dubuque rolls past ADM and into 4A state softball championship game
Bobcats win 8-1, will face Boone in first title game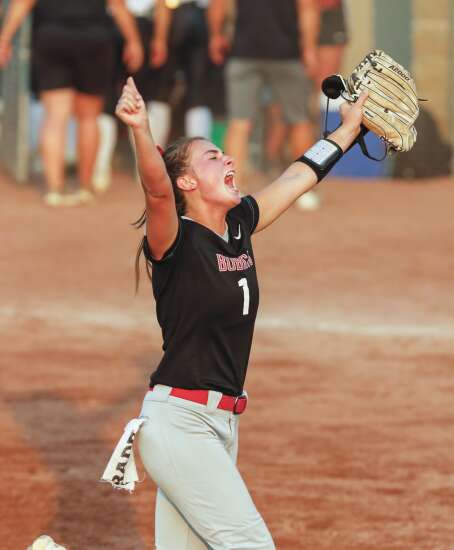 FORT DODGE — Western Dubuque's Raccoon River Conference challenge is two-thirds complete.
The final leg: Friday's Class 4A state championship game.
The second-ranked Bobcats advanced to the state softball finals for the first time by downing No. 3 Adel ADM 8-1 in a semifinal Wednesday at the Rogers Sports Complex. That followed Tuesday's 5-2 win over RRC member North Polk. Up next at 5 p.m. Friday: No. 5 Boone (28-8) which is, you guessed it, part of the Raccoon River.
By the way, Boone also beat two conference foes to get here: No. 4 Carlisle and, on Wednesday, top-ranked and defending champion Winterset.
"I read like everybody else did that that was the best conference and they have all the best teams and nobody in Eastern Iowa knows how to play ball," Western Dubuque first-year coach Rex Massey said with a smirk.
What was maybe a secret a couple months ago isn't anymore. The Western Dubuque Bobcats, unranked in the preseason, can play ball.
ADM (26-11) scored first on Addison Banse's no-doubter home run to left-center in the second before Western Dubuque (34-7) scored the last eight without leaving the yard.
Sara Horsfield's RBI single tied it in the third, then starting pitcher Sydney Kennedy slammed a two-RBI double to the right-center gap to put the Bobcats up 3-1.
"We are just always confident, every inning, even if we're down, that we'll be able to get hits," said Horsfield, the leadoff hitter who was 2-for-3 with two runs and two RBIs. "We're good hitters throughout the lineup and we're all confident in each other."
Horsfield's RBI double completed a fourth-inning spurt that put Western Dubuque up 6-1. Like the first rally, this was sparked by the last part of the order. Audrey Biermann led off with a bunt single and scored on No. 9 hitter Brynn Walters' RBI base hit. Maddie Heiderscheit followed Biermann with a walk and scored on a wild pitch.
"The bottom part of our lineup has won the last three games," Massey said.
"Our No. 1 goal from a hitting perspective this season was to cut down on strikeouts and put the ball in play. They had to buy into that mentality. We had to change our swings. So much today, people are going to hitting coaches and all this stuff to learn to hit home runs. The game of fast-pitch softball is not all about hitting home runs. Home runs are great and we'll take them, but we don't hit a lot of home runs and we find a way to score runs."
Kennedy limited the Tigers to four hits while striking out 10 as the Bobcats earned their 12th come-from-behind win of the year.
"It feels amazing because nobody thought we'd be here in the beginning of the season," Kennedy said.
Comments: nathan.ford@thegazette.com