Home / Sports / Iowa Prep Sports / Prep Baseball and Prep Softball
Steve Fish and his Marion baseball family land the big one
Marion and its Hall of Fame coach get first state baseball title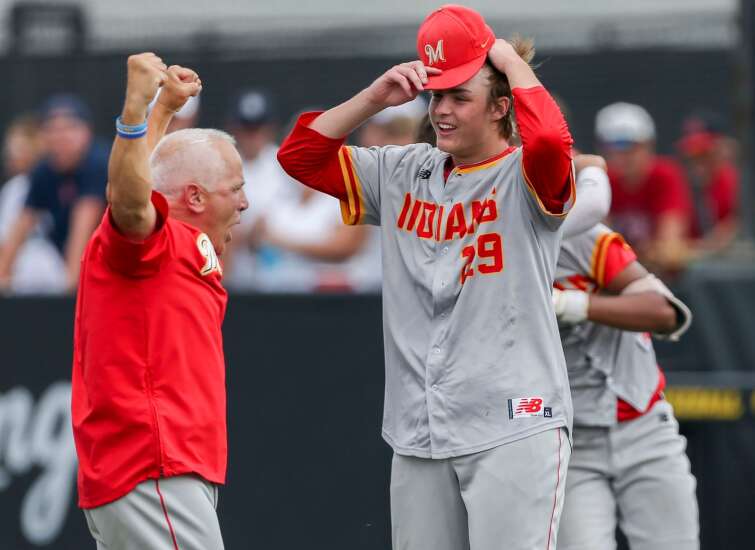 IOWA CITY — Myles Davis was eight years from being born when Steve Fish became the head baseball coach at Marion High School, but here were the two baseball "lifers" sharing the biggest moment of their baseball lives.
With Marion in a 6-6 tie with Dubuque Wahlert in the top of the seventh inning in a wonderful, tension-filled, back-and-forth ballgame and Wahlert with runners at first and third with two out, the 23-year Marion coach took out Boede Rahe after his 110th pitch of the day and 172nd since Wednesday.
Fish moved freshman shortstop Davis to the mound. Nice spot for a ninth-grader, huh? Well, this is no ordinary kid. Davis has already committed to play baseball at the University of Iowa, and here he was on his future college diamond trying to stop a Wahlert team that had all the momentum after coming back from a 6-2 fourth-inning deficit.
Davis got Ryan Brosius out on a routine fly to left field to end the threat. Marion needed a run in the last of the seventh for its first baseball state championship.
This was a title-game appearance that had been so elusive. The Indians were ousted in the state semifinals in 2019 and 2020, and lost a 2017 state quarterfinal to Wahlert on a walk-off bouncer over the third base bag.
"When we walked out of Principal (Park, in Des Moines) last year," Fish said, "these guys said 'We'll come back and win the state championship,' and that's all they talked about."
Marion used a single and two hit batsmen to load the bases with one out in its half of the seventh. The batter with the chance to win the game? Davis.
"I try to remind a lot of people he's a 15-year-old kid," Fish said. "He's gotten attention from Iowa so every time we play anybody people have got their eyes on him. But all he does is perform. He outperforms most everybody on the field every time."
Davis stepped up to bat. Marion's considerable fan following here was on its feet.
"You just looked in his eyes and I knew he was going to hit it someplace," Fish said.
"I live for the moment," Davis said afterward. "I love it. I loved every bit of it, just seeing that pitch and driving the ball."
Davis smashed a low liner to right field where Brosius made a nice catch. Davis veered to the right of first base and watched the ensuing play at the plate. It was a bit of a gamble for Fish, coaching third base, to send runner Gabe Franck home.
"You have to take risks," Fish said. "You have to take risks."
Brosius' throw was excellent, but just a tick too late to get the headfirst slide of Franck before he touched the plate. On the very last day the Marion Indians were called the Marion Indians in anything, they were called state baseball champions for the very first day and were partying on the field and in the grandstand.
"Starting tomorrow we're the Wolves," Fish said. "This was our last time representing the Marion Indians.
"Right, wrong or indifferent where you are with the change — I'm neutral — this has been kind of special to be the end of the Indians and do it with a state championship. I think that's fitting."
It was fitting that Fish, an Iowa High School Baseball Coaches Association Hall of Fame inductee five years ago, got to watch his players hold a state-title trophy. He hasn't coached his whole adult life to pile up wins, though he has 763.
After the game, Marion players said they wanted to win for their coach.
"That makes me cry," Fish said. "I'll get emotional here for a lot of different reasons. And here's where it really hurts. My son has been with me for over 20 years in the dugout. This is his last year. He's going to graduate school."
Baylor Fish, the youngest of Fish's four children, was a little boy who went with his dad to all of Marion's games, was in team photos. Then he played for his dad, was on that 2017 team that had a heartbreaking state-tourney loss, played that season despite having a torn meniscus.
Saturday, he was an assistant coach on a state champ. He's soon be off to East Carolina University to study biomechanics. He'll leave Marion with a grin.
"I couldn't do this without my wife and kids," Fish said. I think they probably had bigger smiles than I did after the game. I found them right away.
"These guys (his players) are my family, too.
"What a magical season. … I'm in heaven. I'm in heaven."
Comments: (319) 398-8440; mike.hlas@thegazette.com