Home / Sports / Iowa Prep Sports / Prep Baseball and Prep Softball
Linn-Mar at Centennial highlights 11 area Iowa high school softball regional finals in 5A, 4A and 3A
Class 3A giants Mount Vernon, Williamsburg and West Liberty all are favored to return to state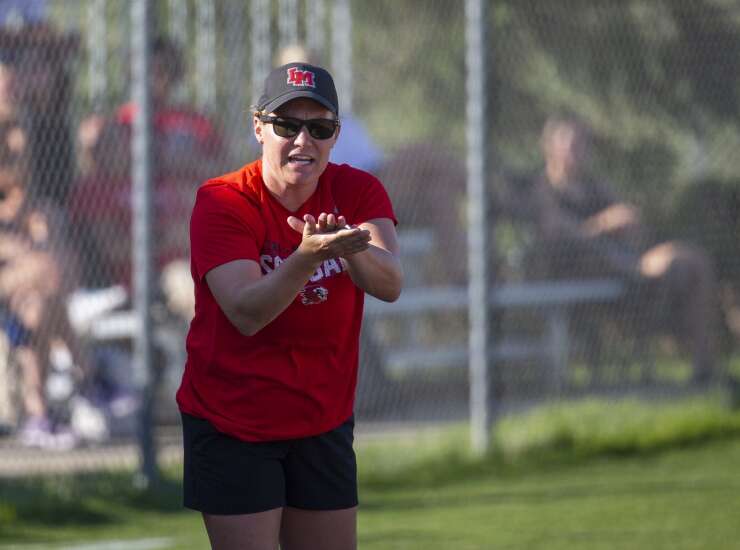 Lindsey Murray considers her team a mirror image of Ankeny Centennial.
"You can see it in the statistics," said Murray, softball coach at Linn-Mar High School. "They don't strike out a lot, and neither do we. They don't hit a ton of home runs, and neither do we."
They have something else in common. Both nearly saw their season come to a catastrophic end in the regional semifinals.
Eighth-ranked Linn-Mar needed two runs in the bottom of the sixth inning to get past a two-win Cedar Rapids Washington squad, 4-2. No. 5 Centennial squeaked past Waterloo West, 4-3.
"That first game is a pressure game," Murray said. "We played a little tight and we hit the ball right at them.
"Now the pressure is off. We can go out and play ball, leave everything on the field and see what happens."
The Linn-Mar/Centennial encounter — a Class 5A top-10 battle — is the plum of 11 regional-final matchups involving area teams Tuesday. None of them are area-vs.-area.
All four of the area's remaining 5A teams are on the road. Iowa City High travels to West Des Moines Valley, Cedar Rapids Prairie goes to Pleasant Valley and Iowa City Liberty plays at Muscatine.
In 4A, Clear Creek Amana hosts Burlington, Benton Community travels to Norwalk and Maquoketa is at North Scott.
Three area 3A teams are favored Tuesday — top-rated Mount Vernon meets Algona at Cedar Falls, Williamsburg hosts Atlantic and West Liberty welcomes Ballard. West Delaware, which entered the postseason with six wins, is at Dubuque Wahlert.
Winners advance to the state tournament next week at the Rogers Sports Complex, Fort Dodge.
The hottest team in the area at the moment is Williamsburg. The Raiders beat four highly ranked teams (three in 5A) at the Rick Doran Classic in Iowa City on July 1-2, then won both of their first two regional games by 10-0 verdicts.
"Peyton (Driscoll) is pitching really well, and we're batting well 1-through-9," Raiders Coach Adam Berte said. "When that happens, we play good ball."
The Raiders were 3A state runners-up in 2020, then placed third last year.
"Peyton definitely turns it on when it matters most," Berte said. "The bigger the game, the bigger the spot, she really picks it up."
Tuesday's Class 5A regional finals
IOWA CITY HIGH (19-20) at No. 6 WEST DES MOINES VALLEY (25-12)
After knocking off No. 9 Bettendorf, 4-3, in a regional semifinal Saturday, City High is one more upset away from a fourth state-tournament trip in five years, a feat that would have seemed highly improbable just days ago. Despite the graduation of three Division-I players, the Little Hawks have remained competitive this season. The growth of freshmen Lianna Hull (.522, 54 runs) and Avy Lindsey (.419, 42 RBIs) has been a major factor. Valley seeks to return to state after last year's team snapped a streak of eight consecutive berths. Senior Gianna Lara (.509) has 14 home runs and 52 RBIs to her credit.
No. 8 LINN-MAR (35-4) at No. 5 ANKENY CENTENNIAL (25-12)
Lindsey (Digmann) Murray was a key member of Linn-Mar's 2006 state runner-up team, and would like nothing more than to guide her alma mater back to Fort Dodge as the Lions' head coach. Linn-Mar enjoyed its best MVC season in school history, going 28-2 and running away with the Mississippi Division championship. They have a veteran crew; seniors Anna Streff, Caelynn Obleton, Hannah Gralund and Claire Michael are hitting better than .400. The Lions have won eight in a row, but their most recent conquest was a sweat-inducing 4-2 escape over Cedar Rapids Washington. Last year's state runner-up, Centennial had a tougher-than-expected time of it, too, getting by Waterloo West, 4-3.
CEDAR RAPIDS PRAIRIE (23-17) at No. 10 PLEASANT VALLEY (23-12)
Prairie has recovered its groove in time for the postseason, winning five of its last six games. That includes a 4-3 upset win over No. 15 Dubuque Hempstead in the regional semifinals, and moves the Hawks to the brink of their first state-tournament trek since 2016. Jensyn Jones had two of the Hawks' five hits against Hempstead, and leads the squad with 11 home runs and 44 RBIs. Pleasant Valley is a Fort Dodge fixture, and is pursuing its ninth state trip since 2011. The Spartans defeated Prairie, 9-5, on June 3. Sophomore Miah Townsend is 15-4, but isn't a big strikeout pitcher. Freshman Kasey Kane (.431) has five home runs and 36 RBIs.
No. 14 IOWA CITY LIBERTY (28-13) at No. 3 MUSCATINE (34-4)
Both teams breezed through their regional semifinals. Liberty whipped Davenport West, 12-2, taking command with a five-run second inning. Kennedy Daugherty homered, Kinsley Robertson smacked three hits and both drove in three runs. Junior Haileigh Smith leads the Lightning with nine homers and 52 RBIs. One more win would send Liberty to state for the first time. Mississippi Athletic Conference co-champion Muscatine put a 9-0 pounding on Davenport North. The Muskies have an ace in the circle in junior Maura Chalupa (19-2, 1.16 ERA), who has struck out 176 batters in 121 innings.
STATE
No. 13 Ames (22-18) at No. 1 Fort Dodge (34-6)
No. 11 Ankeny (27-12) at No. 7 Southeast Polk (24-12)
Council Bluffs Thomas Jefferson (11-26) at No. 4 Waukee Northwest (31-7)
No. 12 Waukee (24-14) at No. 2 Johnston (32-4)
Tuesday's Class 4A regional finals
No. 14 BENTON COMMUNITY (25-15) at No. 4 NORWALK (28-7)
Benton's program certainly hasn't slipped in its first year under Jordon Pilcher. The Bobcats were dominant in a 6-0 regional-semifinal blanking of Northeast Iowa Conference champion Charles City, and head to central Iowa in pursuit of their first state berth since 2018. The Bobcats possess four hitters in excess of .400, led by sophomore Emma Townsley at .459. Soph Jessa DeMoss and senior Gabby McKee have 43 RBIs apiece and have combined for 14 home runs. Offense will be a challenge against the Warriors, though. Norwalk allows just 2.2 runs per game behind junior pitcher Zadie Wadle (17-4, 1.46 ERA, 197 strikeouts).
BURLINGTON (19-13) at No. 7 CLEAR CREEK AMANA (29-9)
The Clippers have an opportunity, a good one, to extend their Iowa-best state-tournament count to 36 appearances. They got past Marion, 3-1, in the regional semifinals thanks to three unearned runs in the bottom of the fourth inning. Seven starters are back from last year's fifth-place team, led by University of Iowa recruit Bailey Olerich (.448, 46 runs). The Clippers have one of the best 1-2 pitching punches in 4A in junior Ashley Webb (13-4, 1.45 ERA) and sophomore Bliss Beck (15-4, 0.52). CCA shared the Wamac West title. Burlington was third in the Southeast Conference and avenged four regular-season losses to Fort Madison, 4-0, in the regional semis.
MAQUOKETA (24-16) at No. 8 NORTH SCOTT (27-10)
There will be a new 4A champion, thanks to Maquoketa. The Cardinals bumped 2021 champ Western Dubuque, 6-3, in the regional semifinals, scoring three runs in the fourth inning and two in the fifth to take control. Eight players are hitting between .350 and .412, so there's good balance up and down the lineup. Senior Jenna Wiebenga (.385) leads with 41 RBIs. To reach state for the first time since 2010, the Cardinals will need to neutralize the power of North Scott junior Maddy McDermott (.418), who has clubbed 11 home runs and has 50 RBIs.
STATE
No. 10 Bondurant-Farrar (26-10) at No. 5 Carlisle (26-10)
Carroll (16-16) at No. 2 Adel ADM (30-4)
No. 13 Fairfield (29-9) at No. 1 Winterset (33-4)
Glenwood (20-13) at No. 6 Indianola (26-12)
Sioux City Heelan (30-11) at No. 3 Dallas Center-Grimes (32-6)
Tuesday's Class 3A regional finals
No. 1 MOUNT VERNON (32-4) vs. ALGONA (11-16), at Cedar Falls
This is Tuesday's lone neutral-site game, due to the fact that the schools are 210 miles apart. Still, the Mustangs will have a measure of home-crowd advantage and a big advantage in talent. Three seniors (Maia Bentley, Jenna Sprague and Nadia Telecky) were first-team all-staters last year after the Mustangs' run to the state finals. Mount Vernon faced an early 3-1 second-round deficit to Hampton-Dumont/CAL, but stormed back with 14 quick runs to win it. Sophomore Addison Gookin has emerged as an elite hitter; she is at .491 with five homers and 38 RBIs, while Sprague is 23-2 and sports a 0.85 ERA. Algona breezed through its first two games, scoring 12 runs in both.
ATLANTIC (23-14) at No. 3 WILLIAMSBURG (31-10)
Since the calendar turned to July, Williamsburg has played as well as any team in any class. The Raiders have won 10 consecutive games, including a 4-0 weekend July 1-2 with victories over West Liberty, Muscatine, West Des Moines Valley and Pleasant Valley. They followed with consecutive 10-0 postseason routs of Clarke and Chariton. Leadoff hitter, junior Rylee Vercande has scored 43 runs while mixing power (11 home runs) with speed (23 stolen bases). Pitcher Peyton Driscoll (16-4, 2.10 ERA), now a junior, has been the focal point in the circle as the Raiders finished second and third in the last two state tournaments. Atlantic has won seven straight games, averaging 13 runs in that span.
BALLARD (15-20) at No. 4 WEST LIBERTY (22-7)
The Comets are favored to advance to state for the third time, all in the last four years. Much of the focus around West Liberty is around the three Hall sisters. Sailor Hall, a senior, owns a 20-3 pitching mark and has hit six home runs. Freshman Pearson Hall leads the team in hitting (.545) and runs (39) and junior Finley Hall hits .484 with a team-high 32 RBIs. Despite its record, Ballard is a team to be taken seriously. The Bombers went on the road in the first two rounds and blistered Des Moines Christian and Roland-Story by scores of 10-0 and 8-0.
WEST DELAWARE (8-26) at DUBUQUE WAHLERT (22-16), 5 p.m.
West Delaware turned this region upside-down in the first round, blasting No. 8 Northeast in shocking fashion, 18-5, then followed with a 4-1 victory over Monticello. Now, will the orange and black slipper fit once more and carry the Cinderella Hawks to Fort Dodge? Juniors Alivia Schulte (.438, 23 runs) and Hayley Vaske (.408, 6 HR, 24 runs, 29 RBIs) lead the way for West Delaware. Wahlert has been one of the feel-good stories in eastern Iowa this season after a 2-30 campaign in 2021. The Golden Eagles start four eighth-graders, including their top two hitters, Ruth Tauber and Kylie Sieverding.
STATE
No. 10 Davis County (22-8) at No. 7 West Burlington (25-7)
Sergeant Bluff-Luton (30-9) at No. 6 Saydel (30-4)
No. 14 Sioux Center (21-9) at No. 5 Estherville-Lincoln Central (27-8)
No. 13 Sumner-Fredericksburg (23-5) at No. 2 Davenport Assumption (33-8)
Comments: jeff.linder@thegazette.com