Home / Sports / Iowa Prep Sports / Prep Baseball and Prep Softball
Late outburst propels Van Meter to state baseball semifinal victory over Dyersville Beckman
Bulldogs broke open tied game with 8-run sixth, earned shot at fourth straight title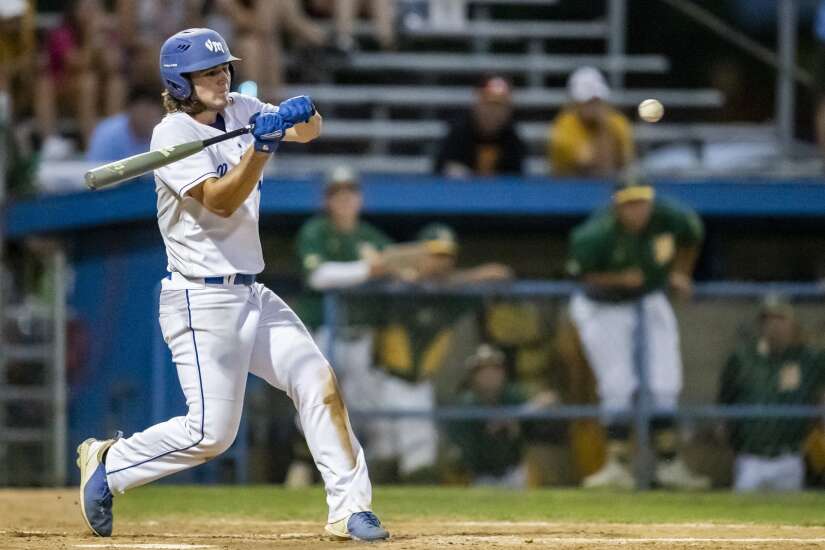 CARROLL — This wasn't David versus Goliath.
Think of it more as current Goliath staring down historical Goliath.
Dyersville Beckman has won six state baseball titles with the last coming in 2017, while Van Meter has won the last three Class 2A crowns, looking for four in a row.
Historical Goliath blinked.
Jack Pettit reached on an error and scored on Ganon Archer's duck-snort single to left field and Ike Speltz added a grand slam in an eight-run sixth, propelling top-seeded Van Meter to a 9-4 victory over No. 4 Beckman in the Class 2A state semifinals Thursday night at Merchants Park.
The Bulldogs (38-0) won their 53rd straight game, dating back to June 25, 2021, and will face No. 2-seed Estherville-Lincoln Central (33-2) in Friday's final.
The game was knotted at one apiece until the bottom of the sixth when Van Meter sent 13 batters to the plate.
Pettit reached on a mishandled grounder. Carter Durflinger pushed a bunt past pitcher Luke Sigwarth for an infield single. Reese Moore was plunked to load the bases.
Archer came up and lofted a short pop fly that landed in left to score Pettit, who added a two-run double later in the inning.
Sigwarth gave way to reliever Wyatt Schulte, who was greeted with a blast by Speltz over the left field fence that broke open the tight game.
Beckman (25-14) didn't go down without a fight. Lane Kramer hit a two-run triple and Matthew Florence drove him in with a base hit in the seventh.
The Blazers opened the scoring in the second. Catcher Owen Huehnergarth legged out an infield single up the middle. He advanced to second on a wild pitch and remained there after two outs, bringing up Florence, who had three hits in the quarterfinal win over Dike-New Hartford.
Florence roped a liner to center and Huehnergarth raced home for a 1-0 lead.
Van Meter responded in its half. Speltz led off with a double and moved to third on a wild pitch. Ben Gilliland's groundout drove in Speltz to tie the game at one apiece.
Beckman had its chances, but didn't capitalize. The Blazers stranded 10 base runners from the second through sixth. Seven were left in scoring position.
After leaving the bases juiced in the second, the Blazers did it again in the third. Van Meter starter Pettit coaxed Kramer to ground out to third to end the threat.
In the fourth, Luke Schieltz reached on a fielder's choice and Nate Offerman singled with two outs. Pettit got a flyout to end it in a 1-1 tie.
Huehnergarth led off the fifth with a double off the right-field fence for his third hit of the game. The Blazers stranded him there, retired in order including two infield pop outs.