Home / Sports / Iowa Prep Sports / Prep Baseball and Prep Softball
Lansing Kee holds on to beat New London at Class 1A state baseball tournament
Tyson Cota was bat boy on the last semifinal team in 2011, earns win against Tigers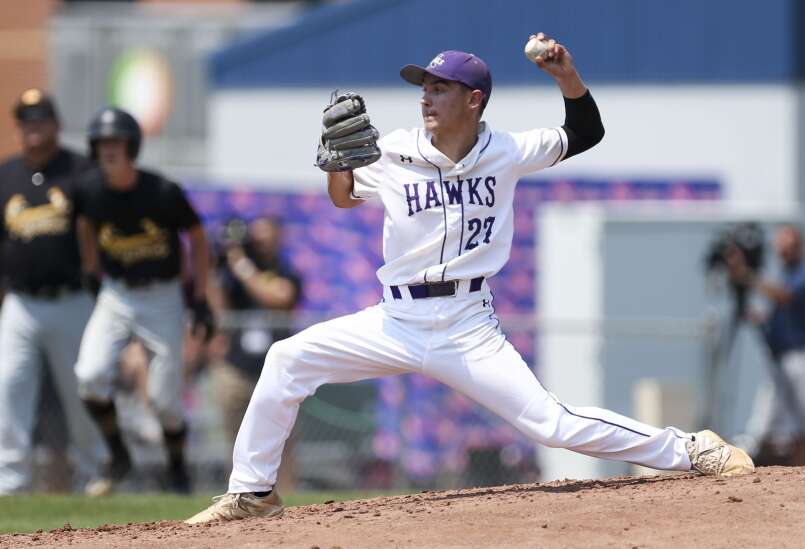 CARROLL — Lansing Kee owns one of the most storied baseball programs in the state of Iowa.
The Hawks haven't added a state tournament feat to that rich tradition since 2011, when they reached the state title game for the 16th time.
Tyson Cota was a young bat boy on that team. Now, he helped Kee return for the first time in a decade and started in the program's 20th state appearance.
"It was fun as a batboy (and) just to be there, but to play in the games and experience the state tournament is awesome," Cota said. "It's a really good feeling. Our (assistant) coach Hunter (Fink) played on that team. To experience it again, him as a coach and me as a player, is special."
Fourth-seeded Kee received a strong outing from Cota and Dalton Dibert on the mound, capitalized on a few New London miscues and held off the fifth-seeded Tigers, 4-3, in a Class 1A quarterfinal Monday at Merchants Park.
"It got closer than it needed to, but it was a really fun game," said Cota, who pitched 3 1/3 innings and earned the win. "It's always a fun time at the state tournament."
Kee Coach JIm Mauss said this team has matured from the last two years. It doesn't rely on him to get ready to play. It resembles some of the old Hawks teams, embracing the chance to carry on the program's legacy.
"I just trust them at this point," Mauss said. "They've been playing together since 4 or 5 years old. They're just hungry. When you're that hungry, coach doesn't have to motivate you. You're already motivated when you get to the ballpark."
New London got on the board first. In the opening inning, Kooper Schulte walked and scored on a two-out hit from Tucker Gibbar, who stretched it to a triple when the left fielder stumbled and fell, adjusting to the hard liner.
Mauss said he knew the Tigers hitting and athleticism would present a challenge.
"It was a tough matchup for us," Mauss said. "We made just enough plays."
The Hawks (34-9) took control in the second. Cota led off with a double. He reached third, sidestepping a tag attempt when the pitcher tried to throw him out on a sacrifice bunt by Chance Colsch. Chris Wagner was hit by a pitch to load the bases.
"You can feel the momentum shift," Cota said. "They scored one in the top of the first and we were down a little bit. To jump on top of the them after getting a zero in the second, a leadoff double was a good start to the inning."
A little bit of strange in Kee's favor. A balk allowed Cota to score. Colsch crossed the plate on a wild pitch, giving Kee a 2-1 lead.
Damon Weber also scored on a wild pitch in the third and Jonah Reinke came in on a throwing error for the Hawks.
"You play ugly sometimes," Mauss said. "You bunt, you move runners, you put the ball in play and feed off their mistakes. It has helped us in the playoffs and all season long."
The Tigers (26-2) made one last rally in the seventh. Josh Catala and Kooper Schulte started the frame with back-to-back doubles. Hecniel Rodrigues followed with an RBI single and New London had the tying run at first with none out.
Dibert, who pitched 3 2/3 of relief, managed a force out, fly out and a strikeout to end the game. Dibert notched the save and his effort was indicative of the poise the Hawks demonstrated when down early and threatened late, despite just one senior on the roster.
"I think experience," Mauss said. "A couple of our guys started their eighth-grade year.
"They are bigger, stronger, smarter and more experienced."
The Hawks face top-seeded Remsen St. Mary's (27-3) in Wednesday's semifinals. The Hawks beat Grundy Center 14-0 in five innings.
"They are a top team," Cota said. "A team we'd like to take out."