Home / Sports / Iowa Prep Sports / Prep Baseball and Prep Softball
Kaden Frommelt leads by example for Marion baseball program
Two-time all-stater is lone senior for Class 3A No. 2 Wolves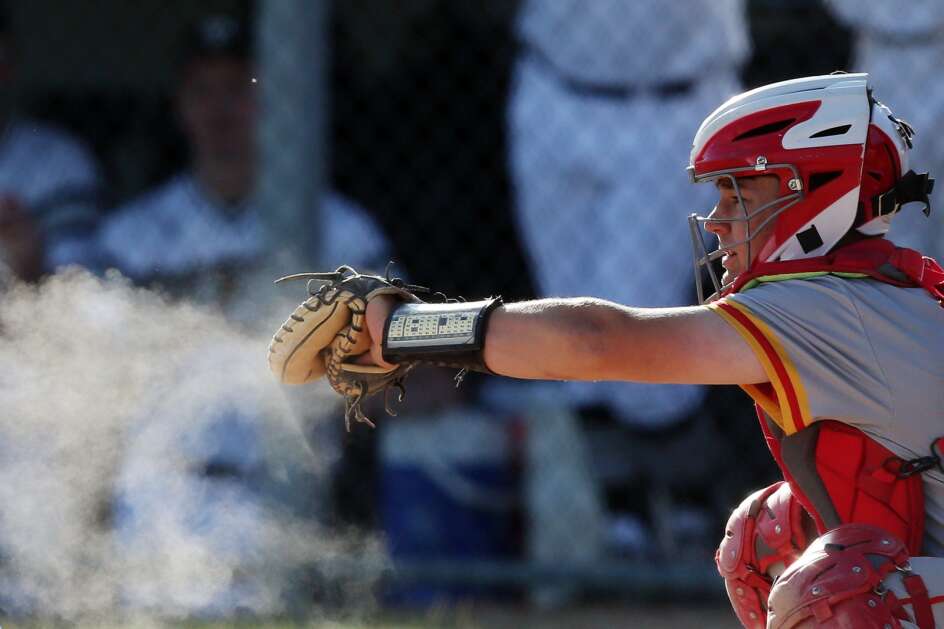 MARION — Kaden Frommelt earned an interesting moniker from Marion Coach Steve Fish.
Sometime during the last two seasons, Fish referred to the Wolves catcher as "The Mayor" due to his understanding of leadership. The nickname stuck and is more fitting this season than any other.
Frommelt is the only senior for the Class 3A second-ranked Wolves and an experienced player many teammates and coaches will look to for guidance.
"I don't mind it," Frommelt said before Marion's home game against No. 3 Cedar Rapids Xavier on Thursday night. "Being the lone senior, you are kind of the guy in charge.
"Growing up in this program, I was a quiet guy. During that time, leadership has kind of been put on me. It stuck."
Frommelt played in two varsity games before he took a high school class and became a regular in the Marion lineup as a freshman. Frommelt played in his 97th career game Thursday, making his 93rd start.
"It has been a pure joy to watch him mature both physically and mentally the last five years into the most capable young man," Fish said. "Beyond his baseball skill level, which is continuing to emerge, his dedication and work ethic are a great example to his teammates."
The achievements have accompanied his effort. Frommelt is a two-time all-state, all-district and all-Wamac performer. He led 3A in RBIs last season, batting .441 with a .550 on-base percentage a year ago. Frommelt would prefer to let his actions and numbers do the talking.
"I like to be a lead-by-example type of guy," Frommelt said. "I'm not really vocal outside of practice. I just hang out and do what I need to do.
"I wasn't as productive on the offensive end as a freshman. As I matured, I became more comfortable with the coaches and whatnot. I found what I do best and do what I can."
Frommelt had a successful start to the season. He went 1-for-2 with a home run and two walks in the Wolves' 7-4 win over Iowa City West on Monday.
The Des Moines Area Community College commit was the starting catcher for the Wolves' state title team as a sophomore and the semifinalist his freshman season. Marion was upended by state runner-up Davenport Assumption in the substate finals a year ago. The goal is to help the Wolves return to state.
"We want the team to go back to Duane Banks (Field) and compete for a state championship," Frommelt said. "This team has a core group of older guys. We also have some younger guys who are big pieces of what we do."
Whether the season ends in Iowa City or somewhere else, Frommelt will leave some big shoes to fill, offensively, defensively and outside of the game.
"As a coach, I tell my players, life is about relationships," Fish said. "He gets that, and I certainly have enjoyed our relationship. I am confident he will do great things after he graduates both on and off the field."