Home / Sports / Iowa Prep Sports / Prep Baseball and Prep Softball
Iowa High School Baseball Coaches Association Rankings: Western Dubuque moves to fifth thanks to strong start
Bobcats are 14-1 after 8 straight victories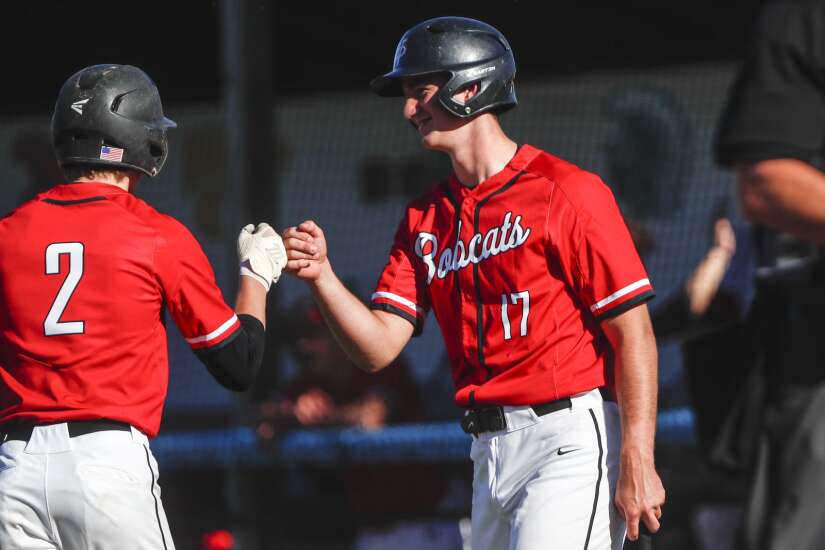 Western Dubuque has made a steady climb in the Iowa High School Baseball Coaches Association Class 3A rankings this season.
The Bobcats received votes but were outside the top 10 in the preseason poll. The following week they rose to seventh.
Now, Western Dubuque is fifth in the third and most-recent IHSBCA rankings released this week. The Bobcats are 14-1 entering Tuesday's game at No. 3 Davenport Assumption (10-3).
"We have played well so far but know we have a lot of tough opponents upcoming on our schedule in the next few weeks," Western Dubuque Coach Casey Bryant said. "This group is just having fun and focusing on the task at hand."
The Bobcats lead 3A with a .380 team batting average and are tied for second with 151 runs, trailing MOC-Floyd Valley by four. Their 106 run differential and 156 hits also lead the class.
Garrett Kadolph is tops in 3A with 25 RBIs and 25 hits. Teammate Isaac Then is one spot back with 23 hits. Nine Bobcats have double-digit hits, including Jake Goodman (20) and Nick Bryant (19).
Ryan Klostermann is 3-0 with a 1.31 earned-run average, striking out 17 in a team-high 16 innings pitched. Tucker Nauman is also 3-0 with 17 strikeouts. Nauman has a 1.34 ERA in 15 2/3 innings. Then (3-0) and Zach Gehl (2-0) have each tallied 17 strikeouts as well.
Iowa City High remained at third in the 4A rankings. The Cedar Rapids/Marion Metro has three teams still in their respective top-10 lists.
Cedar Rapids Prairie, which hosts Western Dubuque Wednesday, is eighth in 4A. Cedar Rapids Xavier and Marion dipped slightly in 3A. The Saints are fourth, earning a win over 1A No. 2 Mason City Newman on Saturday. The defending state champion Wolves are sixth.
Marion is one of four Wamac Conference teams in the rankings. Clear Creek Amana and Center Point-Urbana are eighth and ninth in 3A, while Dyersville Beckman is fifth in 2A.
Beckman travels to Cascade Friday in a Dubuque County rivalry. The Cougars cracked the rankings this week, coming in at No. 10.
Mid-Prairie is fourth in 2A and Anamosa, which beat Cascade, 6-4, last week, is seventh.
In 1A, North Linn is third with Lansing Kee and Lisbon are fifth and sixth, respectively. South Winneshek is eighth and Sigourney rounds out the top 10.
Iowa High School Baseball Coaches Association Rankings
(June 6)
CLASS 4A
1.Johnston (14-1)
2. Waukee (10-1)
3. Iowa City High (13-5)
4. Urbandale (9-2)
5. West Des Moines Dowling (9-3)
6. Cedar Falls (10-2)
7. Waukee Northwest (8-4)
8. Cedar Rapids Prairie (9-4)
9. Sioux City East (11-4)
10. West Des Moines Valley (9-4).
Other teams received votes: Ankeny, Indianola, Iowa City West, Pleasant Valley, Southeast Polk.
CLASS 3A
1.Dubuque Wahlert (12-2)
2. Grinnell (13-0)
3. Davenport Assumption (10-3)
4. Cedar Rapids Xavier (13-3)
5. Western Dubuque (14-1),
6. Marion (10-2)
7. Council Bluffs Lewis Central (9-2)
8. Clear Creek Amana (8-2)
9. Center Point-Urbana (9-3)
10. North Polk (6-2).
Other teams received votes: Carlisle, Independence, Sioux City Heelan, Waverly-Shell Rock, West Delaware.
CLASS 2A
1. Van Meter (13-0)
2. Estherville-Lincoln Central (11-2)
3. Clarinda (7-0)
4. Mid-Prairie (6-2)
5. Dyersville Beckman (8-5)
6. West Marshall (9-4)
7. Anamosa (5-2)
8. Jesup (5-2)
9. Des Moines Christian (10-2)
10. Cascade (6-1).
Other teams received votes: Camanche, Davis County, Dike-New Hartford, Eddyville EBF, Williamsburg.
CLASS 1A
1. Remsen St. Mary's (12-0)
2. Mason City Newman (12-3)
3. North Linn (11-0)
4. New London (6-0)
5. Lansing Kee (13-2)
6. Lisbon (7-1)
7. Don Bosco (10-1)
8. South Winneshiek (4-0)
9. Ankeny Christian (10-0)
10. Sigourney (6-0).
Other teams received votes: Anita CAM, Coon Rapids-Bayard, Highland, Kingsley-Pierson, Woodbury Central.