Home / Sports / Iowa Prep Sports / Prep Baseball and Prep Softball
Crosstown Classic continues to bring Iowa City area baseball programs together for worthy cause
Iowa City and Johnson County programs team with Fight With Flash Foundation for special day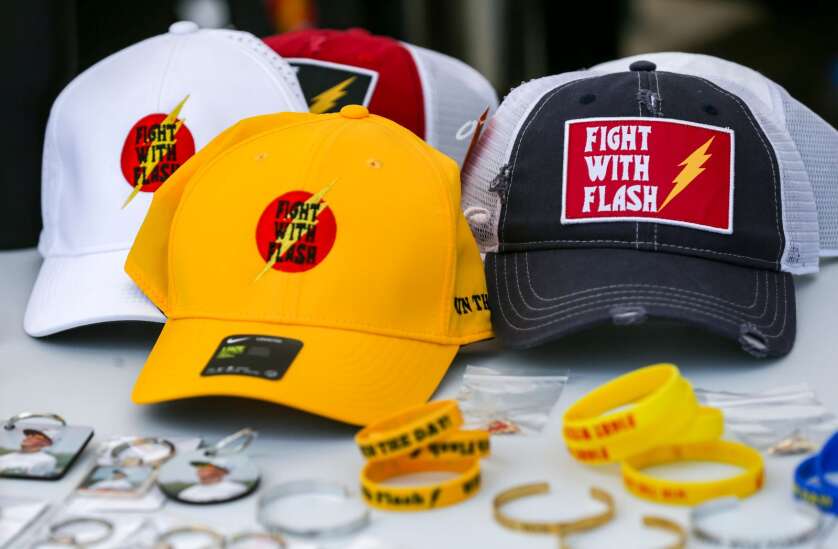 SOLON – Cody Schroeder recalled a memory of his late brother, Austin. One centered on Austin's favorite sport – baseball.
Austin, nicknamed Flash for his speed, was just 14 and in the midst of a yearlong battle with T-cell lymphoma diagnosed in 2014.
"When he was sick, he was staying home for a while," Cody Schroeder said of his brother, who died April 28, 2015. "He woke me up on an early Saturday morning and he hit ground balls to me in our side yard. It was fun to see him (do it) and that he was asking me to do that."
The family honored Austin with the creation of the Fight With Flash Foundation, which serves children, adolescents and young adults, as well as their families, fighting cancer. The foundation has raised nearly $500,000 for the University of Iowa Hospitals and Clinics Adolescent Young Adult Cancer Program.
Part of the effort includes a baseball event, featuring Iowa City and Johnson County area teams. The sixth annual FWF Crosstown Classic was Saturday at Solon Recreation and Nature Area. Schroeder and his Iowa City Liberty teammates kicked off the three-game showcase with an 11-7 victory over Clear Creek Amana.
Schroeder dressed for this event as a freshman and played for the Lightning as a sophomore and started at shortstop Saturday (last year's edition was canceled due to the COVID-19 pandemic). This was the last time he will compete in an event that has grown to a huge all-day fundraising festival.
"I'm glad people have stuck with us from when it started," said Schroeder, noting that Austin played football, basketball and also ran track. "I'm glad COVID is dying down and people are having fun outside. It's been good to see all these people come support and donate money to help out the kids."
Schroeder takes his brother's spirit with him in all he does. He relies on Austin's positive outlook to pull him through tough times.
"Obviously, when I'm having a bad day, not even just in baseball but a bad day in general, I have to think of him to keep me going," Schroeder said. "I can't let bad things carry over, so I have to keep him in my mind because he was all about positivity."
In other action, Iowa City High handled Solon, 18-4, in six innings. Iowa City West faced off with Iowa City Regina. This day was much more than action on the diamond. This was a chance to celebrate the life of a former Trojan baseball player whose positive motto of "Win The Day" has united those from rival programs for a worthy cause. It may not have happened two decades ago.
"It's just going to keep growing, doing great things and that's what high school sports should be about," Liberty Coach Tom Cronk said. "It's not just about wins and losses. It is about teaching people how to help the community and find your platform. Our platform happens to be baseball. It's awesome to be a part of."
Emotional moments filled the day. Craig and Stacy Schroeder, Cody and Austin's parents, greeted the lineups before each game. First pitch before the Spartans game was thrown by a young man from Solon fighting leukemia. He ran over to the announcer to yell, "Play Ball" afterward and stood alongside his dad and team on the third base line for the National Anthem.
"We're helping kids while we're playing (and) people are donating money," Schroeder said. "With it being close to my brother, it has been special to see all these people supporting our family and the foundation. It's just pretty special."
The experience included a silent auction and a seat on a lift with an elevated view from beyond the outfield fence available for a donation.
A collage of Austin's photos was posted on a memory wall for all to see. Youth games for the schools' feeder teams were held on adjacent fields, allowing younger baseball players to file into the stands after contests to watch their varsity heroes play.
Cronk said he hopes young kids experience this and continue to help others in high school, college and in life.
"It doesn't go away," Cronk said. "There's always going to be sick kids and always going to be someone who needs help. We're in a position to be able to do that and help them. It's just amazing to me."