Home / Sports / Iowa Prep Sports / Prep Baseball and Prep Softball
1st inning is telltale as Iowa City High gets past Prairie in regional softball final
6th-ranked Little Hawks score 3 times in bottom of 1st after 14th-ranked Hawks strand bases loaded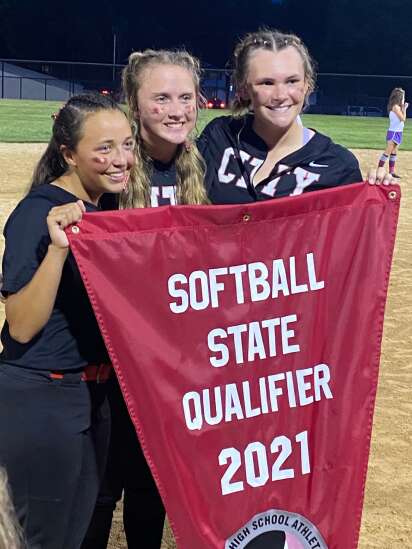 IOWA CITY — Sometimes first innings of big games don't turn out be much. Sometimes they end up mattering a little bit.
Tuesday night at Iowa City High's softball diamond, the first inning pretty much decided this Class 5A regional final.
The sixth-ranked Little Hawks pecked their way out of trouble, as No. 14 Cedar Rapids Prairie stranded the bases loaded in the top of the first. In the bottom half, City High responded with a three spot that propelled it to an eventual 5-2 victory.
City High (33-7) heads to Fort Dodge for the state tournament one hot softball team. The Little Hawks have won 25 of 27 and project to meet Ankeny Centennial in a 5A quarterfinal Tuesday night.
This is the third time in four years City High is a state qualifier. The exception was a regional final loss last season to Muscatine.
"I think those of us who played last year remember (that game), and it inspired us to play better tonight," said City High pitcher Ella Cook. "Because none us wanted to feel that again. One through nine, everybody played so well tonight. I'm so proud of them."
Cook overwhelmed Prairie (28-14) when she threw against them in the regular season as part of a doubleheader City High swept in late June. She struck out 14 Hawks, though this was not that game.
Rylee Newhard walked with two outs in the Prairie first, Jensyn Jones singled, and Hannah Ironside walked to suddenly load the bases. Cook then went 2-0 on Miranda Farr, only to come back and strike her out to end the threat.
Ayanna Lindsey, the Northwestern signee, walked to lead off the bottom of the second, stole second and went to third on eighth-grader Lianna Hull's slapped single to shortstop. Hull stole second base, a wild pitch scored Lindsey and moved Hull to third, where she would score on a Cook sacrifice line drive to center. Cynthia Hull's solo home run just over the fence in left field a couple batters later made it a 3-0 game after an inning.
"That's what we talked about in the huddle," said City High Coach Jeff Koenig. "We talked about starting fast. We worked our way out of a jam, and then we come right back out and score three runs. That set the pace for us, and then we come back and score another one."
City High got a solo homer from nine-hole hitter Georgia Kimm in the second, chasing Prairie starting pitcher Megan Steffens. A two-out Lindsey single and stolen base in the fourth was followed by another slap single to left for Lianna Hull, scoring Lindsey. Hull went 3-for-3 and has a season batting average over .500.
Prairie certainly didn't go away, as its first three batters reached in the fifth. A Jones RBI groundout ended Cook's shutout bid, then Ironside followed with a run-scoring hit just past second base.
But with runners on the corners and two away, Cook got a groundout and strikeout to end the inning, and Prairie never threatened again.
"That's something that we talked about, only not just the first inning, but the other innings where we were getting runners on," said Prairie Coach Alisha Frese. "Leadoff runner on, followed by a single. Runners on first and second and not capitalizing at that point. Not getting any runners in until the third time, I think, we had that situation."
Cook gave up six hits, two walks and two runs in a complete game, striking out seven. Dani Klees was very good in relief for Prairie, giving up just two hits and a run in 4 2/3 innings.
Comments: (319)-398-8258, jeff.johnson@thegazette.com