Home / Supergroup ready to 'Cry Cry Cry'
Supergroup ready to 'Cry Cry Cry'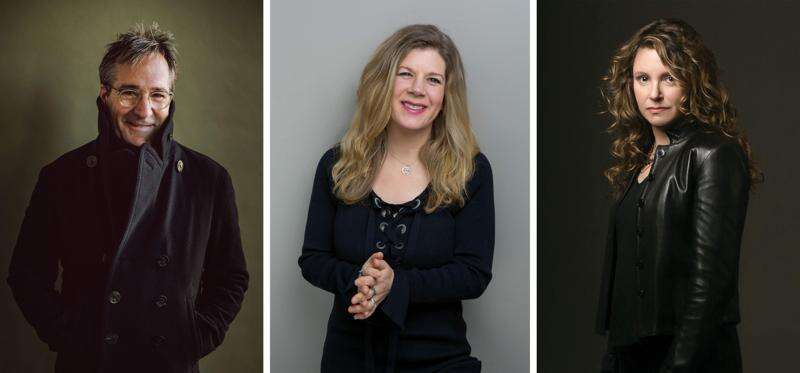 The past year has been busy for Dar Williams, and 2018 may be a repeat performance.
She recently reunited with fellow singer-songwriters Richard Shindell and Lucy Kaplansky to reform alt-folkie supergroup Cry Cry Cry after nearly two decades. They now have shows booked into mid-April, including a March 15 stop at the Englert Theatre in Iowa City.
Last September also saw Williams release her new book, 'What I Found in a Thousand Towns.'
Originally formed back in 1998, Cry Cry Cry yielded a single self-titled album of mostly covers steeped in harmonies that evolved out of sound checks that Shindell and Williams were doing while touring together as solo artists in the mid-1990s. As such, the album 'Cry Cry Cry,' with its interpretations of songs by the likes of R.E.M., Greg Brown, Robert Earl Keen and Ron Sexsmith, earned the group a fervent following that's been clamoring for a reunion. That notion also has been on the minds of the three musicians involved.
Shindell and Kaplansky reconnected as a duo three years ago, which helped pave the way to reactivate Cry Cry Cry.
'Lucy and I made a record together back in 2015 — 'The Pine Hill Project.' It was a Cry Cry Cry-sort of project,' Shindell said in a recent phone interview. 'There were other people's songs and the idea was to sing a lot of harmonies. It's a record that Lucy and I had wanted to make for a long time. In fact, before the original Cry Cry Cry, Lucy and I had talked about making such a record and we never did. And partially that's because Cry Cry Cry happened.'
Williams had been hoping the Cry Cry Cry story would have another chapter, as well.
'We all were thinking about it for a long time on our own,' Williams said in a separate phone interview. 'Then Lucy wrote and said we had an offer to play at (the Clearwater Folk Festival) if we wanted to reunite. We were all hiding these songs in our back pockets that we had saved for a possible reunion, so it was a very instant yes.'
The trio tested the waters with a handful of shows last year, which set the stage for the current spring tour. Williams said a new album is a possibility, too.
'What we want to do is try a couple of songs (live) and see how they do. We'd like to work on a couple of songs because you can't really see how they are until they're living out in the audience a bit,' she said. 'If it hits the wall and falls, people will understand. But it might hit the wall and turn into fireworks. It's going to be kind of special because it's going to have the intimacy of trying new things. If we record, I'm really glad that we'll have had some opportunity to perform first, so we can evolve and see how (these songs) want to live in a recording.'
Williams is thrilled to be sharing stages again with Kaplansky and Shindell. She's adding this latest Cry Cry Cry chapter to a solo career that dates back to the late 1980s and includes some 15 full-length albums and EPs over which time Williams has established herself as one of the finest singer-songwriters on the folk-centric music scene.
It's this life as a working musician that's allowed Williams to spend a good part of the past two decades on the road. That's given her a catbird seat to observe how people live and interact in the different places she's played in all over the country. This small-town dynamic has always fascinated Williams, and as an academic who taught for a number of years at Wesleyan University in Middletown, Conn., she began researching societal commonalities that she kept seeing crop up — a process that led to her new book.
'There is also something I call 'positive proximity,' which is the sense that living close to other people is actually a force of good,' she said. ' ... Towns with high positive proximity will have things like a downtown with a lot of independent stores and restaurants. It'll be long, so people can walk up and down and around and it'll have a nice train station and things like that. These things of course, generate positive proximity, too. That sense that somebody cares about your well-being in town generates a sense that you want to be a part of it.'
Williams' passion for this subject runs deep, and many of her recent headlining dates have featured readings from her book as well as a musical performance, including a November stop at The Mill in Iowa City. That's a pairing she wants to continue to do as her schedule allows. She also plans to release another solo studio album in 2018.
'I'm really excited to get into towns and talk about the book and then turn it over and find out what's going on in peoples' towns that they are excited about ...,' she said. 'The book kind of took a lot of focus and energy. But once it was done, the melodies started to trickle back in pretty quickly. I'm thinking that I'll actually have something sooner rather than later.'
Get out!
WHAT: Cry Cry Cry, featuring Lucy Kaplansky, Richard Shindell and Dar Williams
WHERE: Englert Theatre, 221 E. Washington St., Iowa City
WHEN: 8 p.m. March 15
TICKETS: $35 to $55, Englert Box Office, (319) 688-2653 or Englert.org/event/cry-cry-cry/