Home / News / Education / Higher Ed
University of Iowa names University of Illinois VP Barbara Wilson second presidential finalist
Barbara Wilson will participate in public forum Thursday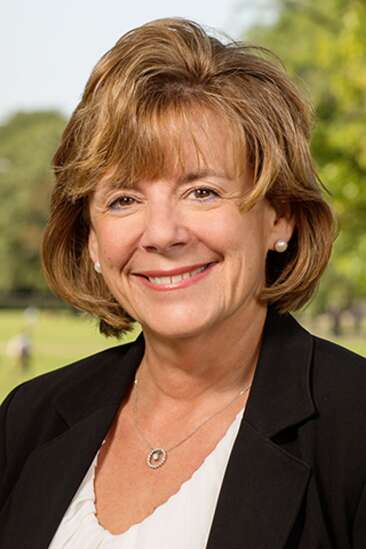 IOWA CITY — The second finalist hoping to become the next president of the University of Iowa comes from the neighboring University of Illinois System in Urbana.
Barbara J. Wilson serves as the system's executive vice president and vice president for academic affairs — making her the second most senior executive and chief academic officer over the system encompassing three universities, more than 90,000 students, 6,000-plus faculty and a $6.7 billion budget.
The second UI presidential finalist — following Hari Osofsky, dean of Penn State Law and the Penn State School of International Affairs — Wilson is scheduled to be on the Iowa City campus Thursday and Friday.
At 3:30 p.m. Thursday, she'll participate in a public forum, which will allow limited in-person attendance but will be livestreamed online. Members of the public can submit questions and re-watch the forum on the UI presidential search website.
A UI search committee has identified four finalists to succeed UI President Bruce Harreld, who is leaving May 16 — after initially offering to stay on until a new president begins.
Outgoing UI Graduate College Dean John Keller will step in as interim president until a new president arrives.
Weathering controversy
According to Wilson's University of Illinois bio, in her current role she works with chancellors and provosts of the Urbana-Champaign, Chicago and Springfield universities to define and shape "strategic academic priorities for the system, coordinating planning and budgeting across the system, and spearheading systemwide academic initiatives."
Working with the system's President Timothy L. Killeen, Wilson has endeavored to advocate for her campuses across the cash-strapped state and nation, "building connections with legislators, funding agencies and leaders in higher education and industry."
She has experience weathering controversy, stepping in as interim chancellor of the Urbana-Champaign campus in 2015 after Phyllis Wise resigned for her handling of a controversial professor who made anti-Israel tweets and her use of private email to conduct public business.
During her interim stint, Wilson fired two head football coaches and an athletic director after one of the coaches was accused of mistreating players, according to Illinois Public Media.
And in 2016 she announced the University of Illinois would initiate its search for a new mascot — nine years after retiring Chief Illiniwek under NCAA pressure.
Her handling of controversy earned a mention when she was promoted to her current vice president roles in 2016 — newly created posts directly under Killeen, who praised her work during a "turbulent" year, according to media reports.
"I am delighted that she will now share her many talents to serve the entire U of I System, and elevate our standing as a global leader in education, innovation and service to the public good," Killeen said in a statement at the time of her promotion.
Communications background
Wilson's education is in journalism and communication, earning her bachelor's degree in journalism from the University of Wisconsin-Madison, where she graduated with honors. She also earned a master's and doctoral degrees in communication arts from Wisconsin in the 1980s.
Her academic experience includes research and faculty stints and administrative positions at the universities of Wisconsin, Louisville and California-Santa Barbara before she started in Illinois.
Having been on faculty with the Urbana-Champaign campus for two decades, Wilson was appointed head of its Department of Communication from 2002 to 2009, around the time the institution found itself in an admissions scandal of sorts.
In 2009, an investigation by the Chicago Tribune found top administrators were giving special treatment to relatives of lawmakers, trustees and other influencers, according to Inside Higher Education. The scandal brought down a broad swath of administrators, including most of the Board of Trustees.
Wilson spent five years as vice provost and then executive vice provost, before stepping in as dean of the College of Liberal Arts and Sciences in 2014.
The next year she replaced Wise amid the emails' controversy.
Her research has focused on social and psychological effects of media, particularly on youth — an increasingly relevant topic.
Wilson, in that vein, has co-written or coedited four books and written more than 80 articles, book chapters and technical reports on media effects and what they could mean for media policy.
A native of Appleton, Wis., Wilson boasts Midwest roots. Her husband, John Lammers, is a communications professor, according to her Illinois bio. They have two daughters.
Vanessa Miller covers higher education for The Gazette.
Comments: (319) 339-3158; vanessa.miller@thegazette.com