Home / Terex Cedarapids closing stuns community
Terex Cedarapids closing stuns community
Dave DeWitte
Aug. 6, 2009 5:17 pm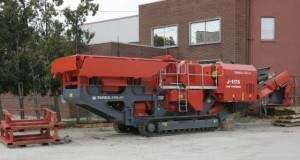 A decision announced Thursday to close one of Cedar Rapids' oldest manufacturing operations stunned community and union leaders.
Terex Cedarapids, which makes rock crushing and paving equipment, will eliminate some 170 jobs when it ends manufacturing at its northeast Cedar Rapids facility in mid-2010. The company's engineering, sales and service functions, which employ about 50, will remain in Cedar Rapids. Production will be shifted to other factories owned by its parent company, Terex Corp. of Westport, Conn.
Terex blamed the drop in construction-equipment orders because of the worldwide recession for its decision to close the plant. The company has lost money for the last two quarters.
Sales were down 55 percent in the quarter that ended June 30, and Terex is forecasting a loss for its fiscal year.
The business that is now Terex Cedarapids was founded in Cedar Rapids in 1923 as Iowa Manufacturing and became one of the city's largest employers under prominent industrialist Howard Hall. It was acquired by Terex in 1999 and has since cut back from about 900 employees to about 220.
Union leaders at the plant were informed at 1:45 p.m. Thursday that the plant will be closing.
"It was a shock," said Joe Ironside, business representative for Machinists Local 831.
Kelleen Yancey, the wife of a plant employee, said she was shocked and started crying when she heard the news.
"We will make it somehow," she said. "We're determined. We've fallen down before, but we came back up."
Ironside said he offered Thursday to arrange a meeting between Terex and Gov. Chet Culver's office to see if the state could offer assistance to keep the plant open, but Terex officials were not interested.
"It's disappointing," said Mark Seckman, president of the Cedar Rapids-based economic development agency Priority One, which had no advance warning of the decision.
"You're dealing with peoples' livelihoods here."
Seckman said he tried for more than two years to arrange a meeting with leaders at Terex headquarters. He said the plant provided "very good-paying jobs."
Local Terex Cedarapids management shared with Priority One studies comparing production costs in Cedar Rapids with other Terex locations. He believes costs were only one factor in making the decision, however. Seckman said they did not request specific assistance.
Terex timeline
1923: Founded by Howard Hall as Iowa Manufacturing.
1927: Produces first portable crushing and screening plant.
1929: Produces first portable mixing plant.
1940s: Is sole supplier of military crushing and screening plants.
1972: Iowa Manufacturing sold to Raytheon Co.
1976: Iowa Manufacturing acquires ElJay.
1985: Company changes name to Cedarapids Inc.
1989: Cedarapids Inc. acquires Standard Havens of Glasgow, Mo.
1995: Cedarapids Inc. plant expands.
1999: Cedarapids Inc., with 1,100 employees, sold to Terex Corp. of Westport, Conn., for $170 million.
2000: Terex completes layoff of 440 at Cedarapids Inc., eliminating third shift.
2000: The city of Cedar Rapids repays $450,000 to the state for loan awarded Cedarapids Inc. in 1995 because jobs were not retained.
2009: Terex says it will end production at its Cedar Rapids plant by mid-2010, eliminating 170 jobs.