Home / Opinion / Staff Columnists
Merry Christmas — and a happy, less antisemitic New Year
Antisemitism is on the rise once again. It's time to do what we can to learn from the past and reach toward a brighter future — one without hate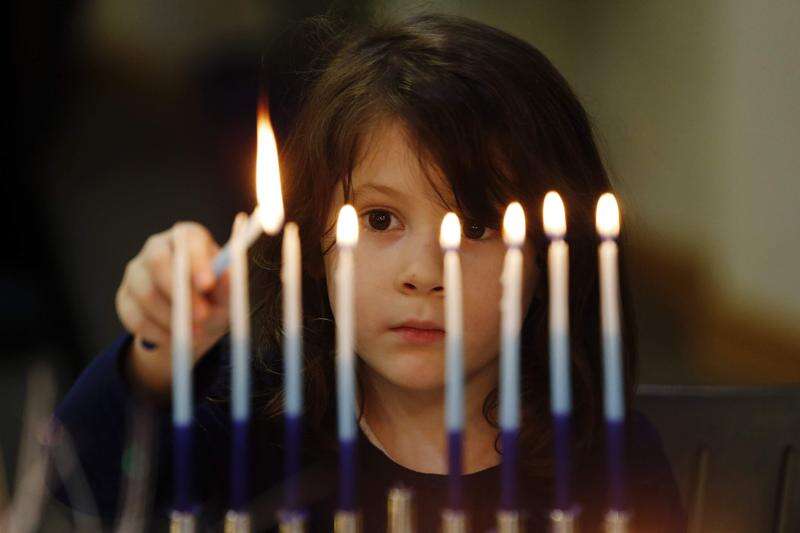 Happy holidays and a merry Christmas to those who celebrate. This time of the season is meant for spiritual reflection, celebration of faith and joyous togetherness. For some, this time is also a sacred remembrance, celebrating freedom from oppression. In the commercialization of the holidays, where people are concerned with gift-buying and materialistic shows of affection, it can be easy to forget the true meaning of our celebrations — and where they came from. This holiday season, this writer implores the Iowan public to take a step back from the glitz and sparkle of the season and really reflect on what can be done to help thy neighbor — not just the people one cares about most in life, but the ones discarded, too.
One of the most prevalent concerns right now is the violent resurgence of antisemitism. The Anti-Defamation League reported that in America there were more antisemitic incidents — including harassment, vandalism and assault against Jewish people — from 2019 to 2021 than in any other year since the group started keeping track in 1979. It's important that in our collective celebrations this holiday season, we don't forget those who might not be as fortunate or are being attacked frequently, often as subjects of persecution. Aside from former president Donald Trump dining with known Nazi sympathizers and Holocaust deniers, such as Nick Fuentes and Kanye West, it's clear antisemitism is making a big comeback — if it ever really left at all.
For those unfamiliar with what antisemitism is, the International Holocaust Remembrance Alliance, comprised of researchers and scholars from 32 different nations, spells it out best: "Antisemitism is a certain perception of Jews, which may be expressed as hatred toward Jews. Rhetorical and physical manifestations of antisemitism are directed toward Jewish or non-Jewish individuals and/or their property, toward Jewish community institutions and religious facilities." So, what does that really mean? Some of the most frequent instances of antisemitism rely on the belief that Jewish people conspire together to harm humanity and can, in some way, be blamed for why things go wrong. It can appear in speech, writing, visual forms, actions, and more.
For researchers, antisemitism often serves as a signifier of a country's health and a touchpoint for its volatile vulnerability to hate in general — a canary in the coal mine. Now, the last three years haven't been easy by any means. The American public at large has had to endure a devastating pandemic, an economy on the brink of recession amid rising inflation, a racial reckoning, landmark shifts in minority rights and more. Everyone is suffering, but that doesn't mean turning to hate is a reasonable answer.
Growing up, I was taught like all the other kids that discrimination was wrong and violence is never the answer. But today, some of the most powerful people reached their positions by sailing ahead on platforms of hate, white supremacism and brazen displays of violence and disrespect at the highest level in this country (i.e., the Jan. 6 insurrection). "Anti-Jewish bigotry, or at least tacit approval of anti-Jewish bigotry, is coming from people with serious power: the leader of a major political party, a famous pop star, and the world's richest man," New York Times columnist Michelle Goldberg writes. "Such antisemitism still feels, at least to me, less like an immediate source of terror than an ominous force offstage." Powerful people spewing an "us" versus "them" perception to their robust base is exactly how some of the biggest genocides started. I'm not saying that's the case here, but it does require one to ask oneself, what do my actions really mean — and perhaps even more important, how will my actions affect those around me and my community at large? As Goldberg writes, "Besides being a crisis, escalating antisemitism is a warning: Things are falling apart."
We're in the midst of a culture war — one that's pitted large groups of people against each other from years of endless turmoil and a fight for rights. Nearly one-fifth of Americans believe in QAnon conspiracy theories, like Blood Libel, which falsely accuses Jewish people of murdering Christian boys in order to use their blood in the performance of religious rituals. And of course, there's the conspiracy theory that the world is controlled by the "Deep State," a cabal of Satan worshippers and pedophiles. Succumbing to outlandish conspiracy theories that pit our neighbors and community members against us for the sake of staying with the in-group is cowardly behavior, anti-social behavior. It's harder to overcome one's differences to reach a brighter future, I admit. But, who are we if not people who can come together when it counts the most?
We are all responsible for our own actions. As such, we should all try harder to be the best versions of ourselves that we can be — and help others whenever we can. Otherwise, what makes us better from the people of our past who have committed atrocities to the highest degree? What differentiates us from the barbaric nature of our ancestors who brought disease, famine and death in their hateful persecution of the so-called "Other?"
I hope it's our kindness and willingness to learn from past mistakes. I hope it's a collective effort to put things back together rather than tearing each other apart to get ahead. I hope it's our relentless human ability to persevere in the face of evil and come out on the other side, with more love to share.
This Christmas, love thy neighbor — every last one of them.
Nichole Shaw is a Gazette editorial fellow. Comments: nichole.shaw@thegazette.com
Opinion content represents the viewpoint of the author or The Gazette editorial board. You can join the conversation by submitting a letter to the editor or guest column or by suggesting a topic for an editorial to editorial@thegazette.com