Home / Maryland 38, Iowa 31: Everything ravaged
Maryland 38, Iowa 31: Everything ravaged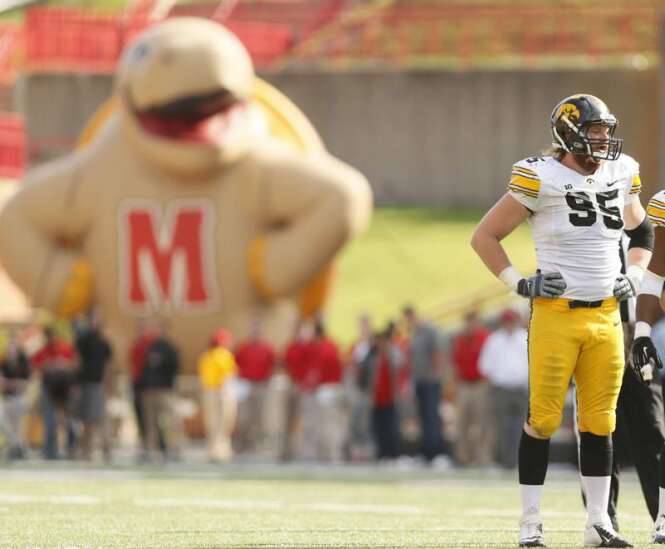 COLLEGE PARK, Md. - They play the coach's postgame news conference over the PA here at Byrd Stadium. Maryland coach Randy Edsall's ebullient voice echoed with joy and managed to toss out a telling stat.
'They threw the ball 56 times," Edsall beamed. 'If you go back and try to find out the last time Iowa threw the ball 56 times, you're going to be searching for a while."
Edsall's voiced boomed as the Hawkeyes sat on a concrete wall outside of their locker room waiting patiently for the postgame interview horde. Offensive tackle Brandon Scherff barely looked up, sitting and texting.
'I wasn't listening to that," Scherff grumped.
You knew Iowa had vulnerabilities going into Saturday's 38-31 loss before 48,373 fans here. Those were sudden and solid and way too numerous. Coming out of this, you have to wonder what works for the Hawkeyes (5-2, 2-1 Big Ten).
The Terrapins (5-2, 2-1) scored on a 53-yard wide receiver screen from Perry Hills, a third-string QB who hadn't thrown a pass since 2012, to star receiver Stefon Diggs, who caught nine passes for 130 yards. They scored on cornerback William Likely's 45-yard interception return for a TD. They daggered Iowa with a nine-play, 54-yard drive for a TD and a 38-21 lead in the fourth quarter.
When was the last time Iowa threw 56 passes? It did so just one other time in head coach Kirk Ferentz's 15-plus seasons (Scott Mullen threw 60 times in a 38-31 loss to Indiana in 1999). It didn't work in 1999 and it certainly didn't work against Maryland's defense, which dug out three turnovers that ended up as 10 points and put at least a double-digit number of hits on quarterback Jake Rudock.
What usually works for Iowa didn't work against Maryland. Scherff and the offensive line lost way too many battles, surrendering four sacks. Iowa came into the game as one of the least-penalized teams in the country. It had seven for 65 yards. Iowa trailed 17-14 at halftime and stood to get the ball with a 17-mph wind to its back at UM's 35-yard line with about 10 minutes left in the third quarter. But no, cornerback Desmond King, one of Iowa's sterling performers this season and a midseason all-Big Ten pick, tried to field the punt and coughed it up.
That's all stuff that usually works for Iowa. It didn't Saturday. For the second straight week, Iowa's defense was smeared for 200-plus rushing yards, with the Terps rolling up 212 on 46 carries.
Defense is what Iowa has lived on. Tackling killed the Hawkeyes. Running back Jacquille Veii scored on a 23-yard TD run in the first quarter after escaping linebacker Reggie Spearman at the line of scrimmage.
'Things we are known for doing when we play well, I can't think of one of those things we did today," Ferentz said. 'We have a reputation of being a team that is going to block cleanly, but we didn't do that today. We tend to defend the run and tackle well, but we didn't do that, either. Throw in special teams errors, by my count, we had five major penalties, you do those kinds of things and expect to overcome them, it puts a lot of pressure on you."
So, Iowa goes into its second bye week needing to fix the things that usually work for it. There are the usual complaints. There was a lot of cyber thunder raining down on Rudock, who completed 32 of 56 for 317 yards, two TDs and the pick six. Backup C.J. Beathard was 'nicked up," according to Ferentz, but was available Saturday. Ferentz said there wasn't much discussion of Beathard playing. He didn't warm up after the game started, so read into 'nicked up" what you will.
You want to fit in Iowa's running game into the 'what usually works" category, but it's been suspect all season. Iowa was effectively pulled out of the playbook in the fourth quarter. Down 24-21, Iowa called four straight pass plays. Likely jumped the fourth, a third-and-6 pass in the flat intended for running back Damon Bullock, and sprinted untouched for a 31-21 lead.
'It was a bad decision," Rudock said. 'That's a play on me. Really bad decision on my part."
Iowa lapsed into desperation and predictability thereafter, throwing on 32 of 36 plays in the fourth quarter. The predictability was verifiable.
'They were running that play a lot," Likely said of what he saw before the interception. 'We knew every time they were in trips, 3-by-2, with the back on that side, that they were going to run a stick route on that side."
Offense, defense, special teams, coaching.
'They outplayed us, they outcoached us," Ferentz said. 'Check, check, check, down the list."
That's the bad news. More vulnerabilities were left exposed. Iowa now goes in bye mode in search for cures that might be cureless.
l Comments: (319) 398-8256; marc.morehouse@thegazette.com