Home / News / Government & Politics / Local Government
Linn County, metro suburbs use local-option sales tax to 'stay ahead'
Local officials urge voters to approve extension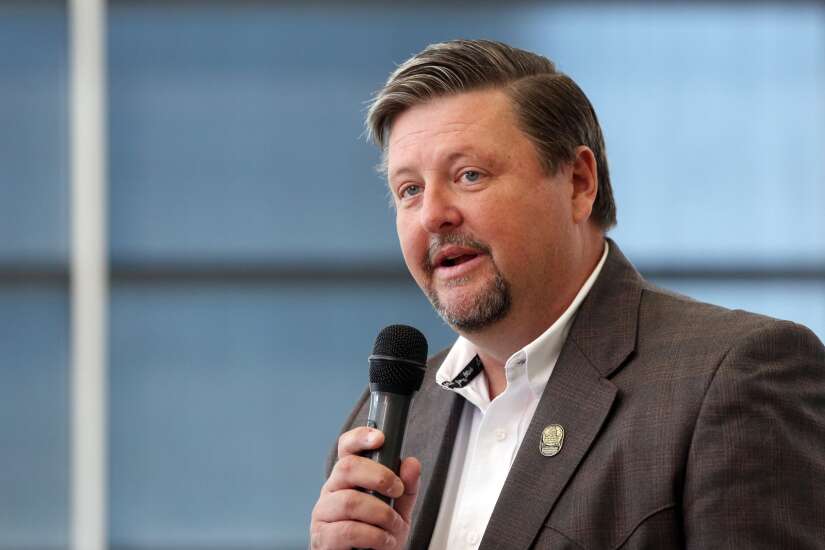 An extra sales tax approved by voters has helped finance library expansions, road improvement, conservation efforts and property tax relief, among other initiatives, throughout Linn County — and community officials said Wednesday they hope voters will agree this fall to keep it going.
Representatives from Marion, Hiawatha, Robins, Fairfax and Linn County joined Cedar Rapids at a news conference Wednesday in advocating for the extension of an existing 1-cent extra sales tax through 2034. Voters in the five contiguous cities must agree to the Nov. 2 ballot question if the tax — which brought the local sales tax from 6 percent to 7 percent — is to be extended. Voters in the unincorporated area can decide independently.
Across the metro area, the cities gain $31 million a year in revenue from the extra sales tax, said Ron Corbett, business retention and expansion strategist for the Metro Economic Alliance, at the news conference.
Marion
Marion Mayor Nick AbouAssaly said the sales tax helps improve the "quality of life" in Marion as the funds have helped support road construction and major projects like a new YMCA and library, which is in progress.
"I'm not sure that project could've happened without it," AbouAssaly said, referring to the new library. That project is being funded in part by $5 million of LOST dollars.
The tax money has also gone to park improvements and equipment upgrades for the parks and recreation department as well as the fire department.
Marion residents voted in 2013 for 70 percent of the extra sales tax funds to go toward street and sewer construction and improvements, and for 30 percent to go toward community projects.
In fiscal 2021, Marion is estimated to receive about $8,144,583 from the sales tax distribution, according to the Iowa Department of Revenue. In total, Marion has collected over $34 million from the tax through April 30, AbouAssaly told The Gazette.
As for what the tax money would be used for in the future if extended, AbouAssaly said the city hasn't started the process of what the specific ballot language will say.
Linn County
Linn County Supervisor Louie Zumbach said it's important for rural residents to realize Cedar Rapids is the business and shopping hub of the entire community.
"It's a plus for anyone who lives here to vote for this," he said during the news conference. "This is extremely important for rural residents as it is for urban residents."
In fiscal 2021, the county will receive about 6,281,338 in LOST funds, according to the Iowa Department of Revenue.
Voters who live in unincorporated Linn County voted for 50 percent of the funds to go toward the secondary roads system, 25 percent to go toward conservation projects and programs and 25 percent for property tax relief.
Over the last decade, the secondary roads department has received $36 million in LOST funds, County Engineer Brad Ketels told The Gazette. The funds, Ketels said, have accelerated the five-year construction program by paving 106 miles of roads, completing three bridge projects and three culvert replacement projects. Ketels said continuing LOST funding would help expand the paved road system.
County Conservation Community Outreach Specialist Ryan Schlader said that over $8 million in LOST funding has helped leverage completion of $28 million in projects over the period the funding has been available.
Specific projects include the Mary Lundby Bridge connecting the campground to the day-use park at Pinicon Ridge, modern restrooms and playgrounds at Pinicon Ridge, trail development on the Cedar Valley Nature Trail north of Cedar Rapids and the Highway 100 trail connection through Morgan Creek Park.
County Communications Director Joi Alexander said for fiscal 2020, $2.7 million of LOST funding is budgeted for road construction, $1.5 million for conservation projects and $1.5 million for property tax relief.
Hiawatha
Hiawatha City Manager Kim Downs said the city uses LOST funds for a variety of projects. In 2013, Hiawatha residents voted for about 10 percent of LOST funds to go toward property tax relief and the rest to go toward "any lawful purpose," according to the 2013 ballot language.
Those purposes include retirement of outstanding debt, as well as improvements to the water and sewer system; streets; public safety; library; and park and recreation.
Hiawatha will receive about $984,750 from the extra sales tax money in fiscal 2020, according to the Iowa Department of Revenue.
The city recently expanded its library in part using LOST funds, Downs said. "We were able to build it without using property taxes. That's huge," Downs told The Gazette.
The city also had used LOST funds for road-improvement projects, the construction of its public safety training facility and garage as well as equipment upgrades to the public safety departments, Downs said. In the future, the city is looking at using LOST funds to help add a second fire station, Downs said.
"We've reduced our tax levy rate by a dollar over a four-year period," Downs said. "If we would've had to levy for all these projects, that would be an additional 10 dollars per thousand I bet, so LOST is very positive for us."
Fairfax
Fairfax Mayor Bernie Frieden said the city uses LOST funds to supplement its capital improvement fund.
In 2013, Fairfax residents voted for 100 percent of LOST funds to be used for "any lawful purpose," according to the ballot language. In fiscal 2021, Fairfax will receive about $286,833 of LOST funds, according to the Iowa Department of Revenue.
Frieden said the funds allow Fairfax to "stay ahead."
"Without it, we would have to slow down and take more time," Frieden told The Gazette. "With it, it allows us to stay ahead of things and not wait years for improvements."
The city has used LOST money to help pay for a new firetruck, a new snowplow, improvements to the library and the administration building as well upgrades to parks, which included constructing a sports complex.
"You can't do it all with just local-option sales tax of course, but it does certainly help," Frieden said.
Robins
Robins Mayor Chuck Hinz also emphasized that the local-option sales tax is important for the town mostly made up of residential properties.
"When the vote first came up, the citizens of Robins were very supportive," he said during the news conference. "It's been earmarked specifically for infrastructure."
For fiscal 2021, Robins will receive about $455,301 in LOST dollars, according to the Iowa Department of Revenue.
Robins City Clerk Lori Pickart said the city uses LOST funds mainly for sewer and water infrastructure and road improvements.
Comments: (319) 398-8255; gage.miskimen@thegazette.com