Home / News / Health Care and Medicine
Iowa summer camps reopen with new COVID-19 protocols
Eastern Iowa camps implementing masking, social-distancing requirements as they welcome back campers this summer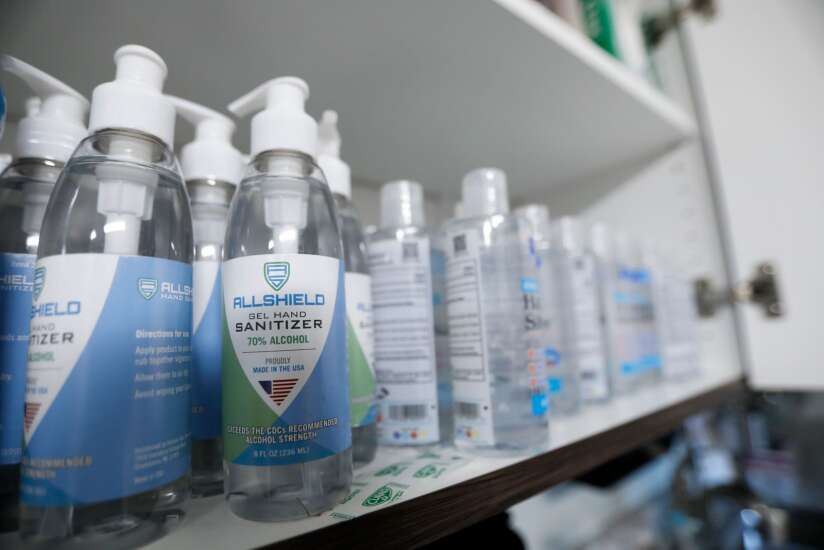 Leaders at local summer camps are working to create as normal an experience as possible in the midst of the ongoing pandemic, all while ensuring campers — who largely don't qualify for a COVID-19 vaccine — are safe from the novel coronavirus.
As they prepare to welcome back the first campers of the season, summer camp officials say they are mainly relying on "nonpharmacologic interventions" to prevent COVID-19 spread at their locations.
That includes limiting interactions among campers, robust cleaning polices and masking requirements.
Camp Wapsie Programs Director Jess Flesch described using these interventions like layering Swiss cheese. There's holes in individual policies, but by stacking them, she said they're able to better mitigate risk to campers and staff.
"We want as many campers vaccinated as possible, but we can't rely on that because so many kids aren't able to be," Flesch said.
Camp Wapsie, the YMCA of Cedar Rapids Metropolitan Area's summer camp in Coggon that will host its first batch of campers June 13, will require masks anywhere outside a cabin or living unit, Flesch said.
Some venues across Eastern Iowa also are taking the step of limiting campers' interactions with other children to reduce the chance of exposure, should there be a positive case.
This year's attendees at Camp Tanager, Tanager Place's camp in Mount Vernon, only will attend activities and share meals with those staying in their cabin. Even during all-camp events, each social circle of eight campers will maintain social distancing from one another, Camp Director Donald Pirrie said.
"If we keep groups of kids within that small group, we would only really have to test other seven, since they haven't interacted with other kids," he said.
In addition, masks are required indoors or in situations where social distancing isn't possible, Pirrie said.
The summer camp operated by the Girl Scouts of Eastern Iowa and western Illinois in the Quad Cities, Camp Liberty, is taking a similar approach by limiting camper interaction to individual units.
Campers, who will begin arriving June 13, will be required to wear a mask when they're interacting with someone outside their unit.
Camp Wapsie also is changing its typically open schedule and having campers attend activities in cabin groups. In addition, they'll be split into two groups — one for the older campers and one for the younger campers — that won't interact at all throughout the course of the week long stay, Flesch said.
Most campers not vaccinated
Camp Courageous in Monticello, on the other hand, said program attendees won't be required to wear a mask, thanks to a law put into effect this past month. CEO Charlie Becker said an order banning mask mandates in Iowa also applies to the camp, a year-round recreational and respite care facility for individuals with special needs.
"With the change in the law, it changed everything here," Becker said, who added visitors still are welcome to wear masks if they choose.
However, many Camp Courageous campers already have received the COVID-19 shots, Becker said, including those that qualified as long-term care facility residents in the vaccine rollout earlier this year.
The U.S. Centers for Disease Control and Prevention issued new guidelines late this past month stating fully vaccinated campers do not need to wear a mask.
It further notes that at camps where not everyone is vaccinated, those who are fully vaccinated don't need to wear masks. Unvaccinated individuals, on the other hand, are "strongly encouraged" to wear masks indoors and outdoors in crowded situations.
The new CDC guidance comes after the U.S. Food and Drug Administration authorized the Pfizer-BioNTech vaccine for use for children between the ages of 12 to 15.
But many of the younger attendees at Eastern Iowa summer camps won't qualify for the shot. Camp Tanager only hosts kids aged six to 11 years old at its day and overnight programming.
Officials at Camp Wapsie also say the majority of those staying at the camp will not be vaccinated.
"More than half of campers are not eligible, so that's why we're being stricter" with COVID-19 protocols, Flesch said.
Parents eager to send children to camp
Despite that many campers won't be vaccinated against the virus, local directors say parents and families are eager to send their children away from home for the cherished summer tradition.
"Most people are excited their kids are getting back into normal activities," Pirrie said.
That rush in this year's summer camp season is a nationwide trend, with parents in some parts of the country struggling to find available slots as demand exploded. Bloomberg News reported after a year of isolation and remote school, Americans are eager to provide children time away from home.
"Everyone's just excited to get their kids outside and away from screens," Flesch said.
Eastern Iowa summer camps aren't completely booked up yet. There still are openings at Camp Wapsie, which has about 150 slots available as of this past week, Flesch said.
Camp Tanager's registrations for overnight programming have dropped this year, but the day camp numbers are higher than previous years. Pirrie said that indicates parents are ready to send children to camp, but they are not necessarily ready for overnight stays.
Camp Courageous also is not seeing the same attendance it had seen before the pandemic. Becker said in 2019, they were just below 10,000 total campers.
As of the end of April, they hosted just over 1,100 campers.
Many summer camps are limiting capacity this year, reducing the number of children at its locations in an effort to offset risk of outbreaks.
The Girl Scouts camp plans to operate at 50 percent capacity for the summer, "enhancing the ability to appropriately distance during more difficult parts of the sessions," its COVID-19 plan states.
That means attendance for the summer will be around 750 campers between the ages of seven and 17, Director Rachel Eisenmann said. In 2020, before camp leadership decided to shut down operations because of the pandemic, about 1,400 campers were registered to attend.
Camp Wapsie is putting its capacity at 80 percent, or about 1,650 campers. That means 10 campers will sleep in a cabin that typically houses 12.
Camp Tanager is paring down its typical per-cabin capacity down to eight campers this year, Pirrie said.
Despite this year's COVID-19 rules, directors say they are working to create as normal of a summer camp experience as they can for campers, allowing them to enjoy canoe voyages and campfire singalongs without fear from the virus that has upended so many lives.
"We are ecstatic to be able to welcome campers back the property after such a long and challenging year, as our lives have changed," Eisenmann said. "Giving girls the ability to be able to be a kid again, working through social and emotional learning experiences, and making memories in nature is what drives our staff."
And as time progresses and more community members are vaccinated, they say they're seeing families' confidence in the safety of these typical summer events "growing by leaps and bounds every single day."
"It seems like as each day passes, the hesitancy really lessens," Becker said.
Comments: (319) 398-8469; michaela.ramm@thegazette.com