Home / News / Government & Politics / State Government
Iowa OSHA: Anamosa prison didn't have reliable radios
'People died, I believe, potentially because radio systems did not work'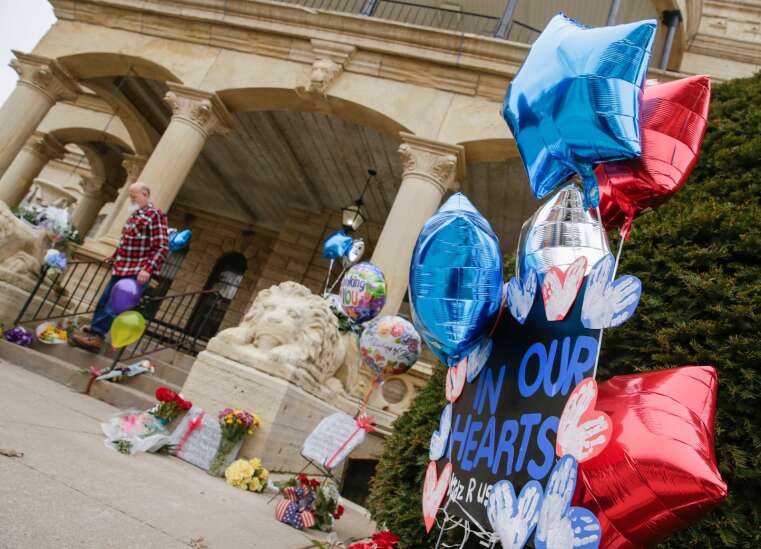 Iowa OSHA last year proposed penalties of nearly $20,000 against the Iowa Department of Corrections for workplace safety violations at the Anamosa State Penitentiary — including for not having reliable radios for correctional officers to call for help during violent attacks.
The Eastern Iowa prison is where two inmates are accused of bludgeoning to death two employees March 23 in a failed escape attempt.
The state occupational safety agency reported the Anamosa prison didn't have reliable radios, failed to follow its own emergency response plan and didn't have a handrail on all stairs, according to citations and notices of penalties filed Aug. 18, 2020. The total proposed penalties for those violations was $20,007.
"The employer has failed to provide an adequate and reliable means of communication for employees to summon assistance during violent attacks or calls for emergency aid," the citation states. "The TAIT radios issued to correctional officers have documented shortcomings that impede the communication abilities of correction staff facility wide."
Citations Anamosa (002) by Gazetteonline on Scribd
OSHA inspectors had visited the prison on Feb 26, 2020, after a complaint was filed by AFSCME Council 61, the union that represents Iowa correctional officers.
AFSCME contends dropped radio calls may have been part of the reason two offenders were able to use prison-issued hammers to beat to death correctional officer Robert McFarland and nurse Lorena Schulte March 23 at the prison.
"People died, I believe, potentially because radio systems did not work," AFSCME Council 61 President Danny Homan said during a news conference this week in Des Moines.
Investigators have not said whether there were dropped radio calls in the March 23 attack. The case remains under investigation by the Iowa Division of Criminal Investigation.
Iowa OSHA also cited the Corrections Department over radio issues at the Iowa Medical and Classification Center near Coralville.
"A corrections officer was physically assaulted by an inmate inside of a housing unit, and as result of this attack suffered injuries to their head and face from approximately 17 closed-fist blows," an Aug. 28, 2020, citation states. "The staff member was unable to utilize the TAIT 9300 radio to call for emergency aid during the incident."
The proposed penalty for the IMCC prison was $9,472.
Imcc Osha Complaint 2.20 by Gazetteonline on Scribd
The Corrections Department is contesting the citations and there are hearings scheduled in July and August, spokesman Cord Overton said Friday afternoon.
"While we cannot go into specific details about our response to the allegations while the case remains open, we are confident in our data that indicates our radio communication system has not caused any delays in response to staff assaults," he wrote in an email response to The Gazette. "Iowa OSHA's investigation did not include interviews with management to confirm or deny allegations and did not include a review of specific incidents where the emergency button was utilized by staff. The department would not be contesting these citations if we did not have factual data supporting our case."
Overton did not respond to a question about whether the radio system has been replaced.
These complaints apparently caused the Corrections Department to propose a bill before the start of the 2021 legislative session that said incidents of violence by an offender against another offender or prison staff "shall not be considered sufficient evidence for determination by the labor commissioner … that a violation of a safety or health standard exists that threatens physical harm, or that imminent danger exists," according to a copy of the bill that was withdrawn before the session began in January, according to AFSCME.
A memo from Overton, who also is the department's legislative liaison, said the bill came about after complaints filed to Iowa OSHA resulted in inspections at Iowa prisons.
"The unpredictable behavior of inmates simply cannot be identified as a recognized hazard," Overton wrote. "One state agency using situations that are virtually impossible to prevent in order to fine another agency is a poor use of taxpayers' resources."
Michael Dutcher, 28, and Thomas Woodard, 39, face charges of first-degree murder, second-degree kidnapping and attempted murder in connection with the March 23 attack. In addition to killing Schulte and McFarland, they also are accused of briefly holding hostage Lorie Matthes, another staffer, and using hammers to strike McKinley Roby, another inmate, in the head.
The offenders, assigned to Anamosa's maintenance crew, gained access to the tools and went to the prison infirmary under the pretense of doing repairs, investigators said. Instead, they used the hammers to break the glass of a window in the break room off the infirmary and tried to cut though the bars with a metal grinder.
Comments: (319) 339-3157, erin.jordan@thegazette.com