Home / Sports / Iowa Hawkeyes
Iowa captures Big Ten men's outdoor track and field title
Hawkeyes have won 2 straight outdoors and the 2021 indoor championship
The Gazette
May. 16, 2021 8:57 pm, Updated: May. 17, 2021 8:58 am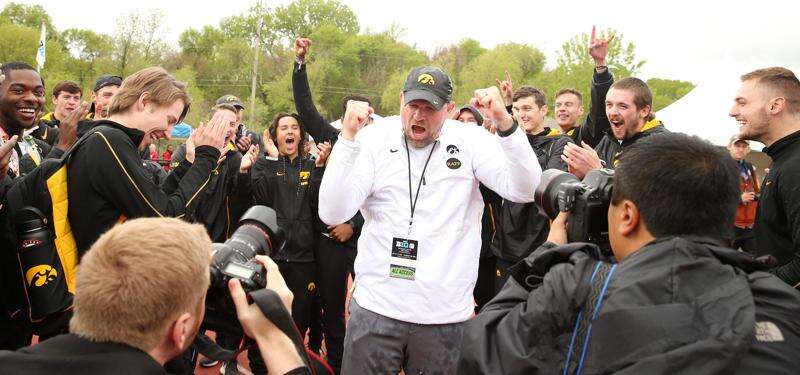 CHAMPAIGN, Ill. — The second verse may not have been exactly like the first, but it was just as special.
The Iowa men's track and field team repeated as Big Ten Conference champions on Sunday, totaling a school-record 127.5 points and beating runner-up Michigan by 33.
This is the fifth Big Ten title in Iowa track and field history, the third since 2011 and the second in a row because last year's outdoor championships were canceled.
The 2019 title came shortly after the death of John Raffensperger, an assistant on the Iowa staff and a mentor and former coach for Hawkeye Coach Joey Woody.
That was an emotional roller coaster. This came in a season of uncertainty and also an emotional roller coaster.
"This is really special because of our seniors" who came back, Woody said. "This means a ton, just to be able to get through the adversity.
"We just had to keep the student-athletes engaged, keep them focused and to continue to be driven ... Both of these wins, I'll never forget."
Iowa now has won three straight contested Big Ten track and field titles — 2019 outdoor, 2021 indoor and outdoor. It's Iowa's first indoor-outdoor sweep since 1963.
"This coaching staff and every one of our athletes competed their butts off and I am extremely proud of our entire team," Woody said. "This was a complete team win, just like it was during the indoor season. "
The Iowa women finished fourth with 75 points, led by senior Laulauga Tausaga. She won the discus Sunday, the first in program history to win four outdoor Big Ten titles.
"Lagi is the ultimate competitor," Woody said. "... Every time she steps in the ring, she has a chance to win in the shot put, discus, hammer, weight throw, whatever it is.
"She is just a tremendous athlete and unbelievable competitor. ... She has big goals. She expects to be a national champ again and repeat there. She expects to make the Olympic team and make the Olympic final and make the podium. She is gunning for a medal and I think she has a really good shot to do that."
The men were led by hurdlers Jaylan McConico and Jamal Britt. McConico won the 110 hurdles with a career-best time of 13.23 seconds, a school record that also equaled the Big Ten Championship meet record.
Twitter
Britt was second in the 110s in 13.60 and won the 400 hurdles in 49.69, his second career-best in as many days.
The men had a haul of silver medalists — former Cedar Rapids Prairie prep Tysen VanDraska in the 800 (1:48.67), Wayne Lawrence, Jr., in the 400 (45.46) and James Carter in the triple jump (16.08 meters).
"Amazing performances all across the board," Woody said.
Dallyssa Huggins joined Tausaga as a winner in the women's meet, capturing the high jump with a career best (1.79 meters).
While the Big Ten title is nice — again — it's not the end of the season. The NCAA Western Regionals are May 27-29 in College Station, Texas.
"We've still got a lot of things on the horizon," Woody said, adding he thinks this weekend's performance will give the Hawkeyes a boost in the national rankings. "We have the NCAA first round in two weeks down at Texas A&M. In four weeks, we have the NCAA finals and then we have the Olympic Trials, so we have a long season ahead of us.
"We are in a good spot going into the postseason."