Hawkeye Downs excited about 2021 racing season
Enduro kicks this off Saturday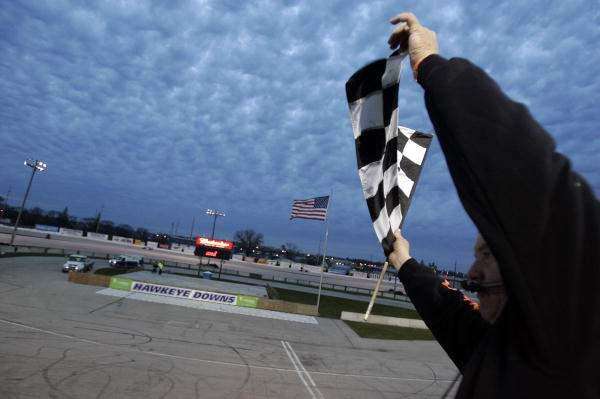 CEDAR RAPIDS — Hawkeye Downs was hoping 2020 would be a big year for the legendary local track, but a pandemic and a derecho had other plans.
"It was not what we wanted," said Caleb Slouha, media and public relations manager for the asphalt track in Cedar Rapids. "We were very pleased with what we got done and the crowds that we saw when we were able to have races, but this year we really want to put that all together.
"I think it's going to be a great year. We're excited for some of the parts and pieces that are being moved around."
The season officially begins Saturday with a 200-lap "Under the sea"-themed Enduro race that is expected to draw healthy crowds again after last season saw numbers approaching 100 entries.
A car show will be held April 24, with awards for best in show, best vintage and best modern entries while local drivers practice at the track with the grandstands open to the public.
"If you have a supped-up Honda or Corvette and you are willing to come out and display it we're willing to have you," Slouha said.
There also will be a pool and spa show that weekend.
"We've got a whole bunch of stuff on the expo side, too," Slouha said. "Rock and gem shows, gun shows, arts and crafts. You can have your wedding out here.
"Whatever you want to do, we've got the space and the free parking."
For race fans, May 7 will mark the beginning of weekly action with gates opening at 6 p.m. and racing starting at 7:30.
The team is working on making the asphalt track more inviting for the local dirt drivers, as well.
"It's tough (because) you can't just show up with a dirt car and come race with the asphalt guys," Slouha said. "It's harder, setup-wise, to be competitive.
"It's almost like a square is a rectangle, but a rectangle is not a square because you can take an asphalt car and go run on dirt and be pretty decent. From dirt to asphalt, the fine tuning is just so key and that's what makes it tough. But we're trying to get closer with the IMCA rules. We're hoping to make it easier with less changes for those guys to come run with us on a Friday night."
Slouha thinks the number of drivers should be comparable to last season, although they are always hoping for more cars.
"It's so tough to gauge because people go here and there," Slouha said. "It's hard on the short-track level because you don't get a press release of everyone's plans for the year."
Slouha also is excited about some shifts in the schedule that will see weekly racing through Aug. 20 and Enduros scheduled into October.
"We don't just want to talk the talk," Slouha said. "We want to walk the walk as well."