Home / News / Crime and Courts
Cedar Rapids advocacy groups continue to call for an arrest in fatal stabbing of Devonna Walker
Law enforcement officials cite conflicts, ethical concerns over being at forum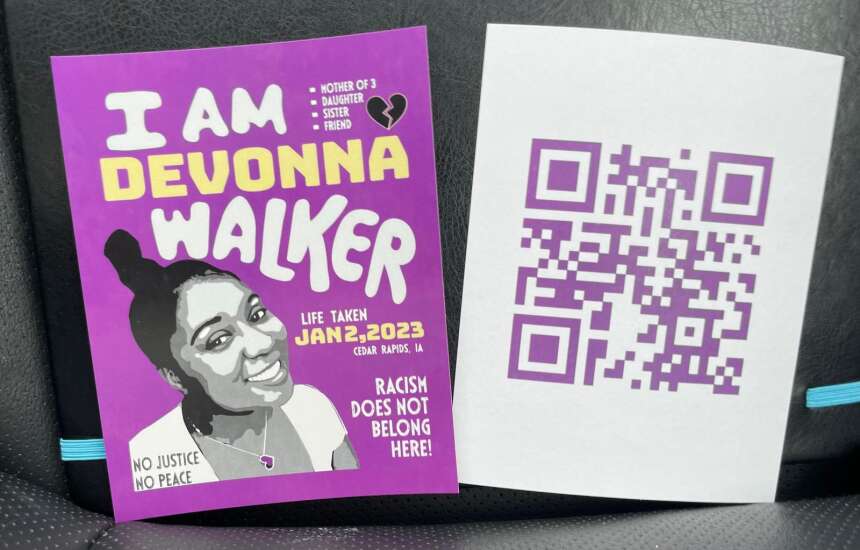 CEDAR RAPIDS — A coalition of local activist groups will host a town hall meeting Sunday at the downtown Cedar Rapids Public Library to discuss their concerns surrounding the Jan. 2 fatal stabbing of Devonna Walker, a Black woman, but law enforcement officials invited to the event say they will not attend.
Police were called to the 2100 block of North Towne Court NE about 6:45 p.m. Jan. 2. Walker was suffering from a stab wound and transported to a hospital, where she died. Two people were detained and interviewed by Cedar Rapids police, but released. No one has been arrested in connection with hers death.
A video of the incident, which has been circulating on social media, appears to show Walker arguing with a white man and woman and engaging in a fight with them before she is stabbed by the man.
Activists have been protesting regularly at the Cedar Rapids Police Department since Walker died, asking for an arrest to be made.
On Jan. 13, the police department said it had finished the investigation and was handing the case over to the Linn County Attorney's Office. The attorney's office released a statement acknowledging it had received the investigation from the police and would be making it a top priority.
Town hall event
A panel, including coalition members, a lawyer and Walker's family members will speak 2-4:30 p.m. Sunday about why they're seeking an arrest how Walker's death plays into the larger issue of how Black people are treated in the criminal justice system.
"Devonna's killing was an act of racism. There is no doubt that if the roles were reversed, and a Black man stabbed a white woman who was in an altercation with a Black woman, the Black man would have been arrested and charged on the scene," a news release about the event from The Advocates for Social Justice reads.
The coalition invited Cedar Rapids Police Chief Wayne Jerman, Linn County Attorney Nick Maybanks and Cedar Rapids Mayor Tiffany O'Donnell to the event
Jerman had other conflicting obligations that prevent him from attending, city spokesman said.
Maybanks emailed the coalition a letter, stating he wouldn't be there because "attending a community meeting about an active investigation would be highly unorthodox and potentially unethical for me to do in the beginning stages of any investigation."
"I do hope the coalition representatives understand that my declining to meet is not out of disrespect for the pain Devonna's family and the community is feeling, rather is out of our duty to uphold our ethical obligation to be circumspect regarding extrajudicial statements so as not to compromise the integrity of the investigation."
Maybanks said in the letter his office still is working with police to conduct important follow up and continue investigating Walker's death.
Maybanks said he was in contact with Walker's mother and has had a meeting with her in which a member of the coalition was present. He has also had many private conversations with coalition members, the letter states.
"Please know my entire office does acknowledge and is sensitive to the pain in the community, especially the Black community, surrounding the death of Devonna Walker. Our office has indisputable and extensive history of steadfastly pursuing the prosecution of violence crime against members of the Black community," he wrote.
O'Donnell also responded, stating in am email that she also won't be attending. She said she has shared her condolences with Walker's mother.
"As for the legal process, I must respectfully step aside and trust the work of the Cedar Rapids Police Department and County Attorney Nick Maybanks. I wholeheartedly support both of their efforts and know their commitment to justice," she wrote.
The coalition organizing the event is made up of groups including Advocates for Social Justice, Stand in Unity, Marion Alliance for Racial Equity, Cedar Rapids NAACP Branch, Parents Against Violence Everywhere and We Are CR. The groups have created a public folder on Google Drive that includes, among other things, email conversations with local officials. Flyers will be handed out at the event with a QR code that links to the folder.
Previous history with neighbors
Walker's friends said she had previous encounters with the two people shown in the video. Alex Daniels, a longtime friend, said Walker — the mother of three children — called her in December complaining her neighbors were harassing her and calling her racial slurs. Walker reportedly told Daniels the police had come to intervene.
Cedar Rapids police calls for service records show that officers responded to the apartment building where Walker lived 18 times in 2022. Four of the calls were specifically to Walker's apartment. Some of the calls didn't list a specific apartment, and others were calls to other apartments in the building.
Comments: (319) 398-8328; emily.andersen@thegazette.com