Home / Arts & Entertainment / Art
'When it comes to raising children, nothing beats bribery,' and other words of advice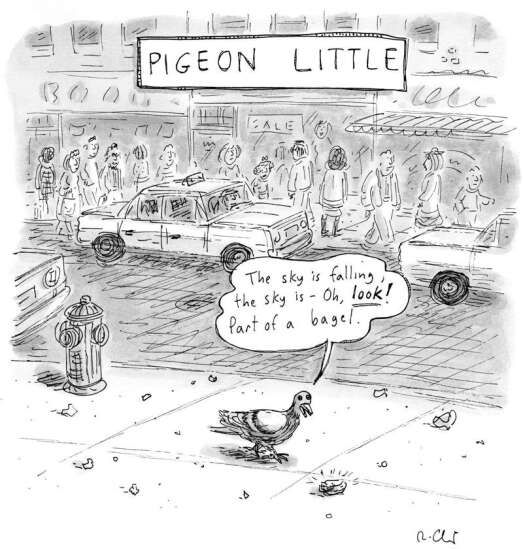 This Tuesday, April 9, won't be the first time New Yorker magazine cartoonist Roz Chast has been to Iowa, actually.
Her husband's family had a farm in Story County, and she recalled that visit as having been very pleasant and, she said, 'very mysterious." She noted the unfamiliar flat land and distant horizons.
'I remember seeing a tractor - how big it was!" Brooklyn, N.Y.-born Chast said with a chuckle during a recent phone interview from her home in Connecticut. 'It was very strange."
Chast will return to Iowa for a stop at the Englert Theatre in Iowa City with New Yorker contributing writer Patricia Marx to talk about their new book, 'Why Don't You Write My Eulogy Now So I Can Correct It?"
The book is filled with loopy comments Marx's mother, Janice, has made over the years, accompanied by Chast's equally just-ever-so-off-kilter illustrations.
'When traveling," Marx's mom advises in one example, 'call the hotel from the airport to say there aren't enough towels in your room and, by the way, you'd like a room with a better view."
This guidance is accompanied by a Chast cartoon of a woman looking out her hotel window to view an abundance of colorful, blooming flowers, not-very-distant mountain peaks and, of course, a bright rainbow. 'Now that's a view!" the hotel guest observes.
In another panel, after learning of plans for a surprise wedding-anniversary party for her and her husband, an emphatic Janice declares, 'The only word that should follow 'surprise' is 'ATTACK.'"
'Humming is hostile," Janice once advised, along with, 'Plan every detail of your dinner party months in advance. The table should be set days ahead of the event" - which is accompanied by a Chast cartoon of Janice with a chalkboard and pointer specifying the precise locations on the table where to position appetizers, peas, potatoes, napkins, wine and brisket.
Some of the instant axioms actually seem reasonable, sort of. Such as, 'Never wear red and black together or you will look like a drum majorette."
Chast's favorite? Either 'Girls named Susan are full of confidence" - which Chast said she absolutely has found to be true - or 'You don't need to spend much time in San Francisco. It's all frosting and no cake" … which, of course, has an accompanying cartoon of a cross-section of a large chocolate cake.
Chast began her long association with the legendary New Yorker magazine in 1978, when she dropped off her first cartoon samples for its weekly review day. When she went back to the magazine offices to collect her samples, she discovered art editor Lee Lorenz - himself a legend in the cartoon world - had left her a note: 'Come back and see me."
In that meeting, he asked her for 'a cartoon a week."
'I was really, really lucky," she recalled. 'I thought I would wind up at the Village Voice … ."
'I never had a backup plan" other than being a cartoonist."
Does she remember that first cartoon the New Yorker published? And does she still think it's funny?
Most definitely, Chast replied. 'Little Things" was a single panel of 'odd, made-up shapes with made-up names." It was 'the kind of doodle I'd do for myself to make myself laugh," she said.
By way of example, she reflected on one typical cartoon by fellow New Yorker alum Jack Ziegler that shows a seal balancing a ball on its nose. While she agrees Ziegler's cartoons could be quite funny, Chast herself does not draw seals balancing balls on their noses.
That first cartoon set her path for more the 40 years of sometimes wacky and frequently insightful work in magazines and books, such as her 2014 book about her parents' final years, 'Can't We Talk About Something More Pleasant," which won a National Book Critics Circle Award, as well as children's titles - some of those in partnership with Patricia Marx.
Chast acknowledged she and Marx possess 'a lot of shared humor territory." The pair first collaborated when Chast was approached to illustrate an article Marx had written for Atlantic magazine, in 1979 - a wryly humorous story on, of all topics, shipping fake grain to the U.S.S.R.
After the publication of that story, Janice Marx advised Patricia, 'You should call her!"
'She tried to set us up on a play date," Chast recalled with a laugh.
Other collaborations followed. The two found they could offer suggestions on the other's contributions.
Marx had been sharing with Chast many of her mother's observations, and at some stage Chast advised her friend, 'You could put these together and make a book."
Is the humor of 'Why Don't You Write My Eulogy Now So I Can Correct It?" to everyone's taste? Consider Janice's advice on making decisions: 'If you feel guilty about throwing away leftovers, put them in the back of your refrigerator for five days and then throw them out."
Makes perfect sense, right?
' Comments: (319) 398-5873; michaelchevy.castranova@thegazette.com.
If You Go
' What: Patricia Marx and Rox Chast discuss their latest book, 'Why Don't You Write My Eulogy Now So I Can Correct It?: A Mother's Suggestions"
' When: 7 p.m., Tuesday, April 9
' Where: Englert Theatre, 221 E. Washington St., Iowa City
' Admission: $25, which includes reserved seating and a copy of the book. Signings will be after the event.
' Details: https://englert.org/events or call (319) 688-2653