Home / Arts & Entertainment / Art
Review: Solo artist finds balance between humor, horror of cancer in Iowa City show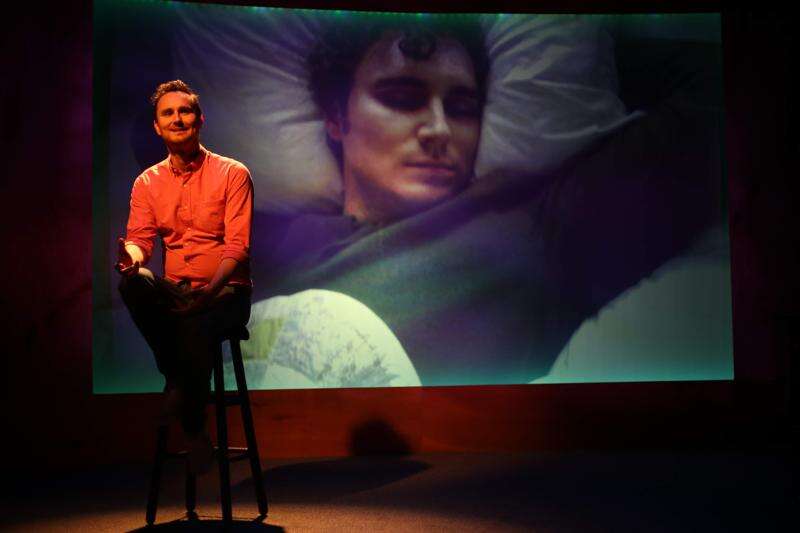 IOWA CITY — 'Stages' is the story of one man's journey through the undulating waters before, during and after his cancer diagnosis.
And even though every body is different, everybody who sees this show, onstage through March 15 at Riverside Theatre, will see pieces of themselves or a loved one or a friend, neighbor or colleague who has slogged through these murky waters.
Playwright and actor David Lee Nelson, however, also is a standup comedian, so his solo show is equal parts belly laughs and gut punches.
Now 41, Nelson was 38 when the excruciating abdominal pains that had been once-or-twice-a-year waves came crashing through him relentlessly. Five doctors found nothing awry. The sixth doctor found what he called a 'gnarly' tumor and ordered up emergency surgery to remove a 9-centimeter malignant tumor — tennis balls are about 6.5 centimeters in diameter — that had burst through Nelson's large intestine.
And the pain was gone.
But another kind of pain was just beginning.
Stage 4 early-onset colon cancer also had invaded some lymph nodes.
The battle would not be easy, but it would be hard-fought.
The topic is grim. The battle isn't pretty. Nelson pulls no punches. For 75 minutes, his audiences witness the emotional and physical brutality of this disease that affects more than 9 million Americans. Nelson also gives his listeners permission to laugh out loud — not just nervous giggles, but guffaws went rippling through Friday's opening night audience.
A brilliant writer and a physical performer, Nelson contacted his boyhood friend and frequent theatrical collaborator, Adam Knight, Riverside's producing artistic director. Together, they pored over the blog entries where Nelson chronicled his chemotherapy quest. Together, they have crafted a lean, mean, poignant solo show that breathes light into the darkness of their journey.
And it is their journey, just as any major life crisis affects not just the afflicted, but everyone in their circle of love and care.
We meet Nelson's girlfriend, Jaimie Malphrus, who has been at his side every arduous step of the way, driving him two hours from their home in Greenville, S.C., to treatments in Atlanta.
We see photos of Nelson at various ages, including photos taken while he was in the hospital post-surgery and during chemo, and we see family photos, including a giant family reunion photo in front of a barn. He hopes to be standing in that same spot for another photo 50 years from now instead of being the person someone points to, saying, 'Remember Davey? He died too young.'
Right here, right now, Nelson is seizing the day, sharing his message of finding hope and humor through pain and uncertainty. Determined to see this through with a smile, he has us smiling right along.
One of the most moving moments comes when he says he's determined not to ring the bell at the end of his 12 rounds of chemo — until the nurse who knows him by name points out that the bell-ringing isn't for him. It's for everyone else in the room, hooked up to their own infusions and treatments. It's a ring of hope in a circle of hell.
Watching Nelson dart across the stage, writhe on the floor and gesture broadly through despair and elation, he seems a million miles away from where this odyssey began in 2017. In some respects, he is. In others, he isn't, witnessed by the still-fresh scars and X-rays, MRIs and photos playing out over Chris Rich's deceptively simple yet elegant stage setting and Lauren Duffie's mood-altering lighting design.
Nelson and Knight, his everlasting friend and director, have wrung a thing of beauty out of the most gnarly situation. You may need a tissue, but you will leave uplifted, celebrating a story whose ending is far from over.
If you go
• What: 'Stages,' solo show written by and starring David Lee Nelson
• Where: Riverside Theatre, 213 N. Gilbert St., Iowa City
• When: To March 15; 7:30 p.m. Thursday to Saturday, 2 p.m. Sunday
• Run time: 75 minutes, no intermission
• Tickets: $30 adults, $28 ages 60 and over and 30 and under, $24 military, $10 students; riversidetheatre.org/stages
• Extra: Panel discussion with Holden Comprehensive Cancer Center — Dr. Muneera R. Kapadia, Dr. Alan E. Gunderson and Dr. Saima Sharif — following March 7 performance
• Artist's website: davidleenelson.com
Comments: (319) 368-8508; diana.nollen@thegazette.com