Home / Arts & Entertainment / Art
Review: 'Madama Butterfly' soaring with Cedar Rapids Opera Theatre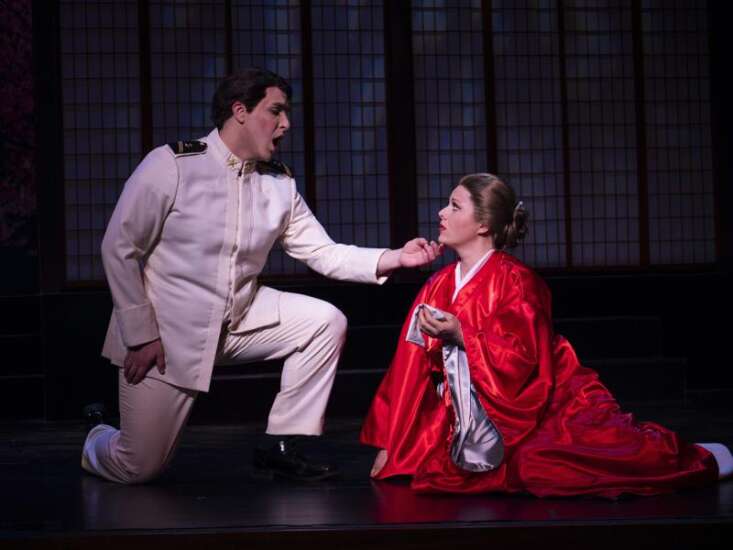 CEDAR RAPIDS - This weekend marks the fourth time Cedar Rapids Opera Theatre has brought 'Madama Butterfly" to life, but everything about this production feels fresh and new, from the sparkling performances to the director's bold choices.
Puccini's tragic masterpiece is coming to the Paramount Theatre stage Friday night (1/17) and Sunday afternoon (1/19). It is a thing of beauty, with utter strength floating on fragile wings.
Lyric soprano Yulia Lysenko, a Ukraine native now living in Austin, Texas, is simply stunning in the title role of Cio-Cio-san, meaning 'Butterfly." Not only is Lysenko a stellar vocalist, she is a marvelous actress, too. She moves fluidly from the youthful infatuation of a 15-year-old geisha willing to sacrifice life as she knows it to marry a U.S. naval officer - to the horrid decision three years later to sacrifice her life for the sake of her son's future.
She makes her glorious entrance behind her dozen female cousins who are gathering to witness Butterfly's brokered marriage to Lt. B.F. Pinkerton (Jeremy Brauner).
Scenic and lighting designer Scott Olinger has given her the perfect backdrop for the action to unfold, from the curved red footbridge to the modest home with its many screens, which Pinkerton has rented for them. Beautiful flowered trees, mountains and majestic sunrises and sunsets take viewers to a delicate, pastoral paradise overlooking the sea at Nagasaki, Japan.
The serenity belies the deceptions and heartaches to come.
Costume designer Janie Westendorf has created a lovely neutral palette for everyone but Cio-Cio-san, who appears in vivid hues. And as Lysenko stretches her arms outward, the sleeves of her kimonos create their own stylized butterfly wings.
Director A. Scott Parry has taken a refreshing approach with wig and makeup designer Sarah Fried to use the performers' natural skin tones and hair colors, rather than try to conform to the cultural norms of the setting. This not only prevents a forced, false look, but also underscores the universality of the underlying story of infatuation transforming into passion, and deception spiraling downward into tragedy.
Brauner is as dashing vocally as in the form of the naval officer who wins Butterfly's heart as he cruelly toys with her, 'living in the moment" until he can return home and marry an American woman. Brauner began his musical journey as a baritone, but trained into the tenor range, retaining an underlying resonance that adds richness and color to his voice.
He struts around the opening scenes, making his intentions known to Sharpless (Thaddeus Ennen), the American consul at Nagasaki. The only disappointment in Wednesday's final dress rehearsal came during their early scenes, when the orchestra's majestic sound overpowered the men's voices, which true to operatic stagings, are not amplified with body mics.
The balance seemed to settle farther into the show, and allowed the glory of Butterfly's most famous aria, 'Un bel dì vedremo" ('One fine day we shall see"), to shine in Act II, as well as during the flower duet she sings with her maid, Suzuki (Kelly Hill).
Fortunately, even though the show belongs to Butterfly, Puccini also showcases Suzuki several times. Hill's luxuriant mezzo-soprano and passionate portrayal inject a wrenching reality into the woman who knows Pinkerton has returned to Japan not for Butterfly, but to take his son back to the U.S. to be raised by his new American wife.
Two children will play the role of the child whose name is Sorrow, but will become Joy on the day his father returns, Butterfly says. Graham Macfarlane of Chicago, grandson of Dr. Donald and Nancy Macfarlane of Iowa City, was delightfully angelic Wednesday night. He will perform on opening night, and will reprise the role in the Chicago Lyric Opera's upcoming production. Gregory Wittnebel of Cedar Rapids will portray Sorrow on Sunday afternoon.
Orchestra Iowa musicians, under the baton of Cedar Rapids Opera Theatre founder Daniel Kleinknecht, handle Puccini's difficult score with artistry, precision and excitement. And the chorus, prepared by Gerald Kreitzer, as well as the opera theater's Young Artists, add shimmer and shine to their scenes.
Let's hope the weather gods cooperate this weekend. This 'Butterfly" deserves to be seen and savored.
If You Go
' What: Cedar Rapids Opera Theatre, with Orchestra Iowa, presents 'Madama Butterfly"
' Where: Paramount Theatre, 123 Third Ave. SE, Cedar Rapids
' When: 7:30 p.m. Friday (1/17) and 2 p.m. Sunday (1/19)
' Tickets: $19 to $69; Paramount Ticket Office, (319) 366-8203 or Paramounttheatrecr.com; half-price student tickets available only by phone or at the ticket office,
' Extra: Discussion with Stage Director A. Scott Parry one hour before each performance in the Paramount's Encore Lounge
' Details: Cropera.org
Comments: (319) 368-8508; diana.nollen@thegazette.com