Home / Arts & Entertainment / Art
Did Iowa's 'Survivors' continue their winning ways?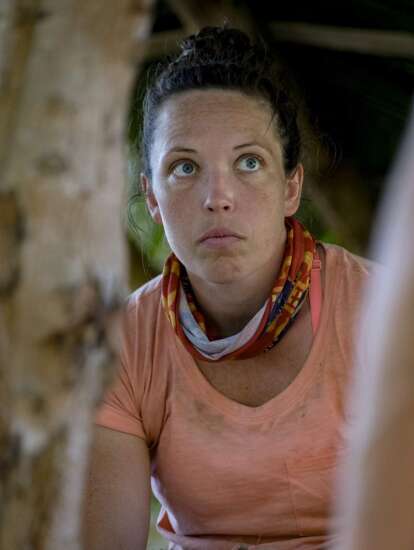 Denise Stapley of Marion found a Hidden Immunity Idol at the top of the Wednesday's episode of 'Survivor: Winners at War."
But she didn't need to use it. She was no one's target as her Dakal tribe schemed their way through Days 4 through 6 on their primitive paradise in Fiji's Mamanuca Islands.
'I've never been so giddy," she said of her find. In a twist, the idol was split into identical halves, and she had to give away half by sundown for it to have full power.
Sarah Lacina of Cedar Rapids helped her Sele tribe win the group Immunity Challenge in which they navigated an obstacle course and put together a giant dragon puzzle, while Stapley and her teammate got bogged down trying to organize their puzzle pieces. The win grew even sweeter for Lacina's group, when they received a spice kit reward to make whatever food they can scrounge up more palatable.
So both local competitors fared well and still are in the running on the CBS-TV reality game of strength, strategy and stamina.
But Danni Boatwright - who is married to Casey Wiegmann, a former football player with the NFL, Aplington-Parkersburg High School and the University of Iowa Hawkeyes - was the third player to be voted off the main island. She was banished to the nearby Edge of Extinction island, where throughout the competition, she and the others sent there can try to win her way back into the game.
Episode 2, dubbed 'It's Like a Survivor Economy," found all the players searching for hidden idols and food, scheming, bartering and meeting behind each other's backs to form tenuous alliances.
Paranoia from the backbiting grew to a fever pitch among Stapley's teammates at their Tribal Council. It pushed them to the point of making everyone empty their bags to reveal if anyone had found a Hidden Immunity Idol. Stapley managed to keep her hidden idol hidden, however, to protect herself from being voted off the island in a future Tribal Council.
A mental health therapist, she didn't buy into the paranoia.
The action continues at 7 p.m. next Wednesday.
Comments: (319) 368-8508; diana.nollen@thegazette.com