Home / Arts & Entertainment / Art
Chorus group of individuals with chronic conditions shines in first concert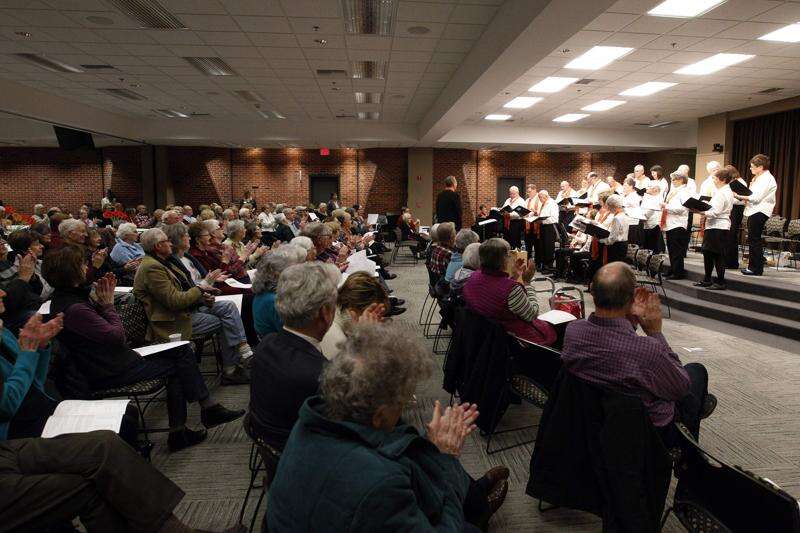 CEDAR RAPIDS - A dream became a reality this week as a new Cedar Rapids-based chorus debuted to the public during its first concert.
The group performed its first concert to a crowd of about 150 at Mercy Medical Center Monday, performing songs reminiscent of another era such as 'Yellow Submarine" and 'Oh Shenandoah."
The chorus, called Together in Song, is made up of individuals living with chronic conditions - including dementia, cancer and other conditions - as well as their caregivers and volunteers.
Founded by the Family Caregivers Center of Mercy, its purpose is to offer an opportunity for individuals to live and grow beyond their chronic diagnoses and to make meaningful connections with others.
They did so through music.
'It is wonderful that we started in September with a group of people who didn't really know each other, and we have ended the year as friends, as a unit," said Steve Nurre, director of Together In Song.
The group, which included 24 singers in total, was open to those across all skill levels and experience. Some performers had never been involved in any musical group.
Others, for longer. Dave Bryant has been involved in barbershop quartets since he was in high school.
'It was fun," said Bryant, 80, of Cedar Rapids, following the concert. 'I'd love to do it every day. We've been doing this for several weeks now, and we had a lot of fun doing it."
Developing the chorus was a longtime goal of Kathy Good, founder and executive director of Family Caregivers Center. Seeing the group's first-ever performance and the response from the audience left her 'gobsmacked."
'I first had this idea two years ago, and then to actually see it come to fruition, it reinforces to me what happens when you just visualize what you want and call it forth and the universe provides," Good said.
Good's husband David Good was invited to join Harmony Hawks, a Cedar Rapids-based barbershop group, after he was diagnosed with Alzheimer's disease. Good said the group improved his quality of life, and she wanted to bring that to others.
'This is all bigger than us," Good said. 'It all came together."
Inspiration for the group also was drawn from similar choruses across the country, including the Giving Voice Initiative Chorus based in St. Paul, Minn. Groups such as Giving Voice have been gaining popularity throughout the country for their benefits to individuals dealing with dementia.
According to recent studies, researchers have found musical aptitude are among the longest-lasting abilities dementia patients retain. Music also has been found to stir up memories and encourage positive moods.
'Sometimes people living with chronic conditions lack meaning and purpose in their lives, and this provided that," Good said. 'I think we'll have more opportunities for people living with chronic conditions in the future because I think this is going to grow. '
For one volunteer, the chorus was a chance to be a part of something bigger. Kate Chapman, a 68-year-old Cedar Rapids resident, heard about the group through another local choir and decided to volunteer.
'I love to be on the ground floor of a beginning thing that really matters to people, and they were doing it with singing," she said. 'I couldn't find a no, it was always a yes."
Together In Song will start rehearsals again in early February for a second concert on May 13.
Nurre said he still is selecting music for the second concert, but has decided the theme will be musicals.
Together In Song are seeking singers and volunteers to help with the chorus. Those interested in learning more can contact the Family Caregivers Center of Mercy at (319) 221-8866.
' Comments: (319) 368-8536; michaela.ramm@thegazette.com