Home / Business News / Agriculture
Iowa statewide alliance calls for moratorium on large-scale livestock operations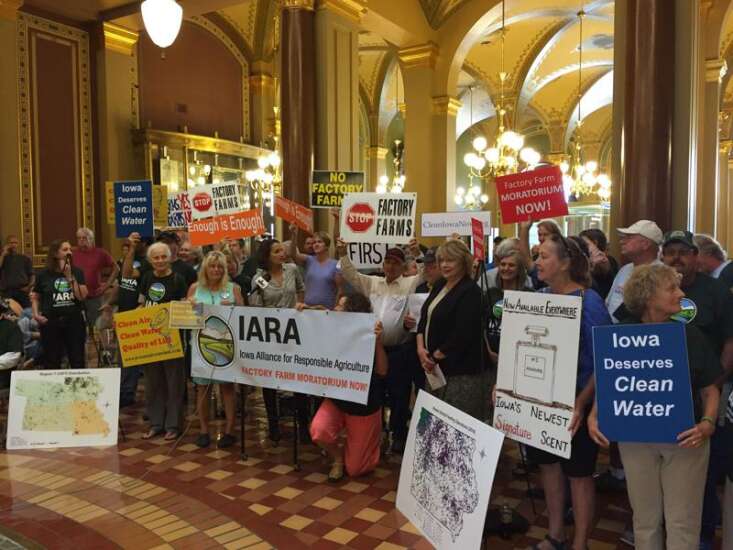 DES MOINES - Leaders of a newly formed coalition Wednesday called for an immediate statewide moratorium on new construction or expansion of large-scale livestock feeding operations until Iowa takes meaningful action to lower the number of impaired rivers, lakes and waterways to fewer than 100.
'With over 9,000 factory farms in Iowa, we say with conviction - enough is enough," said Francis Thicke, a Jefferson County farmer who is part of a new coalition of more than 20 national, state and county environmental, family farm and community advocacy groups called the Iowa Alliance for Responsible Agriculture (IARA).
Dozens of alliance members held a Statehouse rally in support of a moratorium as 'a bold first step" before delivering a letter to Gov. Terry Branstad calling for him to take executive action to halt new or expanding commercial feeding operations with more than 1,250 animals that are creating a 'crisis point" for water quality, public health and other problems.
The letter did not get a positive reception in the governor's office, however.
'Gov. Branstad is not interested in extreme proposals that would harm agriculture and our economy in Iowa, which is exactly what a moratorium would do," Branstad spokesman Ben Hammes said in a statement Wednesday. 'Gov. Branstad remains focused on bringing good jobs and opportunities to Iowans whenever possible while supporting reasonable regulations in protecting the environment."
IARA leaders pointed as a cause for concern to a 2014 report that listed 754 Iowa waterways as being impaired under federal clean water standards, saying tougher action and regulation is needed to bring that number below 100 - starting with a moratorium on so-called factory farms they say are mostly owned and operated by a small number of corporations and produce pollutants that cause impairments.
'It's time Iowa had source water protection with industrial agricultural accountability," said Bill Stowe, head of the Des Moines Water Works which filed a federal lawsuit against several northwest Iowa counties over agricultural runoff the water utility alleges is contributing to downstream pollution in the Raccoon River.
'Iowa's water quality gets progressively worse every year," Stowe said, 'and the corporate livestock industry plays a significant role in that deterioration. It's imperative we have a factory farm moratorium so we can begin to repair the damage inflicted on our water."
Alliance members said Iowa's livestock industry produces nearly 22 billion gallons of liquid manure that is spread on rural farmland without treatment and the state had more than 800 documented manure spills since 1996 that have polluted Iowa waterways. A record 37 beach advisories were issued at state parks and preserves this year due to algae blooms from excess phosphorous associated with animal waste, they added.
Joyce Otto, a Grinnell nurse and president of Poweshiek Cares, said the construction of a hog confinement operation near her home was a 'life-changing" experience accompanied by odor and health issues, while Gary Netser said two hog confinement buildings erected near his Iowa County family farm have 'basically ruined our lives."
'It's changed everything for us. We have no quality of life," said Netser, who told reporters after the Statehouse rally he wants to see siting and zoning regulations for even small-scale livestock operations. 'It's horrible out there."
The corporate takeover of a pork industry once the mainstay of family-farm operations also has resulted in the loss of local infrastructure, population declines in rural communities, school closings and costs that all Iowa taxpayers are being forced to bear, according to alliance members.
'Cheap meat is anything but cheap," said Deborah Bunka, a member of Iowa Citizens for Community Improvement and the Iowa Farmers Union who referred to Wednesday's rally participants as 'justice fighters."
'From the time the state Legislature eliminated local control in House File 518, it has been a race to the bottom," said Bunka, in referring to 1995 legislation that granted large-scale livestock operations legal protection from nuisance lawsuits in exchange for new regulations dealing with siting and permitting requirements, manure management plans and other environmental safeguards.
'Adding insult to injury, Iowa residents are left to pick up the tab for the costs of factory farming," she added. 'It's time to demand a change in policy in order to stop the destruction of our soil, water, health and quality of life in Iowa."
'Pig farmers are working hard to be part of the water quality solution and are committed to protecting our air, land and water resources and focusing on environmentally sustainable practices is a daily part of how they manage their farms," said Ron Birkenholz, Iowa Pork Producers Association communications director. 'The pork industry has shown continuous improvement in its practices for decades. The Iowa Pork Producers Association encourages its members to always be looking at new technology and farmers are committed to continued improvement.
'We, of course, oppose any attempt to prevent farmers from making a living. Expansion averages just one percent to two percent a year and raising pigs is a way for a lot of young people to return to the farm and get a start in agriculture."