Home / Kids Gazette / Activities
How to make calming glitter jars
Chill out with this craft
Think of a time you felt calm, safe, or happy … what did your body feel like?
What about a time when you felt sad or angry? How did the way your body felt affect your ability to think clearly or make good decisions?
When we understand our emotions — and learn to be mindful of the way our body feels as we experience emotions, — we allow ourselves to be the best versions of ourselves!
This short activity will give you a new tool to add to your mindfulness toolbox: a calming glitter jar. Keep the jar nearby to help you stay calm and mindful throughout the day.
What you need
Bottle (water bottle, jar, etc.)
Glitter
Clear Craft Glue (2 to 3 tablespoons)
Water
Beads or confetti (optional)
Hot glue or super glue (optional)
What you do
1. Open your clean and empty bottle or jar. Pour about 2 Tbsp. of clear glue into your bottle. (The glue will help thicken the water, allowing the contents to settle more slowly when the craft is complete.) Slowly add water to the bottle and leave about a 2-inch gap at the top.
2. Slowly add the glitter (as much or as little as you prefer) to your bottle. Replace the cap on top of the bottle and gently shake to mix the contents together. Remove the cap and add more glitter or items like beads/confetti and fill the bottle with water until it is nearly full.
3. Ask an adult to carefully use hot glue or super glue inside the ridge of the cap and tightly secure on top of the bottle. (Do not attempt to use hot glue without supervision.)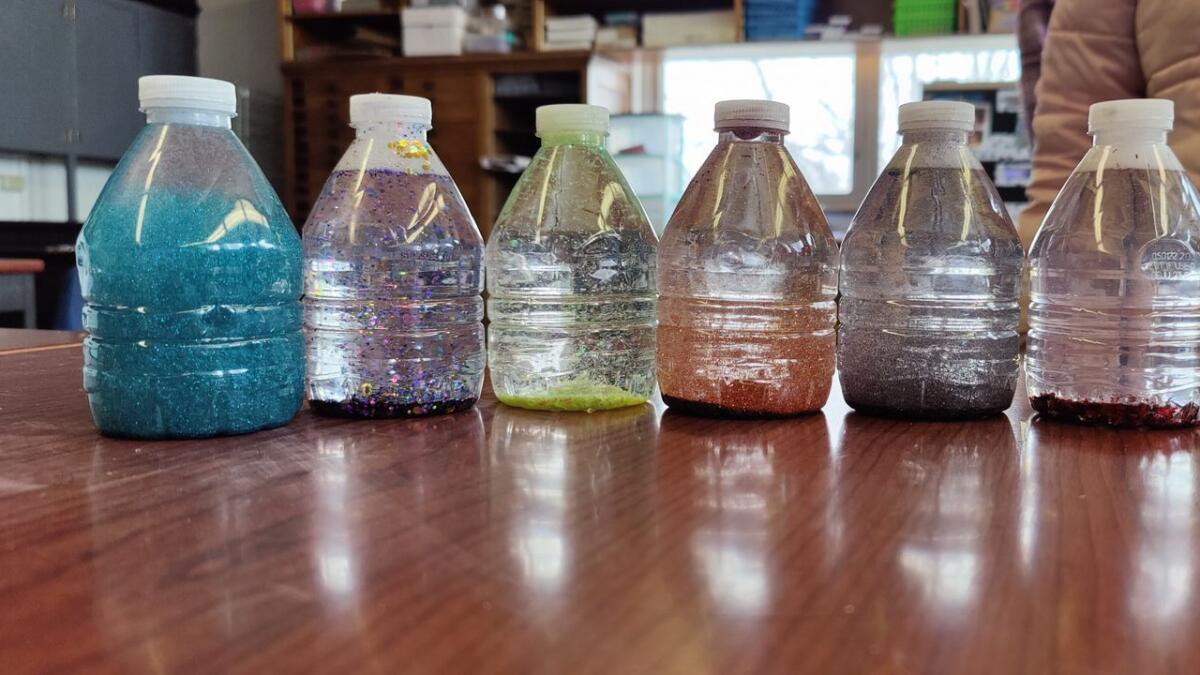 Reflect
Shake the bottle! Take deep breaths and picture this:
The jar in front of you represents your head. The liquid inside of the jar represents your brain. The glitter floating in the liquid represents your thoughts, dreams, wishes and feelings.
Think about how your body feels when you are calm, safe, and rested. This feeling is represented when the liquid in the jar has settled at the bottom of the jar. Move the jar gently. This represents a time when your mind is busy, but you still feel peaceful. Notice how the glitter lifts and floats gently in the liquid.
Now shake and twirl the jar — can you see through the jar? What does the glitter look like? This is your mind when you have feelings of sadness or you feel scared or hurt. When your mind is like this, it's hard to focus or learn. What does your body feel like when you are upset? Are your muscles tense? Does your heart race?
After shaking and twirling the jar, let it sit. Breathe deeply, put your hands on your knees and watch the glitter slowly settle down to the bottom of the jar. When you breathe deeply and watch the glitter settle, your mind focuses, and you are better able to name and experience your feelings.
Keep this calming jar on a desk or nearby to use as a guide for calming, deep breathing when feelings of anger, frustration or sadness come to visit.
Keep your calming glitter jar nearby to help you stay mindful throughout the day. For more ideas on using your calming glitter jar, visit www.tinyurl.com/calmingglitterjar.
Lesson written by Amy Ver Meer-Brainard, Emily Damro and Amy Schmitt D'Amico on behalf of Iowa State University Extension and Outreach Iowa 4-H Youth Development.
To get your child involved in fun learning opportunities, such as summer day camps, workshops and clubs, check out www.extension.iastate.edu/linn/4h. The Mindfulness Thrive Retreat just for students in grades 8 through 10 is scheduled for July 28 — register now!
Iowa State University Extension and Outreach in Linn County helps build a strong Iowa by engaging Iowans in research, education and extension experiences to address current and emerging real-life challenges. The 4-H Youth Development program empowers youth to reach their full potential through youth-adult partnerships and research-based experiences. Linn County Extension Office website: www.extension.iastate.edu/linn