Home / Sports / Iowa Hawkeyes
Iowa wrap-up: Disappointment overrides achievement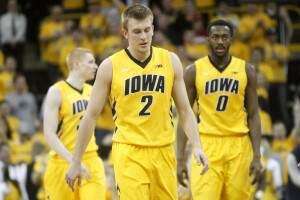 IOWA CITY -- When the obnoxious "SEC" chant echoed off the rafters at UD Arena last Wednesday in the wake of a 78-65 overtime loss to Tennessee, the end felt both inevitable and empty for the Iowa men's basketball program.
This Iowa team qualified for its first NCAA Tournament since 2006 and won 20 games for the second consecutive season. But this team in year four of Coach Fran McCaffery's reclamation project also seemed capable of so much more. It was ranked 10th and was considered a possible Final Four sleeper. It blew out Big Ten champion Michigan by 18 points. But Iowa inexplicably lost seven of its final eight to nearly slip out of the NCAA tournament altogether.
So where did it go wrong for the Iowa men's basketball team? The questions are infinite and the answers are fleeting. But when all are taken into account, they all contributed to a season-ending collapse.
Was it when the Hawkeyes lost a 15-point, second-half lead to Villanova at the Battle 4 Atlantis? Was it when Iowa missed four of its last five free throws in the final 1:29 to blow a five-point lead at Iowa State? Was it McCaffery's meltdown, ejection and suspension at Wisconsin? Was it the 15-minute shooting slump in an overtime loss to Michigan State?
Did the season start a freefall when a metal facing crashed from the top of Indiana's Assembly Hall, forcing Iowa to shoehorn a make-up game into an already tight scheduling window? Did it unravel when the ball slipped from Zach McCabe's hands on a 3-point attempt against Wisconsin? Was it the immediate Twitter spat between fans and McCabe and the subsequent ban? Did the gut-punch loss against Wisconsin drive a wedge into the locker room?
Was it when Minnesota buried eight consecutive 3-pointers and sank 61.2 percent of its shots? Was it the second trip to Indiana? Was it when Michigan State's defense took physical to another level in a second-half beatdown at East Lansing? Was it Illinois' Jon Ekey's last-second 3-pointer on senior night? Was it the flat performance against Northwestern in the Big Ten Tournament? Was it the 28-to-14 foul disparity against Tennessee? Was it not containing dribble drive and players not trusting one another on defense? Did all-Big Ten guard Devyn Marble take on too much individually? Did his teammates do enough?
Were the roots of failure planted even before the season? Did McCaffery oversell his program and build expectations so high that only a Final Four would fulfill them? Did the local media - myself included - take the preseason hype to another level and remind fans almost daily that 93 percent of Iowa's scoring returned from a 25-win team? Was it Iowa's own public-relations machine that constantly retweeted stories from only national outlets that heaped praise upon this team? Did the individual summer trips to Europe by Aaron White and Jarrod Uthoff, coupled by a six-game team tour of England and France in August, push too much basketball on their plates?
Was there enough scrutiny or too much? Did the hype and expectations pressure the team? Were the players too soft or too indifferent at the end? Were they burned out? Was McCaffery burned out? Did McCaffery's in-your-face style rattle his team? Was the fan base overly critical? Was Iowa simply a good team with mostly good players; nothing more, nothing less?
"When you start this journey and you win 20 games in this league and you get to the NCAA tournament, that's an awesome season and an incredible experience for them," McCaffery said. "One team is left at the end. You're going to get beat at some point unless you win the whole thing. We all want to make a deep run. It was fun last year when we made a deep run in the NIT. We wanted to make a deep run in the other tournament, obviously. We all do. Everybody does.
"Yeah, you're disappointed right now. But we'll look back and say it was just a phenomenal season, some incredible highlights. We lost some gut-wrenching, tough games. In overtime. At the buzzer. One possession goes one way, one possession goes the other way and the next thing we lose by three. We lose by two in overtime to Michigan State at home. We had the last shot in regulation."
This year, Iowa fell short in the clutch, as it did in 2012-13. The Hawkeyes were 2-9 against Big Ten competition in games decided by single digits. Over the last two years, Iowa is 6-17 in Big Ten games decided by single digits. Any way you view it, that's falling short in decisive moments.
But there were positives, like claiming an NCAA Tournament berth and the Hawkeyes ranking in the top 10 for the first time since Jan. 1, 2002. With a 10-point win at Ohio State, Iowa knocked off a top-five opponent for the first time since 2001. Marble became the first Iowa player since 2007 to enjoy first-team all-Big Ten honors. Iowa beat Illinois in Champaign for just the second time since 1987. The program looks much differently than it did four years ago after a 22-loss campaign.
But opportunities like the 2013-14 season don't come very often for basketball teams. One can spin the results into a positive, but there's a narrow distinction between achievement and disappointment. Iowa's season landed in the boundary, but at best it landed on the outskirts of disappointment junction. At best.