Home / Sports / Iowa Hawkeyes
It was the season that wasn't for Hawkeyes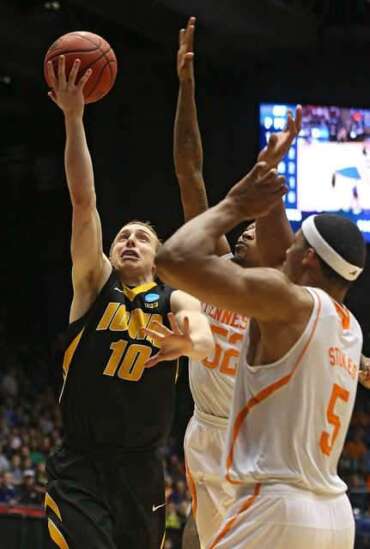 The story of Iowa's basketball season can perhaps be neatly defined by this: The Hawkeyes were in the NCAA tournament, but they weren't really in it.
Just like they were a Top Ten team (for a week), but weren't really a Top Ten team. Just like they were a chic Final Four pick by some around the country (several weeks ago), but didn't get any closer to the Final Four than Mount St. Mary's or Texas Southern.
It was a wholly unsatisfying season. There wasn't any statistical improvement except in strength-of-schedule and other formula things the basketball numbers-crunchers use to fill bandwidth. In the eyeball test, last season was better even thought it came with no NCAA berth.
This team buckled as the season grew longer. It had a weirdly large number of scoring droughts in games. It started too many second-halves with plodding. It wasn't a bad 3-point shooting team overall, but it had a lot of ugly 3-point numbers in defeats, including Wednesday's 4-of-16 in the season-ending, 78-65 overtime NCAA play-in loss to Tennessee.
There were highlights, but not all that many sprinkled over 33 games. The performance in the Bahamas tournament over Thanksgiving weekend was good, with a big comeback win over Xavier and a scintillating game that ended with an overtime loss to a Villanova club that held up as a first-rate outfit. The win at Ohio State that shed the team's reputation of one that couldn't beat a good Big Ten team on the road. The home rout of eventual regular-season Big Ten champ Michigan.
But that's about that. The Hawkeyes couldn't finish off Iowa State in Ames after playing so well there for 38 minutes. They dropped four home games, which is too many if you want to vie for a league title anywhere. When all they had to do was beat Northwestern on a neutral court to avoid Wednesday's play-in game -- and it was a play-in game, they gave a bloodless performance and lost
They never hit that big shot in the last 30 seconds -- or five seconds -- of a game. Meanwhile, faces in the Big Ten crowd like Russell Byrd of Michigan State, Jon Ekey of Illinois and Dave Sobolewski of Northwestern sank killer 3-pointers against them.
Iowa had a lot of contributing players, and it had a first-team all-conference honoree in Devyn Marble. But I'm not sure it had a single genuine leader, someone who really and truly wanted to carry his team on his back late in a tight game, a player who could rally his teammates through his attitude and play. It's better to have more than one, of course, but it has to start with one.
Now, let's be clear. I think this collection of players was a pretty good collection of people. I don't think there was anything resembling a bum in the bunch. Many was the time I appreciated them willingly answering questions shortly after tough losses without being surly or tight-lipped. I consider that winning, but realize it doesn't cut much ice in the outside world.
I'm not going to break down the entire returning roster and incoming newcomers here, but there are players coming back who could do some terrific things. Adam Woodbury has only scratched his potential, but he gave a very nice closing statement of his own season against Tennessee with a career-high 16 points. I like Woodbury's upside. He plays with fire, and I think his basketball IQ is sky-high.
Aaron White can be a true senior leader. This wasn't a season he'll remember fondly. But he could have a terrific body of work next season as his role changes and he realizes his reputation as a college player will be judged by what happens next season.
With a year of playing under his belt and a full understanding of what life as a Big Ten player is really all about, maybe Jarrod Uthoff will become something special. The glimpses were certainly there during this season.
As Peter Jok's defense improves, he could be a wonderful college player. Now that is a player unafraid to take the shot. If Gabe Olaseni follows the same pattern of improvement he's followed through his Iowa career, he could become Iowa's most intimidating defensive presence in the post since Acie Earl. He may already be that.
So, potential, potential, potential. We thought this year's team had potential. You never really know in college sports.
We do know expectations for next season's team surely dialed back compared to this season, the 2014-15 Hawkeyes could be Fran McCaffery's true breakthrough team.
But that's all next season. Unlike last year, with the fun run to the NIT final, Hawkeye fans probably didn't excitedly start thinking about next season the moment this one ended. Because this one came unraveled and stayed unraveled.
We're in the Round of 64 in the NCAAs, and for the eighth-straight year, Iowa is nowhere to be found. That seemed like an impossibility a month ago.
So, do you think Iowa can win the West Division in Big Ten football this fall?