Home / Sports / Iowa Hawkeyes
First Four not what Hawkeyes had in mind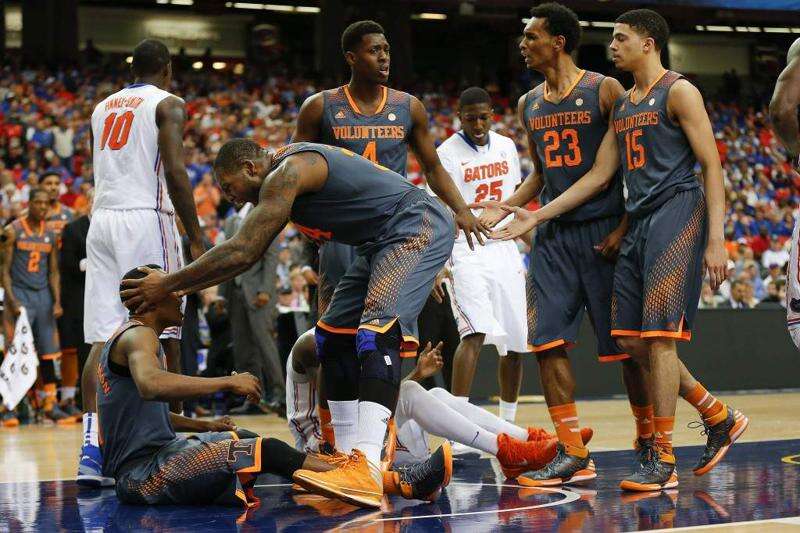 The thought Iowa could have used a win over Northwestern last Thursday hit home again Sunday like a basketball to the snout.
The NCAA men's basketball tournament selection committee punished the Hawkeyes harshly for that defeat, on top of their five losses in the six games before it. Iowa got saddled with a First Four game against Tennessee Wednesday night in Dayton, Ohio.
So, not only does Iowa have to win an extra game just to be in the Round of 64, it gets that game against a Tennessee team that is playing far better ball of late than the Hawkeyes.
If you want more proof there is no free lunch in this tourney, Iowa State is a No. 3 seed in the East Region and is fresh off winning the Big 12 tourney. Its reward is a game against a team with a 20-game winning streak!
First, the Hawkeyes' scenario: Tennessee was the opposite of Iowa late in the season. It was bobbing along in the Southeastern Conference's large pool of mediocrity at 7-7, but then finished league play with four decisive wins, and beat South Carolina 59-44 in the quarterfinals of the SEC tourney.
The Volunteers were stopped in the semis Saturday by the nation's No. 1 team, Florida. Tennessee led 35-28 at halftime, but was held to 14 second-half points and fell, 56-49.
Tennessee's five straight wins before the Florida game were by an average margin of 23 points.
Should the Hawkeyes locate their December/January selves and down the Vols, they would fly to Raleigh, N.C., where they would play Massachusetts Friday. The Minutemen are 24-8. They were 10-6 in the Atlantic-10, and were eliminated from the A-10 tourney by George Washington in the semifinals.
UMass has lost three of its last five games. It built a nice tourney seed with help from nonconference wins over NCAA teams Nebraska, BYU and Providence.
Should Iowa beat Tennessee and UMass, it would almost certainly play third-seed Duke in Raleigh on Sunday. A quick geography lesson: Duke is located in Durham, N.C. Durham is 24 miles from Raleigh.
This is what happens when you lose six of your last seven games. Based on the fact Iowa is in a "First Four" game, it was probably one more loss along the way from missing the NCAAs altogether.
But falling from a No. 10 national-ranking on the week of Jan. 20 to a No. 11-seed play-in game on March 19 is a precipitous drop indeed. But, what the heck. If you have to win six games to claim the national-title, why not make it seven?
A No. 3 seed would have been a mighty lofty goal for Iowa State at the start of this season. But the Cyclones (26-7) are just that.
Friday's opponent is No. 14-seed North Carolina Central, the kings of the Mid-Eastern Athletic Conference. NCCU is from Durham, too. But Durham is a long, long way from San Antonio.
The Eagles started the season 8-5. Now they're 28-5. They went 15-1 in the MEAC, then won their first postseason conference tournament in 64 years when they defeated Morgan State Saturday night.
Usually, the MEAC champ is a No. 16 seed since that league is usually one of the nation's worst. The No. 14 seed is a tribute to NCCU, which won at North Carolina State in November.
The top two seeds in the East are Virginia and Villanova. Getting out of San Antonio will be a challenge. But it isn't a crazy fantasy to see a path to the Final Four for the Cyclones.
And then I realize Michigan State is the No. 4 seed. Well, in the words of Billy Clyde Puckett, nobody ever said this wasn't gonna be semi-tough.