TIF incentives can bring happy endings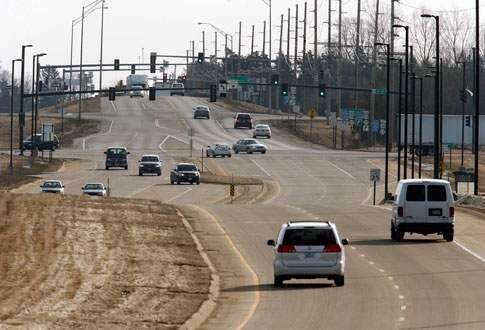 CEDAR RAPIDS - Much typically is said at the start when cities like this one hand out economic development incentives. A developer or business insists the help is crucial, the city justifies its support and the critics fret about giveaways.
But those are just the first pages in much longer tales, which often have nice endings, city officials say.
Just such an ending is within sight in the sprawling area on Cedar Rapids' far south side where the Southwest TIF District, created by the city in 1997, will be coming to an end in 2017, say the city's top two development officials, Gary Kranse and Jennifer Pratt.
According to their figures, this area, which encompasses some 6,000 acres and about 9.5 square miles, began with a base property valuation of $39 million in 1997.
Today, the property value in the district stands at $228 million, a 478-percent increase.
Property-tax revenue based on the base value has continued to come into the local taxing entities - primarily the city, county and school district - since the tax increment financing or TIF district's inception.
The TIF incentive works as the valuation in a district and/or of a project increases in value from the base value because of new development. Property-tax revenue based on the new valuation can then be reimbursed to City Council-approved development projects in the TIF district, helping to create the increase in valuation, and/or kept in the district to make infrastructure improvements.
Today, 17 years after the Southwest TIF District's creation, the city has reimbursed about $8 million in property-tax revenue to five new developments - Nordstrom, NCS/Pearson, Highway Equipment, Prairie View Land Co. and tenant HR Green Co., and Design Engineers.
This reimbursement of revenue from property taxes, which would not have been collected but for the new investment, has helped in the creation of more than 1,500 jobs with an estimated annual payroll of $50 million, according to city figures.
As importantly, said Pratt, assistant director of the city's Community Development Department, the new private investment in the district has generated additional property-tax revenue that has stayed in the district to help pay for $32 million in infrastructure improvements, including work on Wright Brothers Boulevard SW, Sixth Street SW, 18th Street SW, 76th Avenue SW, the viaducts on Edgewood Road SW and expanded sewer and water service.
The infrastructure improvements, Pratt said, have turned this area targeted almost two decades ago for industrial and commercial development into a "shovel-ready" spot for additional development in the years ahead.
"What gets the headlines are development agreements like Nordstrom's, but what doesn't is the improvement along Wright Brothers Boulevard SW, and we're using TIF as a resource to get that done," Pratt said. "Or the increased water capacity (to support industrial/commercial development) on 60th Avenue SW. Those don't make the headlines, but they are huge investments in dollar amounts."
Come 2017, all of the revenue from property taxes on the increased valuation in the district will go to the general operating budgets of the local taxing bodies.
However, Pratt said that more than half of that revenue has been leaving the district and going into general operating budgets since 2011 because it has not been needed in the district to pay off debt on improvements. Such TIF districts can only keep revenue generated by the rising property valuation if it can be used on projects in the district, Pratt said.
Kranse, director of the city's Community Development Department, said the city needs to tell the whole incentive story more often about jobs created, new opportunities opened up for future development and significant new revenue that ends up in the end in government coffers, he said.
The city of Cedar Rapids has 18 TIF districts with a total incremental taxable valuation above base value of $658.3 million. Of that amount, tax revenue from $240.5 million of the TIF valuation or 36.5 percent will not be used in TIF districts in the budget year beginning July 1. Thus, it goes to and is factored into the city's total taxable assessed value of $5.8 billion, according to Finance Director Casey Drew.
Jim Halverson, vice president and principal at engineering firm HR Green Co., was the city of Cedar Rapids' development director from 1996 through 2001 when the city created the Southwest TIF District.
At the time, he said the city typically looked to provide economic development incentives project to project. But he said the city decided that it can make sense to look at what incentives might do in a broader district that has been targeted for industrial and commercial development. In so doing, some of the incremental increase in property-tax revenue then could be used for individual projects as well as to improve infrastructure in the identified district to attract more development projects, he said.
"In other words, we essentially created a multiplier effect in the district," he said.
Halverson said that the use of tax increment financing is in many respects a conservative incentive when jurisdictions couple it with performance standards and a regimen to verify that the standards for private investment and job creation are met.
"I fail to see what is really lost in that arrangement," he said. "In the absence of it, I can tell you it's going to compromise a community's competitiveness in attracting new investment just because it's become a standard or an expectation."
Seventeen years after he helped created the Southwest TIF District, Halverson said he has a good feeling about what has come to be there, including all of the infrastructure improvements that have come with the new private-sector investment.
"Wright Brothers Boulevard: It was a rural cross section that was built around the World War II era," he said. "And look at it today. And the Edgewood Road viaduct. … All of those things leave a very lasting impression and make the adjacent property far more attractive for development to occur."
City Council member Scott Olson, a commercial Realtor, has been one member of the Cedar Rapids council of late who has questioned some incentives that the council has provided. Even so, Olson is a proponent of incentives as long as the city can answer the question, "Where's the beef?"
He also said that the city needs to better document what benefits have accrued to the city when an incentive comes to a close.
By way of example, Olson said the tax break (not TIF) is ending soon for the WaterTower Place loft condominium project, which obtained a 100-percent, urban-renewal property-tax break on improvements for 10 years in exchange for the renovation of an empty warehouse just off the downtown. Those property taxes soon will start to be paid, he said.
Olson also said Cedar Rapids is no different from other Iowa cities, and he pointed to the city of Coralville, which has taken its share of criticism for tax incentives for infrastructure improvements in and around investments like Coral Ridge Mall.
Ellen Habel, Coralville's assistant city manager, said the Mall Urban Renewal Area is set to expire on June 30, 2018, at which time the property-tax revenue from the incremental increase in property value -– $389 million to date - will have paid off debt for improvements in the mall district and will come into local government operating budgets.
"Growth isn't bad news," Habel said. "The mall has been good for Coralville. The development around the mall has been good for Coralville."
In Cedar Rapids, Ron Corbett's arrival in the mayor's office in 2010 as the city's pace of flood recovery took off has led to a flurry of economic development incentives for an assortment of individual projects, 16 in total. Eleven are TIF projects and five are urban revitalization projects with generally smaller incentives.
The largest projects are a $20-million TIF incentive for the $90-million Westdale Mall transformation and an $8-million TIF-funded parking garage for the $40-million PCI medical clinic in the city's new MedQ medical district. The city also is prepared to build a $28-million parking ramp for the $150-million casino project - if it secures a state gambling license - with revenue from the casino's future property taxes earmarked to pay off the ramp's cost.
"We really want to emphasize development, development that's good for the community and sustainable over time," the city's Kranse said. "And there are things you need to bring to the table to help some of that occur."
Kranse said he knows that some critics liken economic-development incentives to "giving away money." In truth, though, there are no incentives without private investment and without recipients delivering on what they promise in return for help, he said.
"… (It's) naked ground versus something that is going to happen that will generate additional tax dollars," Kranse said.
Halverson, one of Kranse's predecessors as the city's development chief, said he isn't planning in 2017 to stand out in the sprawling, still largely undeveloped Southwest TIF District one morning as the sun rises and the district and its 20-year mission of economic development comes to an end.
"To me, it's been kind of a blink," Halverson said. "When we say we want economic development, what does that mean? … I do think it's an issue of stepping up and participating."