Home / Sports / Hawkeye Sports
Video Sessions -- Feverish calls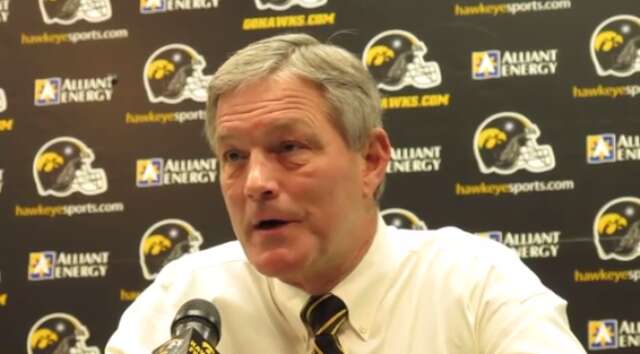 Paul Rhoads is mad at Iowa.
The intro. Kirk Ferentz says expect one more recruit to sign. That would be St. Louis running back Markel Smith, who couldn't send out a LOI because he was snowed in at a religious retreat. His letter will be delivered today. Contrary to popular believe, BTW, this is done mostly via e-mail, not fax machine. Ferentz said Iowa didn't get everyone it wanted in-state.
Meanwhile in Ames, Rhoads on Urbandale WR Allen Lazard: "He's not going to a school in northern Indiana," Rhoads said of Lazard, a high school all-American. "Boy, they wasted a lot of time and money. He's not going to another school in this state, who feverishly tried to call him about a half a dozen times in the last week."
Here's the link to our ISU signing day coverage.
The Iowa State coach mad at the Iowa coach? No way, right?
Ferentz was asked about attrition here. "That's our No. 1 enemy." The 2008-09 recruiting classes suffered because of it. Attrition has leveled off, and Iowa went from 4-8 to 8-5 from 2012 to 2013. Iowa signed a lot of defensive backs, some with return capability.
Punter Dillon Kidd and kicker Mick Ellis signed today. Ferentz said he believes Iowa is going to have a chance to be good next season and wanted competition at those spots.
During the last two seasons, Iowa negotiated staff shakeups while recruiting. This year was smooth sailing. All coaches remain in IC.
Ferentz said he loved the fact that CR Xavier TE/DE Matt Nelson still attended Iowa's summer camp even though he had an offer. Showed the coaches a lot about his makeup. On the other hand, Iowa liked what it saw in Waukon OLB Parker Hesse in camp and decided to pursue him based on that performance.
Ferentz said he enjoyed recruiting more this year. Called it a "sane" year without grown men coaches sleeping outside high school kid camps.
Eww.
Also, Iowa somehow talked OLB Ben Niemann into signing. His dad is Jay Niemann, the defensive coordinator at Northern Illinois, where Ben was originally committed. Ferentz talks about that here.
The attrition question comes up again. Why can't attrition questions attrition?
Ferentz admitted 2012 was the thinnest team of his bowl years.
Iowa came up short at OT in this class. Ferentz said he isn't panicked for two reasons: 1) He likes the tackles in the chute, beyond LT Brandon Scherff (I imagine Ike Boettger helps a little) and 2) he sounded fairly confident about landing a couple of prospects in the 2015 class (my guesses would be Landen and Levi Paulsen, KF didn't say that, of course, he can't talk about croots who haven't signed).
Iowa assistant Chris White had a fantastic season, jumping back into college recruiting after four years with the Vikings. Check the Marcel Joly story for how White built connections with prospects. High degree of trust on Joly's part.
I asked about the plan for specialists. Ellis is Iowa's only scholarship kicker. Iowa now has two scholarship punters (Kidd and Connor Kornbrath) and no scholarship long snappers (my guess is redshirt freshman Tyler Kluver will get first crack at the job).
Fun story on the time when Iowa coaches watched Jay Scheel's sophomore highlight tape. They kinda liked it. (BTW, Iowa recruiting coordinator/assistant coach Eric Johnson believes Scheel is the best athlete in the state. Scheel also played a lot of his senior season with an injury.)
Ferentz said Iowa still sees Illinois as an important recruiting ground. Iowa signed just one Illinois prep this year.
I asked about pro-style QBs. Ferentz said that is always Iowa's plan UNLESS a more "dynamic" QB emerges with interest in Iowa. He said Brad Banks was more of a pocket passer than a dual-threat QB, in his opinion (and that's probably right, still Banks had nearly 500 rushing yards).
Incoming QB Tyler Wiegers reminds Ferentz of Jake Rudock. Wiegers also plans to be a pre-med major.
Brian Ferentz didn't go off to become the O-line coach with the Houston Texans.
Ferentz said he had no departures to announce. There were two offseason surgeries. S Anthony Gair might start spring in a cast.
Here's the transcript to the whole deal: