Home / Sports / Hawkeye Sports
Hawkeyes a win over LSU from rankings reentry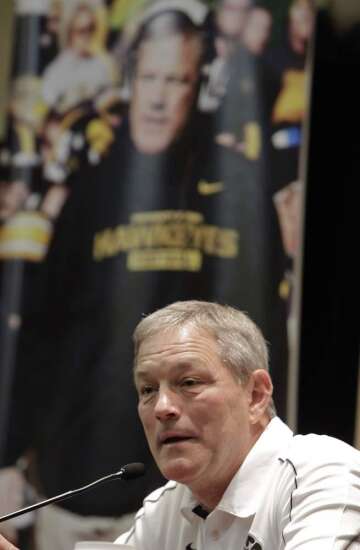 TAMPA, Fla. -- Is Iowa football ready for prime-time at noon?
Within Iowa and across the Big Ten, the Hawkeyes have garnered and earned plenty of respect for their bounce-back season. Going from 4-8 to 8-4 with almost no one outside the program expecting such a reversal is a successful season, case closed.
But forgive the rest of the football-following nation if it isn't wowed or even interested. Against the three best teams on its schedule -- Michigan State, Ohio State and Wisconsin -- Iowa was 0-3 and didn't make much of a peep in the second halves of any of those losses.
The season-opening loss to Northern Illinois is what's keeping today's Outback Bowl clash with LSU from being a battle of two ranked teams.
As for Iowa's eight wins that feel so good in-state, they don't have one that jumped out and grabbed America. Minnesota pretty much remained Minnesota in its Texas Bowl loss to Syracuse. Michigan wheezed to a 7-6 finish after an embarrassing Buffalo Wild Wings defeat to Kansas State.
Nebraska plays in today's Gator Bowl with a one-word description of its 2013 season: Kooky.
But today the Hawkeyes can vault forward, back into the Top 25 for the first time since November 2010 with a win over a brand-name program that isn't down on its luck.  That's LSU, which is merely 43-9 since the start of the 2010 season. It's the team that beat national-championship contestant Auburn by two touchdowns.
Now, if LSU (9-3) weren't mortal, it wouldn't be playing in the Outback Bowl. And yes, it's rolling the dice today with a freshman quarterback named Anthony Jennings who has never before started a collegiate game, let alone a New Year's bowl against an extremely sturdy defense.
But it's still LSU, still a team packed with future NFLers, still a team with mad skills at the skill positions. Though South Carolina and Wisconsin are in the higher-slotted Capital One Bowl, none of the five other programs in today's three Big Ten-SEC matchups are better-regarded than LSU.
Which is good for the Hawkeyes. If they play like they did in their regular-season finale at Nebraska, they could be the talk of the day in college football. Until the Rose Bowl starts, anyway.
There would be no qualifiers attached to a win over LSU. It would be considered a big triumph, one that leaves Hawkeyes fans craving more football from this afternoon all the way to the Aug. 30 season-opener against Northern Iowa and beyond.
Last summer, you heard "I can't wait for basketball season" from a lot of Iowa fans. The larger part of that was because of high expectations for the cagers. But part of it was muted feelings about the footballers. If the Hawkeyes clip the Tigers today, it'll be a lot of "I can't wait for football season" from this afternoon forward.
That will be true even without a triumph today, but there's nothing like winning a bowl that people have actually heard of against an opponent that needs no introduction to fan the offseason flames of excitement.
If Iowa has grown in roughly the same ratio from the end of November to the start of January that it did from the end of October to the end of November, it can win this game and do so looking like a team that fully belongs in the final national rankings.
That was the case five years ago today, Iowa's last appearance in this game. The Hawkeyes followed up on their strong November showing by playing their best all-around game of the season in routing South Carolina.
This LSU team is better than those Gamecocks. That matters.
Even including their season-opening loss to Northern Illinois, it has felt all season like the Hawkeyes were back in the football business. Today could be the Notary stamp on that belief.