Home / All Iowa ash trees dead within 20 years: State forester
All Iowa ash trees dead within 20 years: State forester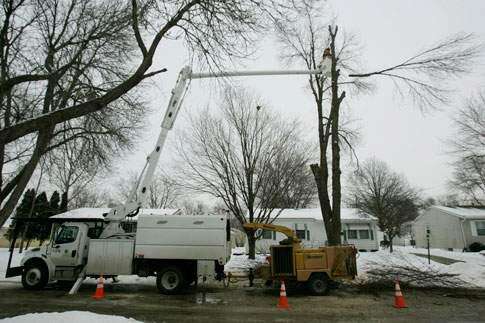 All but a minute fraction of Iowa's 55 million ash trees will be dead within 20 years, according to State Forester Paul Tauke.
"I would say it is inevitable that 99.9 percent of them will die" in the ongoing infestation by the emerald ash borer, Tauke said Thursday.
In areas like Fairfield, Burlington, Mechanicsville and Creston, where infestations have been documented this year, all but a few lingering ash trees will be gone within five or six years, Tauke said.
The cost of removing dead ash trees in urban areas will likely exceed $3 billion, he said.
"Iowa has a conservatively estimated 3.1 million urban ash trees. Figuring about $1,000 a pop to remove them, do the math, it's over $3 billion," Tauke said.
Ash trees on private property will have to be removed at the expense of property owners, while municipalities will have to bear the cost of removing them from public property, he said.
The city of Burlington alone will likely face a $1 million tree removal bill over the next five years, Tauke said.
The state's more than 50 million rural ash trees, while a tremendous natural resources loss, would not have to be cut down and removed.
The Iowa Legislature has appropriated funds to help pay for monitoring the spread of the pest but nothing yet to defray the cost of local governments in removing and replacing ash trees.
Tauke said infestations, once established, spread about 10-fold per year until all the ash trees have died.
"If you had four dead ash trees this year, you would have 40 next year and 400 the year after until all of them were gone," he said.
Tauke said it is hard to predict how fast the ash borer will spread throughout the state.
"If I were taking bets, I would bet we will find it in a lot more areas next year," he said.
That's partly because the ash borer population is building in the state and partly because more people, and especially people trained to recognize the symptoms, are looking for it, he said.
Following an initial Iowa confirmation in Allamakee County in May 2010, three years passed before the burst of confirmations this year: Des Moines County in July, Jefferson County in August, Cedar County in October and Union County this month.