Home / Arts & Entertainment / Books
A courageous story about motherhood
N/A
Dec. 22, 2013 7:00 am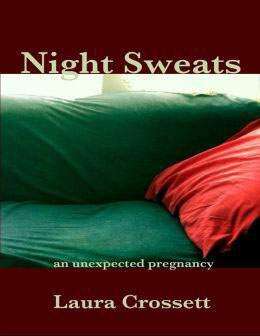 'I didn't expect to get pregnant," Laura Crossett tells us in keeping with the title of her book "Night Sweats: An Unexpected Pregnancy." "I went to great lengths - a consultation, an office visit, a follow-up visit, and $500 plus copays, to get a device that was supposed to keep me from getting pregnant for five years ... Well, I guess I got a year out of it. I wish the IUD maker would refund me $400, but it doesn't seem to work that way."
"Night Sweats" collects a series of blog entries Crossett, who lives in Iowa City, wrote from the time she learned she was pregnant through her son's birth in early 2012. With great candor, she recounts her fears, doubts and joys as she considers her pregnancy through an abundance of lenses, among them her sense of self as an independent woman who has never desired children, her deeply held political convictions regarding issues of choice, her equally strong Christian faith, her ongoing battle with depression, her relationship to her family members both living and dead, and her often tenuous connection to the baby's father.
Crossett writes beautifully and with compassion - for herself and for others involved in the situations and the decisions that must be made. Late in the book, she expresses a worry on behalf of her unborn son: "I want to write more about the experience, but I'm never sure if someday the baby won't grow up and be horrified that the world could read about him before he was even born, or that they know the details of my doubts about having him."
That is an understandable concern, but "Night Sweats" is, in the end, a wholly loving and courageous account of a woman's journey to motherhood in the face of obstacles both external and internal.
Rob Cline is a writer and published author, marketing director for University of Iowa's Hancher and director of literary events for New Bo Books, a division of Prairie Lights.