Home / News / Health Care and Medicine
Iowa performs newborn testing rapidly, nationwide investigation shows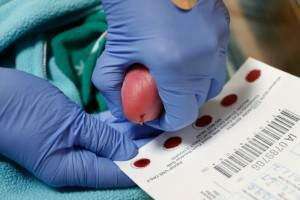 A nationwide investigation into delays in state-run newborn screening programs places Iowa among the top performers when it comes to prompt testing of infant blood work.
The Milwaukee Journal Sentinel conducted the investigation, requesting data from every state on the length of time it took to get newborn blood samples tested in a lab. Three million screening tests from 31 states were reviewed as part of the investigation.
Some states refused to release information, according to the Journal.
In the states where data was available, the Journal looked at how often blood samples reached a lab five or more days after being collected. That period of time is considered unacceptable by lab directors in many states, and federal government guidelines recommend three or fewer days, according to the report.
Among the states that provided at least some information, Iowa in 2012 boasted the lowest percent of samples received at a lab five or more days after being collected. Just .18 percent – 67 samples out of 37,737 samples – arrived at the lab late, according to the investigation.
Just one facility – Children's Hospital and Medical Center in Des Moines – had more than five percent of its samples reach a lab five or more days after being collected, according to the Journal. That hospital reported that 10 of its 21 samples – 47.62 percent – reached a lab at or after the five-day mark.
Most Iowa facilities got every blood sample to a lab in time, according to the Journal. Only 16 hospitals or clinics had one or more samples arrive late, and more than 60 medical centers reported a zero-percent late rate.
According to the Journal's investigation, the data is not meant to provide a direct comparison between states, as public health officials collect data differently and provide it in a variety of ways.
Speed matters in the newborn screening programs because the tests look for genetic disorders that can affect babies within days of their birth and can sometimes be fatal. Early detection and treatment can not only save lives but avert brain damage and other physical disabilities.
Iowa was among the early adopters of newborn screening – first checking for genetic or metabolic conditions as part of a state-initiated program in 1965. Today Iowa can test for up to 45 conditions, and all but a fraction of babies born in 2012 – a total of 38,181 infants – went through the testing, according to the State Hygienic Laboratory at the University of Iowa.
According to the Journal's investigation, states with the highest percent of newborn blood samples tested five or more days after being collected include Arizona at 16.65 percent, Texas at 14.55 percent and Mississippi at 14.47 percent.
To read the full report and browse data by state, visit the