In Big Ten Conference, they split the gate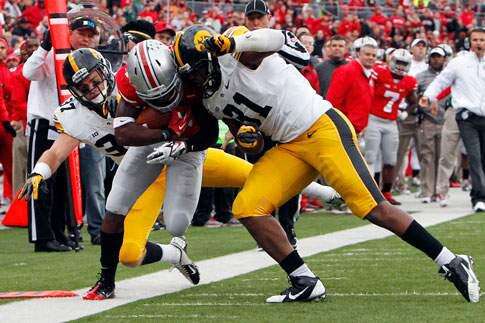 The Big Ten Conference boasts a financial model that no other college athletics association is willing to adopt.
The 117-year-old league, of which the University of Iowa is a member, shares television and postseason revenue as do many conferences.
But the Big Ten also splits its football gate receipts from league games, a step devoid of other conferences. Thirty-five percent of Big Ten home gate receipts - with a $1 million cap and a $300,000 floor - goes to the league office.
From there it's distributed into 12 equal pieces.
Big Ten officials collected more than $36.4 million through gate sharing for the 2012 season, and each school received $3.038 million, according to documents obtained by The Gazette through the Freedom of Information Act.
Seven schools, including the UI, lost money on the share. The UI, Penn State, Ohio State University, the University of Nebraska and the University of Michigan contributed $4 million and lost the maximum of $961,828.86.
The University of Wisconsin and Michigan State University lost more than $860,000. Indiana University - which contributed only $300,000 in three of its four games - picked up an extra $1.722 million as one of five schools benefiting from share.
The UI generated more than $13.3 million in gate revenue from its four 2012 Big Ten games, ranking fifth in the league. Today's opponent Northwestern, a private university, was ninth, with less than $5.6 million.
Seven Big Ten schools earned at least $11.2 million from home gate receipts, while the five lowest combined for $25 million, barely edging Big Ten leader Michigan ($24.776 million).
Big markets
The schools that gain revenue through the model - such as Northwestern - often contribute in other ways. Northwestern resides in suburban Chicago, the league's largest market.
Big Ten members Illinois, Indiana and Purdue boast nearly 20 million people within their combined borders, which contributes to television revenue.
For Iowa Athletics Director Gary Barta, sharing gate receipts is just one component of a much-larger revenue share within the conference.
"It's an all-in," Barta said. "You can't fairly evaluate one without looking at the big picture. We choose to share revenue.
"There are areas where Iowa probably is a giver and there are areas where Iowa probably is a taker. In the long run, we all benefit.
"It's tempting to take one piece and want to evaluate it. But the only way to do it is to evaluate the conference as a whole."
The UI earned more than $26 million from conference sources in fiscal year 2013. Although sharing football gate receipts amounts to a fraction of the league's distribution of bowl or television revenue, it does show a spirit of cooperation unlike any other conference.
The Gazette polled the other four power collegiate conferences - Big 12, Southeastern, Atlantic Coast and Pac-12 - and none share football gate receipts.
"It's very important philosophically because it was the first real commitment on the financial end, that our schools recognized that great things can be achieved by the collective good to share revenue in a way that's beneficial to all," Big Ten Deputy Commissioner Brad Traviolia said. "It's important to continue.
"It's worked well for us. It's a trust and a camaraderie among our institutions that's been developed over a century. It's part of who we are."
Roots in the 1930s
Roots for the sharing plan were set in the 1930s, when visiting football teams earned half the home receipts. In the early 1990s, after several stadiums were renovated and added seating, the schools' financial officers opted for even allocation.
"In the old model, if you happened to be traveling to Ohio State or traveling to Michigan or traveling to Penn State all in the same year, and they got 50 percent, they'd get a windfall," Traviolia said. "But if you're going to three stadiums that don't seat 100,000 people, it will be much less.
"Throwing it all in one pool and spreading it out kind of smooths it over. So from a revenue standpoint it doesn't matter who you played in one year.
"All that money is going to the same pool," Traviolia noted.
Gate sharing survived expansion in the 1990s with Penn State and in 2011 with Nebraska. It continues next year when Rutgers and Maryland join the conference.
The numbers will evolve slightly in 2016 when the league enters a nine-game schedule, but the model will remain.
In an era when schools leave tradition and conferences for extra revenue, the Big Ten's model is unusual, to say the least.
"In terms of our gate, without our history of it starting decades and decades and decades ago, I think it would be awfully hard for any conference either existing or a brand new conference starting today to convince their membership that giving up the gate to some of their conference brethren is a great idea," Traviolia said. "It's something that's worked very well for the Big Ten. It's proven to help in the success of the conference, and our schools have all bought into that.
"That's unique to history, and it's been something that our schools have been supportive of, the existence of the conference. I really don't see that changing."