Daughter defends mother, her 'best friend' who was killed in 2011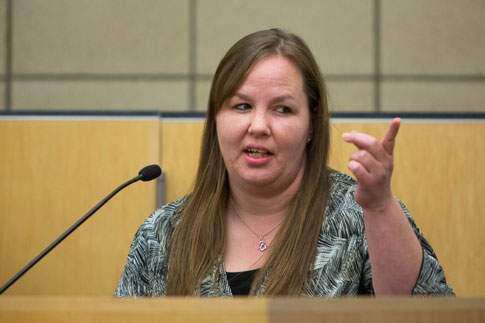 Dawn Stickley said she and her mother Cathy had a close relationship and she regarded her mother as the person she talked to about everything – "like a best friend."
Dawn Stickley, 38, of Cedar Rapids, testified Monday that her mother was an honest, loyal person in everything she did, and she was conscientious about rules when it came to her cab.
"She didn't want to be considered shady," Dawn Stickley said.
The last time she heard from her mother, who was stabbed to death in her cab April 29, 2011, was in a text. She sent her mother a text at 9:42 p.m. about a television show they liked and her mother replied "Cool" at 9:44 p.m.  Cathy Stickley's body was found about 10 p.m.
Johnathan Mitchell, 35, of Cedar Rapids, charged with first-degree murder and first-degree robbery, is accused of killing Cathy Stickley, 55, a Century Cab driver, that night during what started out as a robbery.
Cathy Stickley was found face down in a pool of blood by her vehicle in the 1500 block alley between 2nd and 3rd avenues SE, according to testimony. She died from 12 stab wounds to her neck and head.
[naviga:ul]
[naviga:li]Replay live coverage: Johnathan Mitchell murder trial[/naviga:li]
[/naviga:ul]
The trial, in Story County District Court, was moved from Linn County based on pretrial publicity.
The prosecution continues its case 9 a.m. Tuesday. Follow Gazette Reporter Trish Mehaffey's live coverage from the courtroom. The trial is expected to wrap up this week.
Dawn Stickley laughed when Assistant Linn County Attorney Matt Kishinami asked if her mother used drugs, something the defense claimed she was involved in the night she was killed.
"No. I don't mean to laugh but if you knew my mom you would know how absurd that is," Dawn Stickley said. "She didn't use drugs or drink."
Dawn Stickley also said her mother didn't sell drugs. She lived with her mother and talked to her all the time. There was no evidence of any drugs in the house or in her mother's behavior.
Kishinami asked if Dawn Stickley could explain a bank receipt they found near the scene that night of a deposit made by her mother.
Dawn Stickley said she gave her mother $300 of the more than $518 deposit for living expenses and the rest was likely from the day cab driver that worked for her mother. Cathy Stickley owned the cab but she paid Century Cab to use its name and she employed a day time driver. Her mother mostly drove nights.
Dawn Stickley said she knew her mother wasn't involved in selling drugs because she never had large amounts of cash.
Tyler Johnston, Mitchell's attorney, on cross questioned why her mother was parked at the Road Ranger on 1
st
Avenue SE because didn't she tell her daughter not to go there at night.
Dawn Stickley admitted to saying in her deposition she was surprised about that but thinking about it later she realized it was probably a good place to get fares on a weekend night. It was a common spot for cab drivers to park. She had done it in the past.
Kishinami on re-direct asked if it was common practice not to write down a pit stop that a fare might request before a final destination in the log book.
Dawn Stickley said drivers don't always write those down.
Johnston in his opening last week said Cathy Stickley was involved in wrongdoing because she had a fare for a strip club but went in the opposite direction that night and never logged in another destination or stop.
In earlier testimony, Tommy Collins, a convicted drug dealer who violated his probation on his recent conviction, testified about seeing a man, he later identified as Mitchell in police photo line up, in the cab that night when it was parked in the alley. He didn't see Mitchell kill Cathy Stickley but he saw him in the backseat, like he was searching for something and then saw him at the driver's side door. He was talking to someone but Collins didn't see anyone else in the cab until he saw the body on the ground by the cab.
Collins was with his friend and they went through the alley three times because he thought it was odd and wanted to see what happened.
Collins said he then saw Mitchell talking to Benjamin Owens, a convicted drug dealer, between two houses in the alley.
Assistant Linn County Attorney Nic Scott asked Collins if he received any breaks or favors from the state in exchange for his testimony.
Collins said no. He only asked Scott to tell a prosecutor on his pending case in Illinois and his probation officer that he testified in this case and to ask the Gazette reporter covering this trial to not use his name in the paper.