Iowa adapts to slow student ticket sales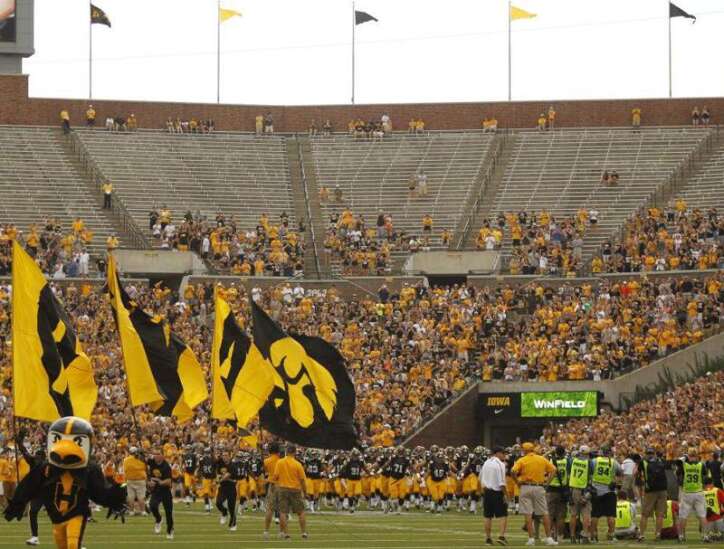 IOWA CITY - Ticket sales remain a financial staple for major college football programs but some schools are forced to alter their strategies to keep their stadiums full this fall.
Several schools, including Iowa, have experienced significant year-to-year drop-offs in ticket sales, and most are either performance- or opponent-based. Over the first three weeks of the 2013 season, five Big Ten schools have year-over-year attendance declines. Iowa, which averaged more than 70,000 fans a game every year from 2004 through 2012, has a two-game average of 65,802 fans so far this season. About 4,500 tickets remain for Saturday's game against Western Michigan.
It's an odd sight for Iowa, which just a year ago had to split general public season tickets sales because demand was so high. No game yet has sold out, including homecoming against Michigan State (3,500 tickets remain) and the renewed rivalry game against Wisconsin (2,875 as of Thursday morning). But a 4-8 record in 2012 coupled with growing fan discontent has left purchases and interest waning.
"There's no doubt 2012 was a tough year for our football program," said Rick Klatt, Iowa's associate athletics director for external relations. "Our student-ticket sales, particularly among upperclassmen, are down. The incoming freshman class sales are up year-over-year. But our upperclassmen took a wait-and-see attitude, which I remind people that we are a product and people choose to buy it or not."
Iowa allocates 10,400 tickets for its students but has sold less than 7,500 this year. As part of a one-year measure, the school shifted section 217 away from the students and to the general public. The athletic ticket office is dividing up remaining open sections in the student section for single-game sales while continuing to sell available tickets to students.
"We would prefer that it be filled with students because we believe that it's part of being a college student," Klatt said. "But if they're not going to buy them, and we've given them ample opportunity, we'll most certainly make them available to fans of the Hawkeyes.
"Our student numbers are down, but they're the ones who react the most quickly to wins and losses. I think that's probably a national fact of life."
Iowa has company in the slow ticket department. While all of its student tickets sold out, Wisconsin's general public season-ticket renewal rate was 95 percent this year, down from 97.5 percent, according to the Capital Times. In two games this year against comparable opponents to its 2012 schedule (FCS, mid-major opponent), the Badgers averaged 77,045 fans, down from 79,450 last year.
Michigan State played two high-profile 2012 home games against Boise State and Notre Dame. In the same time span this year, the Spartans have played host to Western Michigan, South Florida and Youngstown State. The average attendance for those games in 2012 was 78,964. For three games this year it's 71,080. Minnesota and Penn State also have drops in attendance.
The Southeastern Conference schools Auburn, Missouri and Vanderbilt have struggled with ticket sales. Arkansas averages about 6,000 fewer fans for its first two home games after a 4-8 season last year. Tennessee returned 3,500 of its 8,000-ticket allotment against Florida this weekend. West Virginia, Baylor and Kansas also have witnessed decline in ticket sales.
"The tricky part of it now is once we get into the season, sale of tickets get tied to team performance," Klatt said. "No surprise there. If we get on a winning streak, boom all those tickets get purchased by people getting excited. If we win-one, lose-one, the sales kind of reflect that choppy win-one, lose-one approach. There's a method to the madness to try to sell as many tickets before the season as we can because all the sudden you're swayed to the things that are out of your control."
Klatt said the school plans to market student tickets more aggressively next year. He believes a winning football campaign could turn the ticket decline into a one-year hiccup.
"We'd like to think that last year was an anomaly, and we'll be winning more than losing again," Klatt said. "I truly believe that. That student issue will rebound nicely, and we'll have in our football stadium the swing back to that whole supply and demand, and we'll have more demand and tickets available."