New Herky On Parade program to be unveiled
Karen Klinkefus
Aug. 25, 2013 6:08 am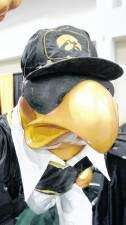 Back in 2004, large statues of Herky, the University of Iowa mascot, were installed in 90 locations in and around Iowa City, Coralville and North Liberty as part of Herky on Parade. Each Herky statue was decorated with a different theme, from Captain America to Van Gogh.
A new version of the wildly popular public art program will return in May 2014. Details of the new program will be unveiled at FRY fest on Friday, Aug. 30 at 12:30 p.m.
"I don't think there's any doubt that it was widely celebrated," says Dale Arens, trademark and licensing director at the University of Iowa and one of the FRY fest organizers. "Before, during and after the first Herky On Parade, we knew we should do it again."
To celebrate the 10-year anniversary of the original art installation, organizers will reveal a new Herky pose at FRY fest that local artists and organizations can decorate over the next several months to show the many different shades of Hawkeye pride.
"Herky will take a different pose in this Herky On Parade," Arens says.
"We will unveil the new pose as well as the first three designs," says Allie Howarth, director of special events for the Iowa City/Coralville Area Convention & Visitors Bureau. The program will be held at 12:30 p.m. on Aug. 30 on the Tigerhawk Stage in the tradeshow.
"You could call this Herky on Parade, part deux," says Josh Schamberger, president of the Iowa City/Coralville Area CVB. "We'll unveil the whole process and how Herky will be presented next year." He notes that up to 75 Herky statues will be produced as part of this new installation.
"We're excited to let the community know, not only what the new Herky pose will look like, but the details of the program," Schamberger says. Several artists' renditions of the new Herky statue also will be unveiled at the program. Howarth adds, "These new statues are not meant to replace the older ones, but to add to them."