No. 1 — OT Brandon Scherff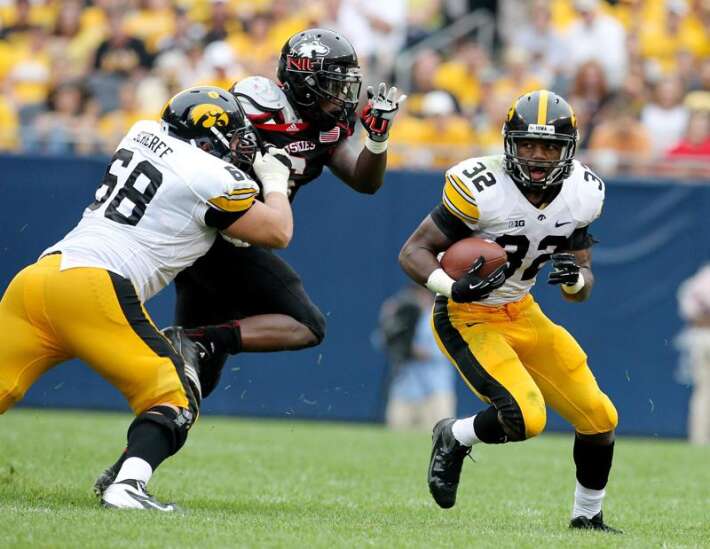 No. 1 ... The Outland Trophy campaign started in April. Iowa offensive line coach Brian Ferentz, a man not given to hyperbole, put down the first coat of paint.
After doing the coach thing and checking off a list of areas he believes Scherff needs to improve, Ferentz kind of gushed.
'I will share my love letter to Brandon Scherff with you guys now," Ferentz said. 'If this guy doesn't get recognized for what he is moving forward, I think it would be a real travesty.
'There's not a better offensive lineman in college football, that's my opinion. I think you guys know after two years and some of you knew me well before then [Ferentz was an offensive lineman for the Hawkeyes from 2002 to 2005], I don't say things like that lightly."
And, with that, the Outland Trophy campaign was launched. The award goes to the best interior lineman in college football. Iowa knows all about Scherff, the 6-5, 323-pound former sophomore quarterback from Denison. You know all about Scherff. He was No. 1 on this list last year. Now, the world is getting to know Scherff, who was a first-team all-Big Ten pick by league coaches last season.
The strategy is load up now, so people will know who Scherff is when it's time to vote on postseason awards. Earlier this summer, UI sports information started a Twitter account to promote Scherff (note: It's not Scherff doing the tweeting, it's UI sports info, promotional use only).
The biggest and best piece of promotional material came from the UI football weightroom. Strength and conditioning coach Chris Doyle put out a video of Scherff performing a hang clean lift of 443 pounds three times. The Hawkeyes weightroom exploded after Scherff put down the bar. The Internet exploded thereafter.
'Coach Doyle gave me a hug," Scherff said. 'He had never given me a hug."
During Big Ten media days in Chicago, head coach Kirk Ferentz took wave after wave of questions about Scherff. Near the end of his media session on Tuesday, reporters were apologizing for asking, once again, about Iowa's left offensive tackle.
'That's OK, I like talking about him," Ferentz said with a laugh.
There were streams of thoughts on the hang clean, strength training and the building of a player who could be the signature left tackle in a program that has had Outland Trophy winners (left tackle Robert Gallery being the latest in 2003) and has had a lot of offensive linemen, under Ferentz specifically, earn millions in NFL money.
Two quotes from Ferentz rang out.
First, 'one of the all-time players in Iowa history," that was said. Yes, it was.
'If things go the way I hope they do, he could walk out of Iowa one of the all-time great players in Iowa history," Ferentz said. 'That's a pretty neat thing, and he's got that opportunity."
The other quote is exactly why Scherff is No. 1 on this list. It underlined what it means to be a great teammate, an underrated and underappreciated notion but oh so important, especially for what the Iowa program is and how it's built.
'Brandon is kind of an infectious guy," Ferentz said. 'He's a guy who makes teams better, other players around him better. There's a lot of value in that. There are a lot of good players, but not every player brings that part to the equation. There's a lot of value in that when you're trying to build a team."
You know your coach. Ferentz is entering his 16th season as Iowa's head coach and 25th overall in Iowa City. You know he's not one to advertise achievements big and small. (Although, he does appreciate and recognize some of the unseen progress only a coach notices in practice.)
So, yeah, Outland Trophy campaign engaged.
Taking a compliment ...
Of course, the day after Brian Ferentz issued his 'love letter" to Scherff, he kept on Scherff to work on that list of improvements during spring practice.
'He needs to become a much more complete player, run game, pass game, leadership," Brian Ferentz said. 'There's a lot of things he needs to do better for us. He would tell you the same thing, I think. That's why he's going to continue to improve. He thinks right. That's the best quality he has is that he thinks right."
Scherff also is one of those athletes who loves to be pushed, loves to rise up to a challenge.
'That's why I love him," Scherff said to a question about Brian Ferentz being a coach with high expectations. 'He said, 'I'm not going to take my foot off the gas.' I said, 'All right, I don't expect anything less.'
'He wants us to be tough and physical. We're learning from the best."
And Scherff's thoughts on the 'best ever at Iowa" statement from Kirk Ferentz: 'It's a good compliment, but I have one more year to prove what I can do and prove what we can do. That's what we're going to focus on. I'm trying to get better each day and show people the right way to do things."
Of course, Kirk Ferentz said the nice stuff in Chicago, wearing a polo and sitting calmly at a table. At practice?
'It's 'Get your ass going,'" Scherff said.
The guy did play QB, believe it ...
Scherff wanted to play quarterback. He also wanted to run the fast break. He wanted to pitch. He wanted his God-given power in the shot put. He wanted to play tennis like his older brother.
Scherff lived the life in Denison, a town of 8,000 in western Iowa. He played all the sports, hunted all the game and fished all the fish.
The fact that he was a boy-giant didn't seem to get in the way.
Dave Wiebers was the Denison High School football coach during Scherff's days. Wiebers went to the Wisconsin game in 2013. His son watched from home and called to inform him that he was a topic during the ABC telecast.
'Some of the commentators asked, 'Who was the coach who played Brandon Scherff at quarterback?'" Wiebers said with a laugh. 'My son got a kick out of that. The truth is he was our best quarterback."
He played center for the Denison basketball team, but he had a guard's heart.
'He was a post player who wanted to be a guard," said Don Lyons, who was Denison's basketball coach at the time. 'When Brandon got a rebound, sometimes Brandon was going to go coast-to-coast. The biggest problem was if anyone was in his way, they were going to get run over."
Lyons said Scherff was the second quickest player on his team, second only to the point guard. In the 'triple touch" drill, Scherff glided past and around teammates.
It's not mythology if it really happened.
Scherff still claims he can throw a ball 50 yards. He's open to a tackle-eligible pass play. Ferentz isn't, or maybe he is.
'We might consider it. We might consider it with him," Ferentz said with a laugh. 'I'll take that one back to the staff and see what they could come up with."
Scherff?
'I'll try to do it," he said. 'Right now, I can throw 50 yards. You miss it a little, but I love playing with four other guys. I love playing a physical game."
Outlook ...
Last year when Scherff had to decide between staying at Iowa or entering the NFL draft, Kirk Ferentz told him he'd probably go in the range where former Hawkeyes Bryan Bulaga and Riley Reiff went, somewhere near the end of the first round probably between Nos. 20 and 30.
'But I do believe this, if he had come out, once they [NFL] started coming through and finding out about him, he would've been top 15," Ferentz said. 'He's just a rare guy. He's very much like Marshal Yanda [former Hawkeye OL from Anamosa]. Marshal's biggest attribute is his attitude, along with being strong and tough, but his attitude is so good. The Ravens figured that out and they really know it now and they've rewarded him for that."
Scherff and Yanda share a lot of things - homegrown Iowans, big, strong and uncommonly tough. They also love to hunt and fish. Their wardrobes are camo and blaze orange with camo.
'We talk about hunting and fishing once in a while when he's in the weightroom," Scherff said. 'It's kind of nice to get off the football topic and be regular guys."
As far as gear goes, Yanda, whose deal with the Ravens is five years and $32 million, has a head start on the college kid.
'That's find, good for him," Scherff said. 'He's earned it."
What's the crazier notion, Scherff shooting boars from a helicopter - Brian Ferentz ended Scherff endorsement with, 'Basically, as long as PETA or animal rights groups don't get involved, I think he should be pretty popular. They may not like him so much." - or throwing a tackle-eligible pass?
The helicopter thing will happen. The pass won't.
'You probably read one of his dreams is to shoot boars out of a helicopter in Texas, so ... OK," Kirk Ferentz said. 'He's not talking about building a huge house, but he will get a nice pickup truck, I will predict that. He's got a nice one right now. He keeps his things pretty simple. He's a grounded guy, a real guy, a real person."
l Comments: (319) 398-8256; marc.morehouse@thegazette.com