Home / Business
More shipments a good sign for the economy
N/A
Aug. 24, 2013 7:00 am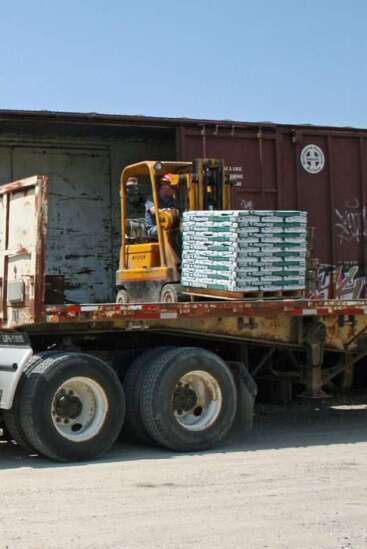 More than 1.4 million carloads of goods and commodities were shipped across the country in rail cars during the month of July, according to an August report by the Association of American Railroads.
This is a slight decline from July 2012, as the amount of carloads of coal and grain fell - both commodities shipped out of the Corridor - but is still a steady increase since 2009.
In July of this year, the weekly average of goods shipped was around 277,000 carloads compared with 262,000 carloads in July 2009.
"More moving is a reflection of more consumption," said Anne Campbell, an associate professor of management sciences at the University of Iowa and who studies intermodal movement - goods shipped by more than one means of transportation.
Demand for rail service is a result of the demand for the goods that railroads haul elsewhere and can be a gauge for broader economic activity.
Carloads of petroleum were up 24.9 percent in July 2013 over July 2012. Crushed stone, sand, iron and steel scrap, cement and primary metal products also all saw increases in the number of carloads year-over-year.
Additionally, the number of consumer goods being shipped have lead analysts to believe holiday sales will rise from last year, according to Bloomberg News. Total U.S. intermodal volume was up 4 percent for the four weeks ending Aug. 10 compared with a year ago.
However, Campbell was quick to note that just because more trains may be moving across the country, it doesn't mean all the goods they're shipping are American made.
"It could have arrived at a port and was then put on a train," she said. "So it's not clear who makes it."
Another factor possibly contributing to a rise in rail shipments, Campbell said, is that rail is more cost effective. Trains can move more goods at a time and are cheaper when rising gas prices and new rules regulating truck drivers hours are factored in, she said.
"Companies are realizing they can cut back their transportation costs," she said. "People didn't really realize how much they were spending on it, and that it's not a fixed cost."
There is a mixed picture for freight companies in the Corridor, where much of the products shipped out are corn and corn-related products.
Jefferey Woods, spokesman for Cedar Rapids and Iowa City Railway Co. (CRANDIC), said the company has seen that the picture isn't completely rosy. The rail company has seen a 10 to 15 percent decline in shipments year-over-year due to how the weather has affected grain shipments.
CRANDIC ships coal, corn and corn products, including corn starch, corn syrup, ethanol, and corn meal, for some of the Corridors larger companies such as Alliant Energy, Cargill Corn Milling Inc., Archer Daniels Midland Co., Penford and International Paper Co.
Woods also noted that an increase in oil and hydraulic fracturing, or fracking, sands have added to an increase in rail shipments.
"The shipments aren't indicative of the entire economy," he added.
CRST Expedited President Cameron Holzer said the trucking company has seen a solid increase in the demand for its trucks to haul shipments of consumer goods. He said, on average, there has been a 3 to 6 percent increase in companies requesting the company's services.
But Holzer noted that while the demand for trucking services has gone up, the number of available drivers has gone down due to the new federal regulations that limit the number of hours a driver can work for safety purposes, and a lack of employees entering the industry.
An improving economy also means there are more construction jobs, he said, which competes for young people entering the profession.
Even still, Holzer believes the increased demand for truck shipments will continue.
"We anticipate trend to continue into the fourth quarter and into next year," he said. "It will be exaggerated further because of the driver shortage."