Home / Sports / Columns & Sports Commentary
No. 37 -- LB Cole Fisher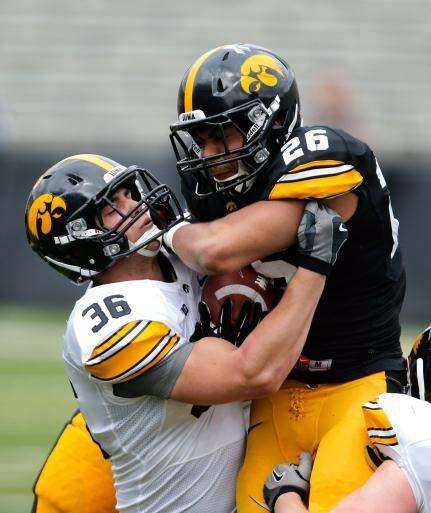 One of the highlighted facts in the miles of preseason chatter that college football brings you is that Iowa will start three senior linebackers in 2013.
It's the last run for James Morris, Christian Kirksey and Anthony Hitchens. That's a lot of tackles and for the 2014 team, a lot of turnover.
With the "help wanted" sign going up, it's a good time for the backups to make an impression. Cole Fisher, 6-2, 228, will try to do exactly that. The Omaha, Neb., native is listed No. 2 at weakside linebacker, behind Hitchens, going into fall camp.
Last season, Fisher played special teams in eight games and didn't record a statistic. In the spring, he lined up at second-team WLB and split time with junior Marcus Collins and redshirt freshmen Laron Taylor.
Key 2012 factor: There could be more to it -- an unknown injury or something along those lines -- but with eight games played last season, you probably can assume Fisher didn't win a regular spot on coverage teams. He was on kick coverage out of camp and played there during the Northern Illinois game, but then sat out the next two weeks. Again, we don't know if there was another reason or if the staff simply liked another player in that spot.
Fisher played special teams and developed a role for himself there. For a redshirt freshman at a position laden with upperclassmen, that's a step in the right direction.
Offseason factor: Fisher had a strong winter session. Going into last fall, he was listed at 218. When Fisher signed with Iowa in 2011, he was coming off a senior season Millard North where he made 94 tackles and had three interceptions as a free safety. So yes, he reported to Iowa at 195. The fact that he's 228 now probably gives him all the more confidence to mix it up on the inside. Fisher provided one of the bigger "clacks" in the spring game when he put a shoulder on RB Michael Malloy. It was on goal line and Malloy bashed in from the 1. Still, 228-pound Fisher made his presence felt.
Competition: In breaking down weakside linebacker this spring, linebackers coach LeVar Woods mentioned Fisher, Collins and Taylor. Collins, a 222-pound junior, played special teams as a true freshman. He began 2012 as a special teams mainstay, but suffered an injury and played in just six games. Collins and Fisher are classmates, but Collins' obviously feeling a little more pressure to make a wave as a junior. The staff is still very much in the "look and see" mode with Taylor, a 6-0, 225-pounder. Chad Gilson, a 6-1, 230-pound transfer from UNI, also will be pushing for playing time on defense and on special teams.
Why No. 37?: Iowa's special teams made strides in '12 (No. 1 in the Big Ten allowing just 19.43 on 30 kick returns), and this is Fisher's primary value for '13. If he pushes for playing time on defense, that would be a huge bonus. Competition will make this position that much better.
Outlook: Fisher is another third-year sophomore who probably feels the itch to be counted on as a contributor. The only sliver of a possibility for playing time at linebacker in '13 probably falls with junior Quinton Alston, a backup middle linebacker who could break into some playing time in the middle and thus moving Morris to the weakside. But that's probably a long shot. Three senior linebackers seals things off a little bit.
Fisher's route to the starting lineup in '14 will come through special teams.  That's been done before at Iowa.
Click here for an interactive look at the complete Top 45 series.