Home / Sports / Iowa Hawkeyes
Iowa hoops boasts All-American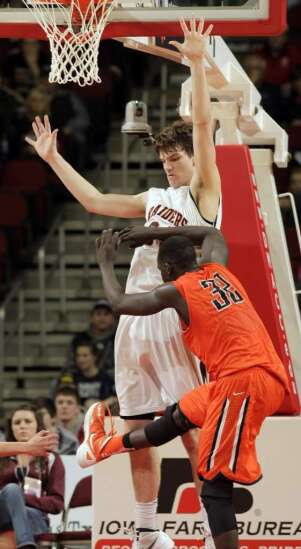 Incoming Iowa freshman Peter Jok was one of 40 players named to the Parade All-American team, which was released on Saturday.
Jok, a 6-foot-6 combo guard, led Class 4A in scoring average with a 23.6 points a game at West Des Moines Valley. Jok hit 42 percent from 3-point range and sank 92.6 percent from the free-throw line (126 of 136 attempts). Jok expects to compete for playing time at the wing position this year.
Two other honorees with Iowa ties also made the squad. Bryce Alford, son of former Iowa head coach Steve Alford, and Cullen Neal, son of former Iowa assistant Craig Neal, also were named to the team. Steve Alford now coaches at UCLA, while Craig Neal coaches at New Mexico. Both will coach their sons next fall.
Iowa State also picked up one Parade All-American -- 6-foot-1 guard Monte Morris of Beecher, Mich.
The Big Ten features three other Parade All-Americans. They include guard Derrick Walton Jr. (Michigan), guard Zak Irvin (Michigan) and forward Marc Loving (Ohio State).