Home / Sports / Iowa Hawkeyes
Iowa hoops: May's speech, highlight videos, Gesell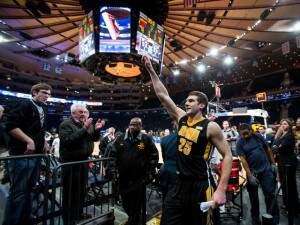 Iowa held its postseason awards banquet Thursday in Coralville. As you can imagine, the mood was much lighter and energetic than it was a few years ago.
To no one's surprise, senior Eric May earned the Chris Street Award, which is given to the player who best exemplifies Street's spirit, enthusiasm and toughness. Street died in a car accident on Jan. 19, 1993.
In each of the last three years, the Street Award was given to three of Iowa's best captains or any era: Jarryd Cole, Matt Gatens and now May.
May also earned co-defensive player of the year honors with freshman center Adam Woodbury. Iowa Coach Fran McCaffery introduced May and raved about his on-court improvements and concluded by saying, "Whatever he decides to do from this point forward, he's going to be phenomenally successful in whatever he chooses to do."
May then delivered a heartfelt five-minute speech, ranging from laughter to tears. Here's what he had to say:
"I guess I will start by just thanking the Hawkeye family. It's been an interesting four years, but obviously I wouldn't trade it for anything in the world. I'm part of one of the best things that there is, to be a part of the Hawkeyes. And the support that you guys have, you guys have brought.
"We people need to know what that Chris Street Award means, that means a lot to me. I have a lot of respect for his family and for what Chris Street brought to this program. To be mentioned in the same sentence as him, that really means a lot. I just want to thank the Street family. A lot has been said about them, but I think it deserves to be said one more time.
"I want to thank my coaches. It was a crazy, crazy ride, but they were always there. Court agilities, pre-game quizzes, whatever. They were always on my case helping out, helping me with my play. There were some times where it would have been easy to pack it. … You really made it special for me. I'm really thankful I had all of you guys.
"To get to the team, I wish I had one more year. This is my family. Every day, they're probably sick of me now because I'm still in the gym working out and they're like, 'Is guy going to leave?'
"This team's like family. I said recently I've never been around a team where I get along … every single guy is like my best friend, my brother. I've got their back, and I know they've got mine in whatever we need to do. I think that's why we were so successful. I just have so much respect for these guys … I don't want to cry because I don't want to hear it from my brother-in-law (laughter).
"All these guys, I'm going to miss it. It's the best time of my life. I'm going to miss it. Finally, I want to thank my family. … There's too many of them to mention all of them. But they've been here my entire life . … They've got my back. My parents, I love you guys. Home and away, they're always there. ... They're on TV and stuff and my dad's looking like an idiot. (laughter)
"They come to every game, and I'm sure they're happy I came to Iowa, where it's only an hour and a half drive. That makes it a little easier. But my family, my parents, I'm the luckiest man in the world to be able to experience all of that love.
"I told Coach (Kirk) Speraw I'd say this but my girlfriend Emily, this is the fourth banquet she's been to. The first one, I met with Coach Speraw actually, I don't think we'd ever talked. And he meets Emily, and he says ... 'You outkicked your coverage big time.' (laughter)
"Thank you for everything you've done for me. This is the best experience of my life. I've got to get off this stage now."
Here are the award winners:
CHRIS STREET AWARD: Eric May
TOP PLAYMAKER: Devyn Marble
CO-FRESHMAN OF THE YEAR: Mike Gesell, Adam Woodbury
CO-DEFENSIVE PLAYER AWARD: Eric May, Adam Woodbury
MOST IMPROVED: Gabe Olaseni
BEST ROUNDER: Aaron White
ACADEMIC AWARD: Mike Gesell
--
The team also showed a couple of videos during the banquet. One is a highlight video. The other video is to the Family Guy's "Bird is the Word."
--
Iowa will take a foreign trip in August to London and Paris. The last time Iowa traveled abroad the Hawkeyes under Lickliter went to Italy and Greece in 2009.
McCaffery was excited to bring the team to England, from which Gabe Olaseni hails.
"We're taking Gabe to home to see his family and have some fish and chips," McCaffery joked.
Iowa will be able to take all players, including incoming freshman Peter Jok, to Europe. The Hawkeyes also will get 10 practices to prepare for the trip.
--
McCaffery said the team's non-conference schedule has not been finalized, but it will be an upgrade over last season.
"We're going to put a challenging schedule in front of this team, one that they can handle," McCaffery said. "The one thing I know about with the players in this room is they knew why they came. They knew what they were getting into, they want to be a part of it, and we're not done. We're honestly happy and excited about winning 25 games, but we are not satisfied. And we are not going to be satisfied until we cut the nets down in that other tournament. That's the plan. That's what we're going to work towards."
--
Freshman guard Mike Gesell, who was hampered by a stress reaction in his right foot the last six weeks of the season, said he's sitting out spring workouts to let his foot heal. He might be ready to resume shooting after semester finals conclude. He added that he should be ready for summer workouts and the Prime Time League in June.
--
McCaffery expects all 13 players next year to compete heavily for minutes, including transfer Jarrod Uthoff and incoming freshman Peter Jok. McCaffery said nobody will transfer or red-shirt next season.